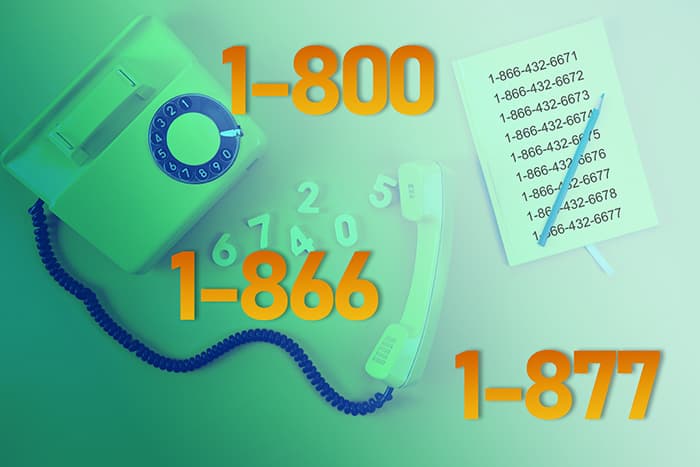 1800 numbers are toll-free telephone numbers. Callers can dial the number from a cell phone or landline with no charge made to them. These numbers allow your clients and suppliers to reach you without being charged long-distance fees. Continue to learn about 1800 numbers for sale.
Many businesses use 1800 numbers for customer services, and if you are interested in having them for use in your business, it's good to know that purchasing 1800 numbers for sale is simple.
These numbers provide customers a free and easy way to call companies with questions, complaints, or for assistance. If 1800 numbers are text-enabled, customers can also send text messages and businesses can reply with a text message. Calls to 1800 numbers are routed to specific telephone numbers.
The Role of the Federal Communications Commission
The Federal Communications Commission (FCC) designates the regulations for obtaining and the use of 1800 numbers for sale. One of the mandates is that toll-free numbers must be portable. This means that as a subscriber, you can move your 1800 numbers when changing to a different service provider. The FCC is not involved in the allocation of 1800 numbers nor can they access the database or provide information about toll-free numbers.
The History of 1800 Numbers
Though there are other prefixes for toll-free numbers (for example 888, 866, and 855) the prefix, 800 has been used for toll-free business numbers for almost 50 years. Only relatively recently has the high demand for toll-free numbers led to the addition of other prefixes. The original 1800 number is not only the oldest but also the most sought after.
The first toll-free number with the prefix 800 was introduced by AT&T in 1967. Prior to this development, customers who wished to call a business number had to call collect, which meant that their call could not be connected until the company confirmed payment for the incoming call. The collect system was not only a financial drain, but it was also labor-intensive since it required live operators to answer and reroute each incoming call. The first subscribers to 1800 numbers were car-rental services and hotels, both of which received a high volume of calls for vehicles and reservations.
1800 Numbers Extend Their Reach
AT&T held on to their monopoly of 1800 numbers for 37 years, and their prices were often excessive. In 1984, a federal judge ordered that the monopoly be divided into several regional companies. This led to a significant drop in 1800 number purchase prices, and currently, if you are interested in 1800 numbers for sale, obtaining them is simple and affordable.
1800 Numbers Today
You may think that 1800 numbers are just for large corporations, but these days, even small businesses can take advantage of them. 1800 numbers for sale are easy to purchase from companies such as Global Call Forwarding, and it's a simple service to set up. Plus, they are affordable even if you're just starting out. A 1800 number can increase your professional image and your customers' confidence, which will, in turn, boosts your sales and the number of returning clients. Typically a 1800 number allows you to forward your calls to one or more numbers. The numbers can be connected to landlines, cell phones or even Skype. You can also obtain extension numbers for other departments or employees.
Features to Look For in 1800 Numbers for Sale
Most services will offer the same basic features, and some will offer optional extras. Areas, where they differ, are generally the cost, the type of commitment, and the plans.
1800 Numbers for Sale: Cost and Plans
Typically, to activate a 1800 number, you will have to pay a standard activation fee. The fee may vary depending on the service provider. The toll-free prefix variations 888, 877, 866, and 855 do not have activation fees.
As well as an activation fee you will usually have to pay for blocks of minutes, such as 300 or 1,000. Some 1800 number providers allow unlimited minute packages. If you are a relatively new company, you may prefer a service that offers a pay-as-you-grow package so that you can expand your 1800 numbers along with your business.
Voicemail Management: With most services, you will get voicemail management, which allows you to have your voicemail messages convert to text or email and sent to you that way so that you can read them at your convenience. Faxes may be converted to PDF files so you can view them on your phone or laptop.
Extension Numbers: Most service providers will route your calls to various extension numbers, which allows you to have employees throughout the U.S. operating with the same number with the addition of personal extensions. When it comes to outgoing caller ID, the best available services allow you to choose your outgoing caller ID.
Online Management: When you have added your extension numbers, personalized greeting and customer calling IDs, it's easy to manage all these features using a single online interface. They are very user-friendly, and you can make changes quickly and efficiently, whether you're adding a new employee's extension or changing your forwarding numbers.
How to Get 1800 Numbers for Sale
Obtaining a toll-free 1800 number couldn't be easier; there are many 1800 numbers for sale. All you have to do is contact a service such as Global Call Forwarding. They will help you select your preferred 800 series area prefix. Next, you choose a specific number from the list of currently available numbers. For an extra fee, you may be able to select a vanity number. Once you've specified your destination number, you can choose a plan option, and the process is complete. Typically, your toll-free 1800 number will be ready to use within 24 hours.