These days, when it comes to customer service, customers' expectations are higher than ever. This is why it's crucial that you maintain ongoing call center training. Everyone who takes calls from customers must be trained. Here are some tips to help you implement the best call center practices.
Equip Your Call Center Agents
Each of your agents should have the appropriate tools to enable them to make the right decisions. Whether they are taking customer orders or dealing with customer issues, preparation is key. Highly trained agents will not only guarantee customer satisfaction, but they will also be able to resolve any issues in a single call.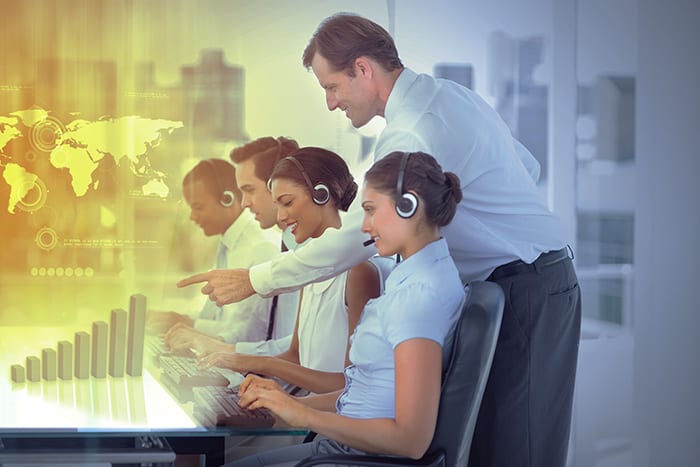 Make Call Center Training Interesting
Don't keep going over and over the same old ground. All that will achieve is bored agents and wasted resources. Make your training sessions varied and engaging, ensuring new avenues are continuously covered. Agents will be more keen to pay attention as new skills are learned, and customers will benefit from their well-rounded experience.
Use Real Recorded Calls During Training
The importance of using real customer calls during training cannot be over-emphasized. While role-play is a good practice, it's no substitute for real experience and real examples. All new hires should be given time to handle customer calls, and trainers should make sure equipment is available for them to do so.
Share Customer Feedback
Feedback from your customers should be publicly recognized. When you get emails or social media messages praising your customer service, you should let your agents know about it. At the same time, it's equally important to address criticism and negative feedback, as these instances provide unparalleled learning opportunities.
Make Use of Training Pals
Link your top agents to new hires who are still in training so that they can help them out with any questions or issues. This will help new members of the team gain confidence quickly. It will also encourage new agents to emulate the top performing agents, as they gain knowledge from those with the most experience.
Offer Incentives for Reaching Team Goals
Rewards make the environment more positive and employees deserve to be recognized for their efforts. A happy, goal-oriented, motivated team accomplishes so much more, so ensure your team knows they are appreciated. Offer monthly incentives to agents who attain team goals. These could be gift vouchers, a free lunch at a local restaurant, or tickets to a local movie theatre.
Make the Most of Speech Analytics
Taking advantage of technology can bring in tremendous insights. Having the ability to analyze a large volume of conversations between agents and customers empowers you with valuable information not only about specific calls but also about trends throughout the call center. It will help you to highlight areas where improvement is needed and give you examples to use during training.
Keep Customer Service and Call Accuracy Separate
By dividing these areas you can keep focus on each aspect individually. You may have agents who are good at one but need help with the other. By keeping customer service and call accuracy apart, you can give your agents praise where it is deserved and discuss areas that need more development.
Increase Knowledge of Your Customers
All business leaders are aware that knowledge of their customers is power. It helps you to keep your current customers as well as increase your customer base. You must train your call center staff to garner knowledge of your customers. That information can be used to improve the quality of your customer service.
Boost Knowledge Daily
Don't let your call center agents stagnate; help them learn something new every day. This will give you a long-term advantage over your competitors. Remember, the more each of your agents learns, the more the team improves as a whole.
Maintain a Transparent Company Culture
It's important to be open with your call center agents. It will help to maintain trust and loyalty. Having a company culture in which feedback is normal will eliminate mistrust and build confidence. You should also encourage your agents to give you feedback about training.
Ensure that Call Center Agents Identify with Company Values
During training, pay attention to how call center agents relate to your company's core values. You can train your agents to improve their skills, but you will not be able to change their values. If you find you have members of the team who are not in alignment with your core values, it's probably best to let them go straight away.
Keep an Eye on Your Call Center Metrics
It's important to keep track of call metrics and agent KPIs in order to maintain an optimal level of performance throughout your call center. However, don't get buried under the data. Focus on the metrics that matter. Prioritize those which measure call resolution, average hold time, service level, agents schedule adherence, and call abandonment.
Keep Agent's Language Positive
One of the most important call center best practices is creating a script that emphasizes positive and professional language. Agents should always use an upbeat tone when talking to customers and use recommended key phrases. Call center training should include how to avoid negative interactions with customers.
Maintaining these best call center practices will help you to provide the highest-quality customer service, keep your call center team engaged, and make your customers appreciate your services.