For decades, companies have been tethered to onsite communications systems, having to pay for installation fees, dedicated hardware, and regular maintenance.
But this is rapidly becoming a thing of the past thanks to Cloud VOIP communications.
What is Cloud VOIP Communication?
The term cloud refers to offsite services that are accessed via the internet. VOIP-accessible applications are owned and maintained by service providers. This means that your data is kept safe, and you can rely on high speeds and increased uptime for all your communications. Cloud VOIP communications offer simplicity and ease-of-use for business owners.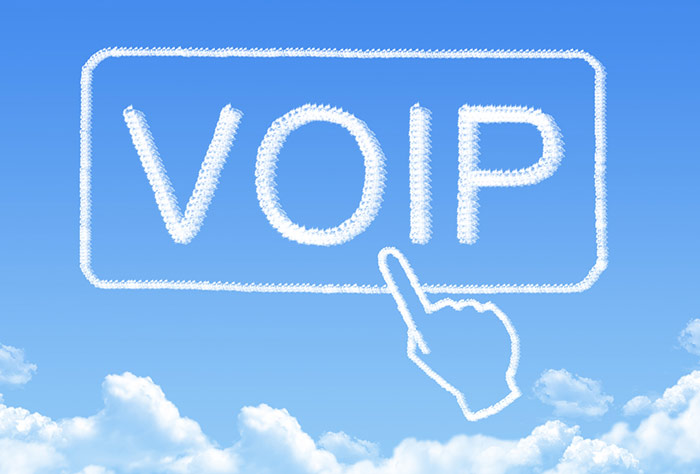 Why Communicate Through the Cloud?
Traditionally, business communication solutions have been based on servers where the software is stored on-site. In these cases, VOIP or PBX used for calling, messaging and video conferencing applications are run on company-owned servers which are either maintained by the company IT staff or a subcontractor. As you can imagine, there is a high cost involved in the upkeep and regular maintenance and updates for this type of communications system, particularly if the system becomes unstable. If the system does go down, then your business may be unable to conduct business until it is repaired.
When you have a cloud VOIP communications system, you don't have to worry about any of these issues. By making the switch to the cloud, you will have a seamless communications system with minimal redundancy. All maintenance is handled by the service provider and is monitored 24/7. You will also get round-the-clock access to customer support.
Cloud VOIP communications providers offer their products as software-as-a-service (SaaS). This means that all software, upgrades, and maintenance are offered as part of their service contract. So that enhancements, bug fixes, patches, and upgrades are downloaded to your applications as soon as they become available.
Typically, cloud VOIP communications providers maintain an extremely high uptime metric, which means they guarantee that your application will be up and running as close to 100 percent of the time as possible. They can achieve this high uptime by having multiple physical locations throughout the world. Should an issue arise with a server in one region, online traffic is instantly transferred to a backup server.
Cloud VOIP communications providers base their reputations on reliable functioning of their telephony systems and are confident when it comes to drawing new customers to their cloud-based applications. As well as security, speed, and flexibility, there are the added benefits of the many features that VOIP offers.
Features that traditional phone service cannot match. These features include:
Black and whitelisting
Call recording
Simultaneous calling
Failover forwarding
And more
What Kinds of Cloud VOIP Communications Are Available?
When it comes to cloud VOIP, a wide range of business communications systems can be partially or completely located in the cloud. These include:
PBX switchboard
Audio and video conferencing
Interactive voice response
Call center
Fax and SMS
Each application has several advantages which will depend on your business needs and your telephony usage. Some business owners prefer a percentage of their applications to be cloud-based and to transition over time, while others prefer them all to cloud-based from the start.
Frequently, when business owners see the savings they are making, and the many advantages of VOIP business support, they are keen to switch their communications to the cloud as quickly as possible.
Welcome to a New Age of Cloud VOIP Communications
Market analysts are predicting that by the end of 2018 many large companies will have at least 50 percent of their communications operating in the cloud.
Cloud-based VOIP systems are certainly catching on, and it looks as though they're here to stay.
Younger generation business owners and IT professionals are very comfortable working with the cloud, after all, they've been doing it for years with streaming music and movies and purchasing goods. So, moving their business communications to the cloud seems like a logical move because it offers speed, security, scalability, and flexibility as well as major cost reductions.
In the new age of cloud VOIP communications, business owners and their employees are no longer tethered to their desks. Work can realistically be performed anywhere, so long as there's an internet connection. This means their jobs are more flexible; they are happier, and more productive.
Expensive phone systems are a thing of the past, and daily business communications technology is continuing to develop communications systems that are more and more geared to individual business requirements. Fortunately, cloud VOIP communications are replacing costly, difficult to manage communications systems with a telephony solution that is flexible and scalable and suits every business owner's pocket.
You can find out more about cloud-hosted communications systems and call forwarding services by contacting Global Call Forwarding. Their team of experts can explain the specialized features of their call forwarding services and help you get underway with a free trial.