There are many phone service providers out there offering virtual phone numbers for businesses, small and large. The goal is to help companies maximize their profits by enabling good customer relations and effective communication. This can be done through virtual toll free phone numbers. Toll free numbers are numbers that charge the receiver rather than the caller, making it free for your customers. CallHippo and Global Call Forwarding are two such organizations offering a variety of plans and options. Let's have a look at what these organizations have to offer so that you can make an informed decision.
Similarities Between Global Call Forwarding and CallHippo
Global Call Forwarding and CallHippo offer some of the same business communication solutions. They provide business phone numbers with resourceful features that improve customer interaction. Their plans focus on providing customers with important features that can make internal and external communication more effective.
VoIP and Flexibility
CallHippo and Global Call Forwarding are services allowing customers to purchase local and international toll free numbers for their businesses. These are voice over internet protocol (VoIP) numbers. This means that calls to and from these numbers are made using the internet as opposed to desk phones. Such virtual numbers let users connect with customers in different parts of the world, not restricting them to specific locations.
Since these calls are made through the internet, they don't require high equipment purchases. Instead, they provide flexibility for businesses that have remote offices or offices spread across the globe. Since these calls are made over the internet, they are cost-effective and they enable easier access for customers to reach you.
Other Useful Features
Additionally, virtual toll free numbers from both organizations come with added benefits and features. These are aimed at ensuring that you have all the tools required to provide customers with a good customer service experience. Service features offered include advanced routing, call recording, interactive voice response (IVR), and more. Both organizations provide easy installation and easy to use software systems. There is also no contract to sign; you can stop your service at any time. You can forward and transfer calls, have your voicemails sent over emails, or enable customers to text you their queries.
Activity and Reports
When running a business, it is important to pay attention to customer service and interaction. You not only want your customers to call you, but you want them to keep calling you. To do this, you want to make sure customers have different channels to reach you. Also, analyze current and past customer contacts to see how your company is faring when it comes to customer relations. How many calls are you making or receiving per day? How long are these calls taking? How much are you spending on average on calls?
With Global Call Forwarding, users can keep track of call logs, call activity, call durations, and other reports. They can also access online voicemail information here to see how often these features are utilized by customers. These logs will help you identify which areas are successful and which need improvement. Here you can identify how many calls are answered versus how many get forwarded or missed. Based on this, you can decide what steps to take next to up your game. CallHippo also allows users to integrate forwarded calls with customer relations management (CRM) software for performance analysis.
What Makes These Organizations Different?
Even though these two organizations provide similar services, they differ in quality and reliability. As a potential user, it is important to know the differences before you make a decision.
Different Pricing Models
Both Global Call Forwarding and CallHippo offer different plans you can choose from, ensuring that you have one that best suits your business and its demands. However, CallHippo's pricing can be slightly confusing. It is important to keep in mind that their plans are on a per-user, per-month basis. On top of that, additional features, such as forwarding calls, add more to the final charges. Global Call Forwarding's pricing, on the other hand, is pretty straight-forward. With Global Call Forwarding, you are aware of how much you will be charged at the very beginning. Both organizations offer free trials but CallHippo offers only 4 different plans while Global Call Forwarding offers 5 for varying business types. Here's a look at the plans offered by both: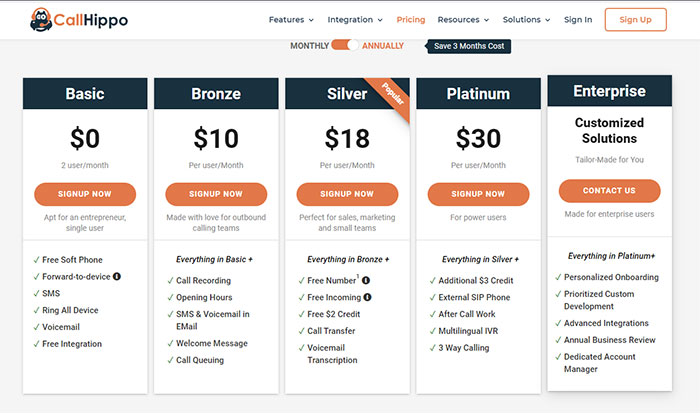 CallHippo's plans start at $0 per month per user, for two users. And these features are on Global Call Forwarding's basic plan, which starts at $7.95 per month. You can add the Rollover feature, which is free for the first 3 months. This feature allows you to accumulate your unused minutes for the future. Different countries have different rules that may affect the price of your business number. Global Call Forwarding provides clear information about the conditions for your selected number.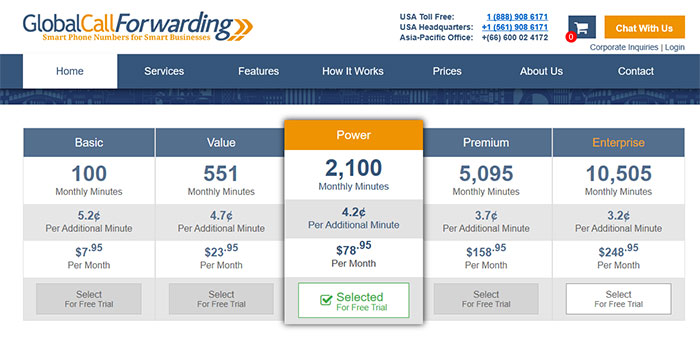 When selecting additional features such as Outbound Calling, Global Call Forwarding will also let you know what rates to expect for desired destinations.
CallHippo's pricing goes as high as $40 per user per month with their Platinum plan. However, if you decide to pay annually, the monthly price reduces to $35 per user per month. Global Call Forwarding's Enterprise plan is $248.95 per month, which covers 10,505 minutes per month. However, the rate for call recording services decreases with this plan from $5 per month to $1 per month.
Custom Vanity Numbers
A business phone number doesn't just open a line of communication between you and your customers; it can also help with marketing. Your company's virtual phone number is part of its identity. It is the first thing customers look for when thinking of reaching out to you. Therefore, picking a good number is as important as the decision to get a business number.
Global Call Forwarding offers vanity numbers with recognizable and memorable patterns or letters. For example: 877-234-2344 or 1-800-PRINTER. It's important to note, CallHippo does not offer vanity numbers.
Get the Right Toll Free Number
Considering getting a toll free number for business or travel? As a business owner, the goal should be to create maximum impact with fewer costs. Use toll free numbers to expand your company's reach across the world and tap into new markets. Find new clients and increase your global presence. These numbers are cost-effective and come with added benefits to support your business. On top of everything that comes with running a business, you shouldn't regret your phone service provider decision. Pick the company that can customize a toll free business phone number to benefit your customer relations: Global Call Forwarding. Sign up today with no contracts or commitments. Take advantage of our free trial to see how we can help your business and organize your customer communications. Browse plans and find one most suitable for your call volume. With Global Call Forwarding, get a discount on high volume orders. To get a toll free number, reach out to us now.