Call centers are centralized facilities that handle hundreds or thousands of inbound calls every day. With call centers, organizations can communicate effectively with potential customers, current customers, and partners in the business. Employees of these offices are typically called call center "agents."
The call center services market generated $140 billion of revenue in 2017. It is projected to grow much larger than that by 2025.
While outsourcing this work to other countries such as the Philippines or India seems like a cost-effective option, more and more organizations opt for U.S. workers instead. According to a recent BPO study, there are 15 million freelancer workers in the United States. Many of these workers are poised to assume call center jobs in the future.
This is especially true when business owners value proactive employees they want to retain in the long run. In addition to this, American companies can train professionals on site so that they have a better knowledge of company products, services, and internal processes. In this article, we are going to uncover some of the largest call centers in the United States and how they operate in the modern world.
Call Center Amenities and Technologies
Call center employees are obviously not expected to use their personal phones on the job. Instead, they are provided with a suite of tools and technologies.
Depending on the call center, hardware and software can be shared by entire teams or set aside for specific individuals. It is becoming more common for call centers to adopt BYOD policies.
For instance, the largest call centers in the United States make use of administration panels that help employees take calls and prioritize tasks. Of course, these call centers will also have offices, and softphones. Features include call recording, which captures the interactions between customers and salespeople. This allows managers to review chat sessions and provide the coaching necessary to succeed.
Other common technological assets include automatic routing, simultaneous ring, voicemail, and more. IVR is an automated system to give callers the right information they need at the right time, all without needing to talk to a person. All they need to do is speak, and the system detects their speech through voice recognition. It then leads the caller through a series of options based on their request. It's a very helpful tool, especially for smaller call centers that need to reduce wait time and save on resources whenever possible.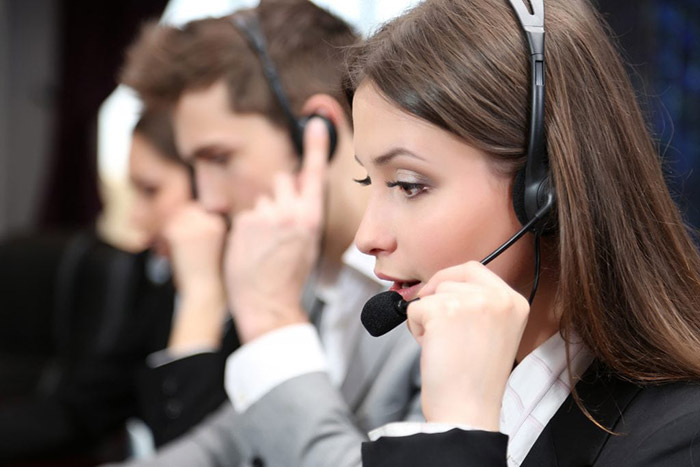 As a call center grows and expands their services, so does their need for new technology. Perhaps they may need to change locations to accommodate the increased number of workers. Some offices may even need to open a second or third location. When this happens, enterprises offer training to use their systems to help streamline the workflow. This also helps teams give the best customer service.
The Largest Call Centers in the United States
Traditional call centers aren't just for customer service providers. Businesses may have multiple strategies for different areas. There are a number of reasons why an office would set up a call center:
To take new orders from customers

To help a customer through a product exchange

To take calls about billing, payment, and invoicing

To give information about a company's location or hours

To walk a customer or vendor through a technical support inquiry

To take special customer requests
The following is a listing of the top call centers in the United States:
| | | |
| --- | --- | --- |
| Call Center | Number of Employees | Location |
| State Farm Insurance | 10,000 | Atlanta, GA |
| State Farm Insurance | 8,000 | Richardson, TX |
| State Farm Insurance | 8,000 | Tempe, AZ |
| Geico | 5,600 | Macon, GA |
| Fidelity Investments | 4,400 | Westlake, TX |
| Humana | 4,000 | Louisville, KY |
| Citibank | 3,500 | Irving, TX |
As you can see, State Farm Insurance leads the list with a total of 26,000 U.S. based call center employees. Following closely behind are the companies Geico, Fidelity Investments, Humana, and Citibank. And as of last year, Atlanta, Georgia, and Dallas, Texas employed the largest amount of people.
If you're interested in related call center data, the same survey states that the primary industries were insurance providers, banking, and security services. Today, many Fortune 500 companies tend to favor larger facilities to attract and retain new talent. This helps them manage customer support staff efficiently while taking care of their customers.
How to Build Your Current Call Center
If you would like to build to become one of the largest call centers in the United States, there are easy solutions available for you.
First of all, your brand's reputation should be a top priority. No one will want to give you their repeated business if the buying experience is less than optimal. So to create a truly customer-centered organization, it's best to start with your employees. Call center owners can nurture employees and teach them to engage with each caller on an individual basis. This may mean regular training sessions that focus on solid knowledge of your products, as well as the resources on hand that provide excellent value. This helps boost sales and profits over the lifetime of the customer.
Consider hiring different types of call center managers in the United States. Each of these leaders can take charge of vital areas in your company. As relationship managers are proactive in keeping clients happy, brand managers can focus on protecting your company's image. Executive leadership, then, can promote effective operations as a whole. This includes internal processes and company compliance. Additionally, it is important to follow and comply with essential call center regulations. In this way, no single person is stretching themselves too thin, risking decreasing the quality of their work.
In the end, it matters how internal processes are set up. Simply keep things running smoothly with the right technologies, offer constant training, and hire the right managers you trust. And most importantly, the key is having a true commitment to your client base. Once you achieve all of these goals, your organization will be on track to becoming a serious, high-volume call center!