Keeping up with a team that works remotely across different time zones can be difficult. It takes a lot of planning and organization, not to mention willingness from team members that are spread out across the globe. If you have trouble keeping your sprawling international team in unison, here are some expert tips on the best ways to collaborate across multiple time zones.
1. Divvy Up The Burdens
When working across multiple time zones there will be times when people just won't be able to make it. You can't expect someone to wake up for a meeting at 2 AM (their time) just because it's 8 AM in your time zone. The time zones will always be the greatest challenges for a team across continents, but one way to lessen the blow for all parties is to cater to those parties' individual circadian rhythms. Instead of making one group of people stay up late or wake up extra early, you can rotate meeting times. Have everyone in the group be available at times that work with their schedule and make it permissible to miss meetings that are scheduled from 10pm-7am their time.
2. Meet Face To Face
If you can't all be in one room together the next best thing is video chatting/ video conferencing. There are plenty of tools to choose from including, Skype and FaceTime. Google Hangouts is a simple and free way to hold meetings with people across the world. GoToWebinar also works for people with larger teams. These tools are high-tech and simple to use so you can have a crisp and clear conversation like you're standing right next to someone even if they're 5,000 miles away. It is also important to pay attention to the person on the screen. If there are a few people in one room together, all too often the person left on video chat is forgotten about. Keep eye contact with the person on video and keep them engaged in the conversation as if they were sitting right next to you.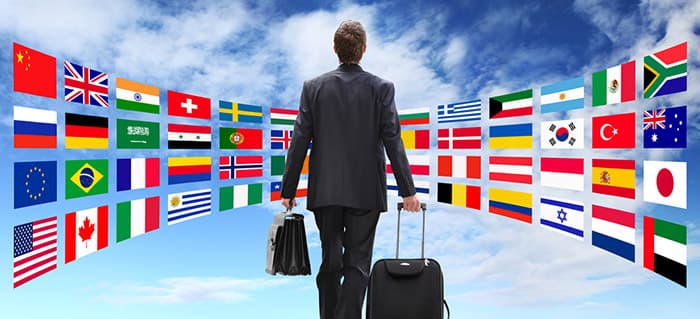 3. Take Advantage of Social Media Tools
Google Plus is Google's social networking site that is perfect for remote teams working together. Anything can be shared on this platform to the people of your choosing. Sharing things like inspirational quotes, exciting news about a client, or funny memes, bring teams from far away closer together. When working with a remote team things can easily become just about work and you can become disconnected from your fellow team members. Google Plus is an easy way to bridge the gap that you would normally get at after-work socializing events. Google Drive and Dropbox are amazing free tools that can help your team work collaboratively on the same documents. Multiple people have the ability to edit the same document with these tools. They are especially great for collaborating across time zones because when it is one person's clock out time, that means another person can jump in and work where they left off.
4. Get In The Same Room
In order to build trust with your teammates who work in various parts of the globe, you should schedule days where you can truly be in the same room together. This might only happen once or twice a year, but it is crucial for your team's growth. Plan a workshop for your team to get together to foster true relationships with each other. You will need to build trust with your team in order to succeed with them. At these workshops, you can experience new things together which will strengthen your bond. This time should be used for complex decision-making and job-related discussions that are better left for in-person discussion. However, don't forget to carve out time for socializing. Many of your goals for the company will be achieved very quickly once you have gotten your team together in one room and new goals can be created together. Schedule a dinner or a trip to a museum or both for after the meeting. Creating a travel budget will be a necessary component of working with teams across multiple time zones.
When you put all of these tools to work with your team, the only possible outcome is that your business will have built more trust and found an easier way to collaborate.