A business credit card is one of the easiest ways to lay the foundations for a positive credit history. It's easier to get accepted for a business credit card than a business loan, and unlike a loan, once you have paid off your credit line, you can borrow it again without having to reapply.
Many business owners don't use their credit cards to their full advantage, and you may be one of them. It's time to get savvy and figure out how you can make the most out of your business credit card, so you don't miss out on all the deals and incentives your credit company is offering.
There are many credit card companies out there, and not all of them offer the same interest rates, payment times, and incentives. An important thing to remember when choosing a credit card for your business is to do research first. A lot of it. Once you're armed with a business credit card, here are some things to remember.
Create a business plan: Before you even use your credit card, you should draw up a budget so you can keep spending in check.
Set a rewards goal: If you're using a card that has incentives, set a goal for air miles or travel points and save them rather than using them for small purchases.
Use credit with all your vendors: If you link your business credit card to their accounts, it will help you earn the maximum rewards possible.
Watch out for expiry: Keep a note on your calendar and make sure you use your rewards before they expire.
Watch employee spending: Each time an employee uses a business credit card, have him, or her give you an expense report.
Borrow wisely: Don't spend unnecessarily just to earn rewards.
Be accountable: Link all business credit cards to your company's accounting software for easy bookkeeping.
Pay on time: Always pay on time. Late fees can range from $15-$40 dollars and will soon begin to mount up if you're not careful. If you continue to miss payments, you may also end up having your interest rate hiked. Late payment may also end up damaging your credit score.
Make deductions: Any late fees and interest on your business credit card can be deducted from your taxes providing that the card was used for business transactions.
If you're smart about how you use them, credit cards can be a helpful way to get your hands on some money when you really need it. You can use your card to access quick cash flow for business supplies or services.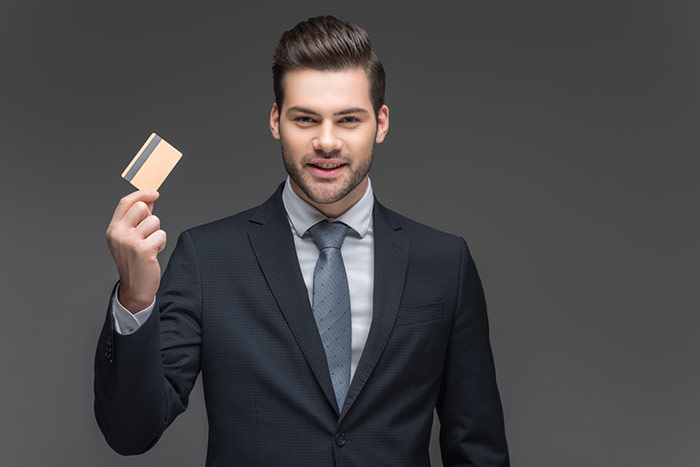 Credit Card Benefits for Business Owners
Business credit cards offer a range of different advantages and they may also be able to provide convenient access to cash, if needed. These include:
Itemizing expenses: If you're a business owner, using a separate credit card for company purchases will make record keeping a breeze, especially when it comes to filing your taxes. It will also help you keep tabs on your business expenditure.
Keeping tabs on employee expenses: If you let your employees use a company credit card, talk to the credit company about setting a limit on how much they are permitted to spend and where they can use the card.
Increased spending limits: Many credit card companies allow higher spending limits on business cards than on personal credit cards. This will give you a more flexible business budget.
Business card rewards: Just like personal credit cards, many business credit cards offer incentives such as discounts on office supplies, free travel, and cut-rate business solutions.
Customized credit cards: Look into establishing a business credit card with a flexible program if your business income fluctuates from month to month. Some credit companies allow cardholders a discount for early payments or extra time to pay off interest.
Bear in mind that not all credit cards are created equal before you decide which business credit card you want to apply for. You might want to check out some credit card reviews so that you can make comparisons.
Don't forget, for many business credit cards, particularly if you are a small business, you will have to provide a personal guarantee. This means that if you spend more than your business can cover, you will be personally accountable for the debt. Always schedule payments so that they're on time so you'll avoid late fees. If you follow these tips and keep your spending under control, you should be able to make the most out of your business credit card and help your company grow, while building strong business credit for the future.