Creating an online business phone system is a modern component of running a business in the 21st century. Thanks to our Internet-based world, an online business phone system can be used to process customer inquiries and handle transactions seamlessly, especially when coupled with other essential elements of a "virtual office." An effective online business phone system uses VoIP and cloud computing — or, more specifically, virtual phone numbers — to engage customers around the world, no matter where their business may be headquartered. And, as the world heads towards a globalized economy, maintaining a competitive edge with an online business phone system can give your business a serious advantage.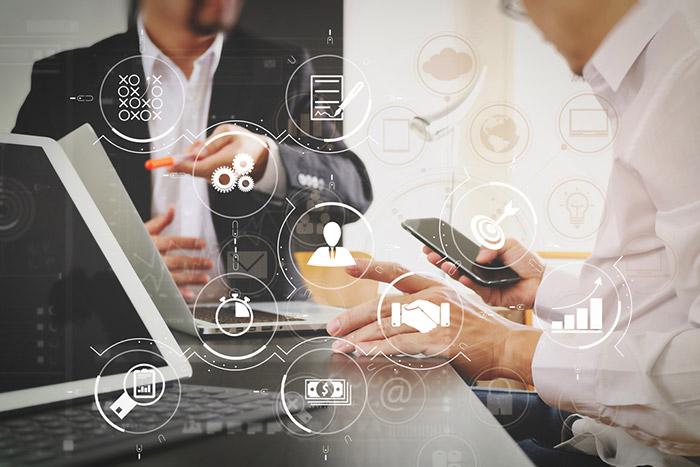 Let's take a look at how an online business phone system can work in a variety of business models, as well as cover the benefits of using virtual communication.
How Does an Online Business Phone System Work?
As we mentioned in the introduction, virtual phone numbers are the key component of an online business phone system. When a virtual phone number is dialed by a caller, the call is instantly routed to another phone number of your choosing, which can be located anywhere in the world. When virtual phone numbers are combined into other methods of your business (i.e. e-commerce website, online chat features, collaboration software, etc.), this means that your business can operate in different regions of the world without a physical presence — a typical stumbling block for new businesses looking to expand quickly.
Functionalities = More Versatility
Moreover, adding functionalities to your chosen virtual phone numbers opens up new levels of creativity and functionality to your business. For instance, by using a virtual phone number in conjunction with advertising campaigns, you can gain specific metrics and analytics on your marketing efforts. Another example is using geographically-specific virtual phone numbers to add authenticity to your business in a new market which might favor domestic businesses. Or, you may have a website that's set up with a "click-to-call" button, which can help customers have their issues resolved without having to dial a number. Whatever way you choose to use virtual phone numbers, you can augment them to fit or expand how your business functions.
Let's take a look at some of the benefits of an online business phone system.
Benefits of an Online Business Phone System
Wider Reach: If you're able to offer your products and services beyond where you have branch offices or where you're headquartered, an online business phone system gives your organization the ability to reach a larger audience on their own terms. This is key for international businesses that may not have the capital to set up a brick and mortar presence in a chosen country, but still want a piece of the action.
Professional Appearance: Because virtual phone numbers are available in a variety of formats, including toll free and international toll free numbers, your business can gain a professional appearance that customers and competitors take seriously. This is especially crucial for startups that have the capabilities but not the history that their competitors have.
Added Functionality: Global Call Forwarding understands that just offering a method of reaching customers in new regions with virtual phone numbers is only the beginning for many businesses. That's why there are a number of add-ons and functionalities that can augment your online business phone system. Let's take a look at a few of the many add-ons available from Global Call Forwarding and check out some examples of their use:
Time of day routing: This add-on allows your business to route calls based on the time of day that a caller is trying to reach you. If your organization operates between 8 AM to 8 PM, you can route calls to a call center that can process calls on the off-hours, a directory that provides basic information for most inquiries, or divert inbound calls to a voicemail.
Simultaneous ringing: If you use simultaneous ringing, all of the phones assigned to a particular virtual phone number will ring at the same time until it is answered. This ensures that if an attendant is busy with another call or away from their workstation, another available staff member can answer the call to ensure that customers and clients aren't left hanging.
Call recording: Call recording stores all calls for later reference or revision. This is important for companies that want a verifiable document of what goes on between customer service representatives and customers, important conversations between VIPs, and interorganizational meetings (like conference calls).
Efficiency: Virtual phone numbers are Internet-based, which means that those who have access (most of the modern world) can be reached, which surpasses the traditional model of expansion in terms of pace. Instead of funneling large amounts of capital in hopes of gaining a sizeable market share in a new country, your business can experiment with how it captures your potential clients' needs and adjust accordingly — something that a leased property with new staff can't handle in the same agile fashion. Similarly, with customers able to self-select through using your online business phone system's directory, you save both time for your employees and for the customer — something many people appreciate when dealing with a business.