Outbound Calling with caller ID allows you to use your purchased virtual phone number when making calls, ensuring the number will appear on the receiver's caller ID. As a result of harassing telemarketers and scam calls, it is no surprise that people generally tend to answer only the numbers they recognize. After all, there's no harm in answering your aunt's call. But this poses a problem for sales teams reaching out to new and current clients to share information about the business or its promotions. Therefore, this is where using the Outbound Calling feature comes in for businesses that want to maintain a professional appearance with every detail.
Utilizing Outbound Calling with Customizable Caller ID
Outbound Calling is a service provided by web-based phone service providers like Global Call Forwarding. This enables organizations to make high-volume outgoing calls to prospects and returning clients. Most sales teams that indulge in cold and warm calling strategies will use an Outbound Calling service for convenience. Common uses of Outbound Calling are:
To generate leads and sales
Increase brand visibility and awareness
Offer company updates and promotions
Verify and welcome new customers
Follow-up on recent purchases
Follow-up on "abandoned carts"
Send out reminders
Raise funds and collect donations
Gather feedback and surveys, and more
Now, when thinking of sales calls, not many pay attention to what their company's caller ID looks like on the receiver's end. Sales are most effective if your team is constantly bringing in new customers. And to do that, customers first need to answer sales calls. But if users don't answer calls they don't recognize, how can you reach them? Custom caller IDs may be the solution.
Customize Your Caller ID
Now, say, your company has one office in a certain location but has a more global target audience. Opening up multiple offices across the state or country may prove expensive. However, cloud-based business numbers like toll free, local, and international numbers may help you create a "virtual" presence in different locations.
Say, you run operations out of Alabama but want to target customers in New York and California. Then, you can get local numbers for these states with their local area codes. And, you can also purchase a toll free number so that customers calling your company back don't have to pay for the call. Then, with our Outbound Calling service, you can choose which purchased number should be displayed on a certain outgoing call. When calling New York, you can have specific New York area code numbers displayed, and the same for California. This increases the chances of prospects answering your call because it is a local call and not an unknown number.
Remember that because these are virtual business numbers, you, as the business, are not paying additional international calling charges either. You pay only what your subscription details. Providers offer a variety of Outbound Calling plans to choose from. So, you can always start with a small plan and then grow based on your needs.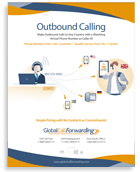 Download Our Free Outbound Calling Guide
Read the facts you need to know about Outbound Calling with our free guide. Learn How it works and features available through Global Call Forwarding
Outbound Calling download
Get Outbound Calling with Global Call Forwarding
Global Call Forwarding offers business numbers such as toll free, local, and international numbers for over 160 countries across the world. Whether it is local US numbers or a toll free UAE number, you can get one with us easily. We can help you connect with contacts and prospects across the world with our Outbound Calling service.
To add Outbound Calling to your sales strategy, purchase virtual numbers as needed from our sign-up page. Then, under "Select Optional Features," choose "Outbound Calling." Here, you can also add "Call Recording" by clicking on "Activate call recording for this outbound calling line" for desired lines. Choose a suitable plan and checkout. Once your numbers are activated and ready to use, you can choose which caller ID to display from your account's control panel.
Grow Globally with Outbound Calling
If you think your business is ready for global expansion, then getting this service can provide the support you need. Not convinced yet? Talk to an expert at Global Call Forwarding to learn more.