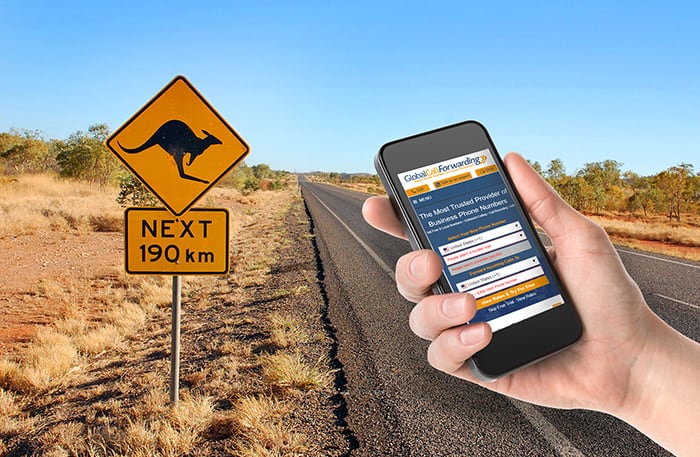 Australia covers an area of around 7.7 million square kilometers or 4.78 square miles, with 3,700 km (2,299 mi.) from north to south and 4,000 km (2485.4 mi.) from east to west, making it the sixth-largest country in the world. The location is the ideal place to fully take advantage of the growing Asia-Pacific region economy, without being affected by the global economic fluctuations. This in part is responsible for the country pretty much escaping unscathed from the financial crisis of 2007/08, and continues to make it a very attractive business environment. Learn how Australia call forwarding can help your business,
For companies, entrepreneurs and even temporary visitors looking to establish a local presence down under, getting an Australia call forwarding phone number will let your callers know you are there.
Australia's Make-up
Australia is made up of the Australian Capital Territory and the political capital of Australia. And there are six states within these territories, which are home to some of the most famous cities in the world, including Adelaide, Brisbane, Perth, Melbourne, Sydney and others. What these and many of the other cities in Australia represent is a developed country with a great economic opportunity.
The development Australia has gone through has resulted in it being the 12 largest nominal GDP in the world and a per capita of $52,000. And the government has transformed this expansion into providing extensive health benefits and one of the best education and social systems in the world, which again has delivered high life expectancy rate and a rank that gives it the second position in the UN's Human Development Index (HDI) globally.
Business in Australia
Doing business in Australia is now easier than ever after the government completed reforming its corporate law designed to streamline regulations while at the same time ensuring investor protection in 2001. The Australia – United States Free Trade Agreement (AUSFTA) is another arrangement signed in 2005 that has simplified economic development between both countries with the goal of providing a bilateral system for entrepreneurs and businesses.
Establishing a business with call forwarding from an Australia phone number gives anyone that wants to communicate with consumers and organizations in the country more opportunities because it makes you readily available.
Making yourself accessible to the 24 million people that live in the country with local communications using Australia call forwarding is one way of reassuring customers your intentions of being there.
The Value of International Call Forwarding
When you decide to get an Australian phone number, you are extending the network of your business beyond its current boundaries. Whether you are running your business from your home, or you are a national business looking to expand internationally, call forwarding can help you address your communications needs in the new location. The Australia call forwarding phone number you get from Global Call Forwarding lets you manage your calls in a variety of ways and use cases.
First it lets you forward an incoming call to your office, home, mobile device, answering service or call centers. This lets your company always be available during and after business hours and manage call overflow, employees that work in different time zones and answer calls if there is a phone system failure.
Second, Global Call Forwarding allows your Australia forwarding number to be customized with a range of different features to address your particular communications needs.
Free Advanced Global Call Forwarding Features
Some of the features the Australia call forwarding gives you are, Black & White Lists, Customized Greeting, Advanced Call Forwarding, Local Ringback Tones, Sequential Forwarding, ForwardFax, Advanced IVR/PBX and many others.
The Advanced IVR (Interactive Voice Response) gives your company a professional appearance by letting callers receive a greeting and direct them to the right extension through the use of voice and the telephone keypad with menu trees you can program and customize to meet the particular needs of your business.
The IVR lets you create a welcome message followed by an announcement and prompts to guide callers to the right destinations. This can be another message within the IVR or another destination such as an email, website, social media page or elsewhere.
If an IVR is properly designed, it can give you callers the information they need without having to talk to a live person. This not only saves your company the cost of paying and maintaining a live agent, but it also makes it much easier to give your callers access to information quickly and efficiently. This can be anything from times of operation to their account information.
The free PBX service is also available with the Australia call forwarding service so you can set a private telephone network to connect the incoming calls with any internal telephone extension within your company. With this feature, all of your employees can have their own extension and be accessible no matter where they are without a physical desktop phone.
Options
If there's one thing businesses must provide when it comes to communications in today's business ecosystem is availability. This means whenever anyone calls your number, you have to make yourself available directly or through a system that lets your customers get the information they need or leave a message. Global Call Forwarding gives you multiple option to ensure you never miss a call from Australia or the thousands of cities around the world in which you can get a call forwarding number.