Have you wondered if it would be wise for your company to get a Los Angeles virtual toll free number? Three types of international Los Angeles virtual toll free numbers are 800 numbers, local numbers, and vanity numbers. All three types allow your Los Angeles customers to reach you anywhere in the world toll free. Individuals with family and friends in Los Angeles can also benefit if they get a Los Angeles virtual toll free number.
1 800 numbers do not give your business a local presence, and they can come across as impersonal. On the other hand, a local Los Angeles virtual toll free number establishes a virtual office in Los Angeles, giving your company the appearance of being locally situated. Many people prefer to deal with companies who are local, and a Los Angeles virtual office may encourage their trust in your business.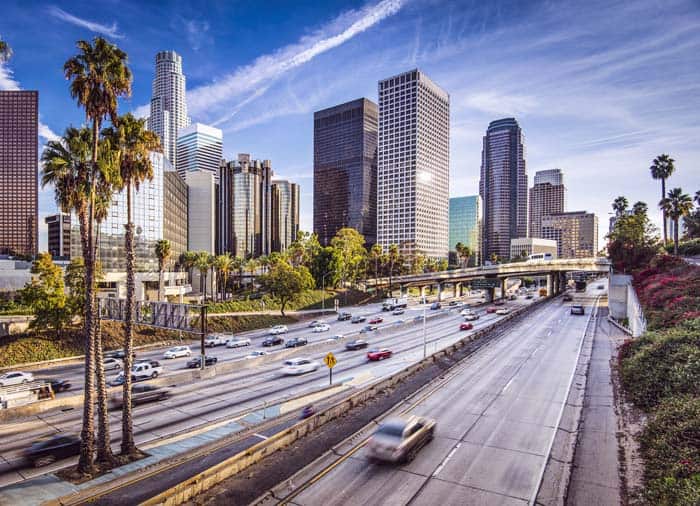 How Call Forwarding Works
Call forwarding is a very simple service that can offer so much convenience to your company. It allows you to never miss a call, and it ensures calls are always able to be answered on the device of your choice. When a person calls your toll free number, Global Call Forwarding forwards the call to your desired destination number anywhere in the world. Then, you answer the call on your phone, or your PBX receives the call.
Purchasing Los Angeles Virtual Toll Free Numbers
Purchasing Los Angeles virtual toll free numbers from Global Call Forwarding is a fast and easy process. First, select your toll free number.
Then, specify the destination number. Next, select the desired plan and any desired options. Global Call Forwarding instantly activates the number without a long-term commitment on your part. One example is if you are using a Los Angeles toll free number and a destination number in London, United Kingdom. You may choose the plan that best meets your business or personal needs.
If you have a company based in Los Angeles, but you have a customer base overseas, you could consider getting a toll free number in the locale of your customers with a destination number in Los Angeles.
Los Angeles, A Substantial Economic Engine
Why does it make sense to get virtual toll free numbers in Los Angeles? Because Los Angeles is the second most populous city in the United States. According to 2016 estimates, based on the 2010 US Census, the LA population is 4 million and the LA metro area has a population of 13 million residents. Los Angeles is also the cultural, financial, and commercial center of Southern California. Consequently, Los Angeles is the economic engine that drives the Southern California economy. Having Los Angeles virtual toll free numbers positions a foreign company to capture a share of the resulting business.
Race and Ethnicity
The Los Angeles racial makeup according to the 2010 US Census, is as follows:
Non-Hispanic White, 28.7%
Black or African American, 9.6%
Hispanic or Latino, 48.5%
Asian, 11.3%
There are many ethnic enclaves in LA, such as Chinatown, Koreatown, Little Tokyo, etc. LA has residents from 140 countries who speak over 224 languages. If you have a Los Angeles toll free number, the Interactive Voice Response (IVR) feature can prompt the caller on their language and forward the call to an agent who speaks their language.
Economy
No matter what industry your business is in, there is a market in Los Angeles awaiting your presence. For example, some of the most significant industries in LA are:
International trade and petroleum
Entertainment, which includes TV, movies, video games, and music
Aerospace, technology, and telecommunications
Fashion and apparel
Services, such as finance, law, and healthcare
Transportation
Tourism
Furthermore, six publicly traded companies, with headquarters in Los Angeles, made the Fortune 500 list in 2014:
Occidental Petroleum Corporation
Health Net, Inc
Reliance Steel and Aluminum Company
AECOM Technology Corporation
Oaktree Capital Group, LLC
CBRE Group, Inc
Sports & Universities
If you have a business that services the sporting world, Los Angeles virtual toll free numbers may help your business grow. Major league teams in all sports play in LA. The following is a list of sports and teams.
Major League Baseball: Los Angeles Dodgers and Los Angeles Angels
National Football League: Los Angeles Rams and Los Angeles Chargers
National Basketball Association: Los Angeles Lakers and Los Angeles Clippers
National Hockey League: Anaheim Ducks and Los Angeles Kings
Major League Soccer: Los Angeles Galaxy
Women's National Basketball Association: Los Angeles Sparks
National Collegiate Athletic Association (NCAA): UCLA Bruins and USC Trojans
Three public universities with prominent sports teams in Los Angeles include CSULA, CSUN, and UCLA. In addition, there are numerous private colleges and community colleges, many of which have sports teams as well.
Summary
Los Angeles toll free numbers are easy to obtain and very cost effective. Los Angeles is a vibrant market and an opportunity for you to grow your business. Fortunately, if you get Los Angeles virtual toll free numbers, your company can develop and maintain a presence in Los Angeles without having to invest heavily. Contact Global Call Forwarding today to learn more!