Whether a business is growing to include a new product or moving to a different country altogether, barriers can creep up and prevent an easy and speedy expansion. For example, phone communication across international boundaries can cause problems, but businesses can get a Singapore virtual toll free number and forward phone calls from this number to their headquarters.
Take Singapore as an example. Businesses located in the UK or the United States, might want to offer their services or products in Singapore, but may have no physical point of reference there. Fortunately, it is easy to get a virtual toll free number in Singapore that will automatically forward phone calls from Singapore to their business overseas.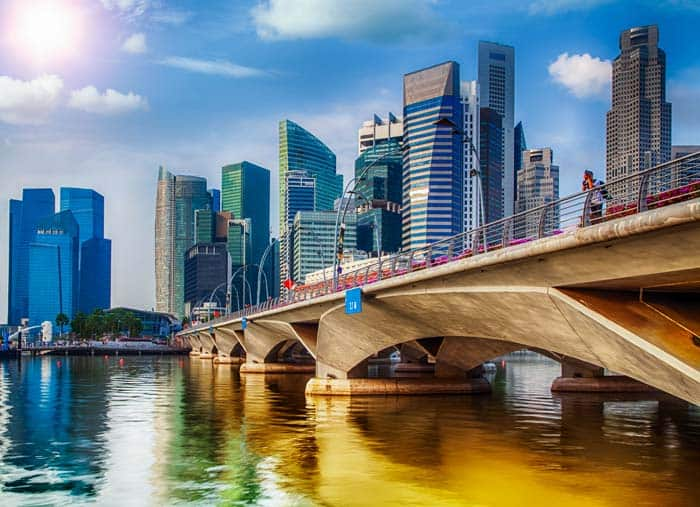 Prior to journeying into the unknown and setting up a business in Singapore, the first step is to understand its economy and what to expect in terms of growth. Let's briefly example how Singapore's economy is fairing on a global scale, and why businesses should use an international call forwarding service to make the most of their advertising efforts there.
The Economy of Singapore Offers Great Business Opportunity
Singapore has grown exponentially over the past decade. Thanks to a truly free trade market, a stable government, and a thriving import and export industry, Singapore has risen to the number one spot on the Economist Intelligence Unit's Business Environment and Ranking Index for the best places to do business in the world. In addition to its number one rating as "the best place to do business in the world," Singapore has also earned the honor of being one of the easiest economies to do business in with a pool of nearly 200 countries included. Clearly, Singapore is quickly becoming a haven for up-in-coming businesses from around the world.
Several attributes contribute to Singapore's ranking. The ease with which companies can obtain construction permits, affordably priced utilizes, and business registration makes doing business in Singapore enticing. The government's sole focus is on driving the economy to outperform nearby countries while simultaneously moving up within the world economy as a whole. Governments that are set up to support businesses create the perfect environment for new, foreign businesses to expand in.
Another benefit of doing business in Singapore is the fact that it is one of the world's primary wealth management regions. Obtaining loans is therefore easier in Singapore thanks to competition, and companies can confidently grow knowing that the country is investment friendly.
All in all, Singapore provides a thriving marketplace that businesses can capitalize on. Little to no business regulations and customers excited to purchase foreign services and products, make this country an excellent place for businesses to invest and advertise in.

What are Singapore Virtual Toll Free Numbers?
Singapore virtual toll free numbers are virtual numbers that are free to call from within Singapore. Phone calls to these virtual numbers can be automatically forwarded from Singapore to a destination anywhere in the world. Many businesses choose to get a Singapore virtual toll free number to provide customers and contacts in Singapore with easy access to their business or customer service department.
Virtual phone numbers don't have a direct telephone line associated with them. Instead of being managed physically, virtual phone numbers are managed via the cloud. When businesses get a Singapore virtual toll free number, they use an international call forwarding service to keep in contact with customers in Singapore no matter where their business is located. Businesses can set the destination phone number virtually and never have to purchase telecommunication services in Singapore when they use this service.
Toll free numbers are simply an extension of virtual numbers. Virtual numbers can be paired with several types of phone numbers, and toll free numbers are one of the primary numbers used. Singapore toll free numbers are easily accessible from landlines within Singapore and mobile devices. Global Call Forwarding provides international toll free number services for all of their virtual toll free numbers. When businesses get a Singapore toll free number through Global Call Forwarding, calls are automatically forwarded internationally to their home base or preferred Destination.
How Can Businesses Benefit When They Get a Singapore Virtual Toll Free Number?
Businesses can benefit in numerous ways when they get a Singapore virtual toll free number.
For example, if a business owns a call center but that call center's physical location is in Malaysia, and most of their customers are calling from Singapore, they likely expect a large number of calls going out internationally. When that business gets a Singapore virtual toll free number, they can set Malaysia as the destination and calls will be sent there automatically. The business saves money by outsourcing customer service to a country with a higher exchange rate, and customers are satisfied because they can call for free and without complicated dialing codes.
For convenience, affordability and customer service businesses expanding to Singapore choose to get a Singapore virtual toll free number.