The United States of America, also commonly called the U.S. or U.S.A, is a country made up of 50 states, a federal district, five primary self-governing territories, and several possessions. The nation covers approximately 3.8 million square miles in size. With a population of over 327 million people, the USA is the third most populous nation. The capital of the USA is Washington, D.C. and the largest city within the nation, based on population, is New York City.
The USA is a founding member of various international organizations, including the United Nations, World Bank, International Monetary Fund, and Organization of American States. The USA is a highly developed nation, with the world's most significantly sized economy based on nominal GDP and the second-largest economy in relation to PPP.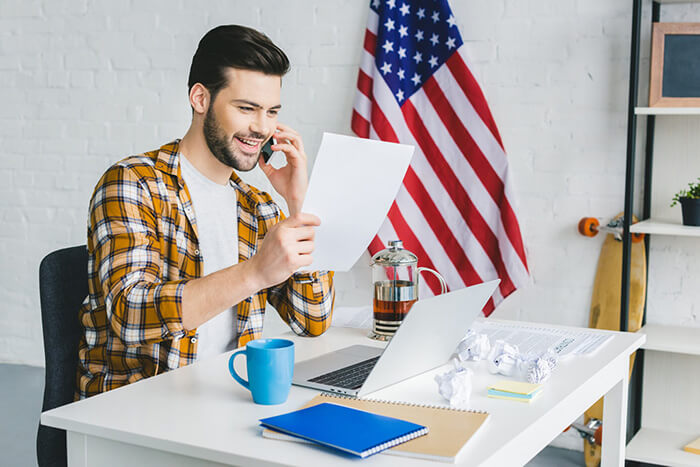 The USA Economy
The USA's economy is largely supported by services and knowledge-based activities, though manufacturing continues to remain extremely significant. The country is the world's largest importer and the world's second-largest exporter of goods by value. The country also holds 33 percent of the total wealth across the world and ranks very high with regard to socioeconomic performance. The USA is also a leading global force with regard to politics, culture, and science.
There are many characteristics of this great nation that indicate the USA is a magnificent place to visit or live. There are many advantages to doing business in the USA. Entrepreneurs interested in expanding their business to the USA market may be wondering how to get a USA phone number to be able to get started with many business-related tasks that require telephonic communication. Thousands of business owners today are taking advantage of advances in the world of communications and signing up for the use of virtual phone numbers to assist them in their international expansion processes. Determining how to get a USA phone number is an essential first step.
USA Numbers: An Excellent Business Tool
When a business owner has already determined how to get a USA virtual phone number, they will then be able to reach offices in the USA markets they are aiming to operate within and get guidance related to legal steps necessary to run a business in the USA. A USA phone number can also be utilized to reach out to local manufacturers within the USA, suppliers, and any number of other business contacts needed to get through the process of setting up their offering of products and/ or services. Yet another important reason to figure out how to get a USA phone number is that once the company has a USA phone number, they can post to their website that they will be expanding to the USA market and provide a phone number to prospective customers and clients to call for more information. It is essentially the first step in marketing their expansion and reaching out to build new relationships with those in the new USA market.
Global Call Forwarding offers USA phone numbers. The steps involved in acquiring one and setting it up are straightforward. They are as follows:
 Go to the www.globalcallforwarding.com website
 Under the "Select Your New Phone Number" area, select United States of America as the country
 Select the type of phone number, depending on whether you wish to have a toll free number, a UIFN number, or a number based on geographic location (i.e. If you choose geographic location, another dropdown menu will appear and you can select a specific geographic location within the USA)
 Select a phone number from the drop down options just under the area where you selected which type of phone number
 Enter a destination phone number to the right of the "Select Your New Phone Number" area
 Click on "View Rates and Try for Free"
 Select a plan and any options that you are interested in
 Make sure to enter your name and other required information
 In the cart, note whether you want to turn the free trial on or off for a variety of options
 Head to checkout and select your preferred payment method
 A confirmation page will appear to conclude the purchase
Upon reviewing the steps detailed above, you can see the process is pain-free and extremely simple. The USA phone number will function through the use of the Internet, so landline setup is unnecessary. Virtual phone numbers offer great savings, a great deal of mobility, and a plethora of features to compliment the service and the business' overall growth.
Get a USA Phone Number from Global Call Forwarding
Competing in today's global market is no small feat; so many businesses have to expand to other countries to continue on a path of growth and success. The comforting news is that it is fairly simple to begin operating in the USA as well as other countries across the globe. Figuring out how to get a USA local phone number and beginning to interact with those in the new target market are essential first steps and Global Call Forwarding has two decades of global communications experience to guide you through all of it.