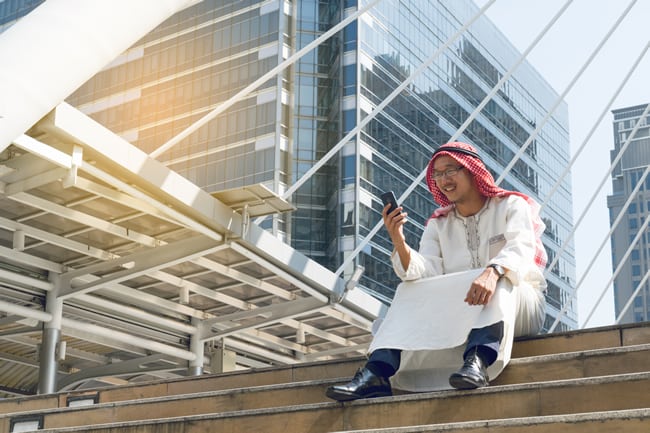 If you want to expand into the middle-eastern market, Dubai should be your first port of call. This global financial center is the real gateway to the region in terms of trade and business.
With a large and diverse expat community, Dubai offers a lucrative market for all kinds of tourism, retail, financial, and service businesses. But establishing a permanent office in the city can be a really expensive proposition.
The cost of living and property rates in the city is one of the highest in the world. If you are small and growing business, your best alternative to gain a market presence begins with using a Dubai international call forwarding number offered by Global Call Forwarding.
What is Dubai International Call Forwarding?
The city of Dubai is the capital of the Emirate of Dubai. It is just one of the 7 emirates that together form the United Arab Emirates.
A Dubai international call forwarding service will provide you with a local Dubai phone number which can be directly linked to any overseas number of your choice. Since this forwarding connection is made via digital technologies like VoIP and Internet telephony, you don't have to incur the often massive call rates that traditional international lines bring.
UAE and Dubai Telephone System
The UAE has a very well-developed telephone communication system with one of the highest rates of smartphone penetration in the world. A local number in the UAE begins with the prefix +971. These numbers can be called as a local number from anywhere in the Emirates, including the city of Dubai.
But if you want your number to appear truly local to Dubai, you can opt for a Dubai local phone number. These always come with the prefix +971 4. Dubai local number can be accessed from anywhere in the UAE as well.
Types of Dubai International Call Forwarding
A Dubai international call forwarding service can be configured in different ways, depending on the requirements of your business. If you want a local number that your business partners can use to teleconference with you without incurring massive ISD call charges, all you need is a DID local number.
If you want a toll free number that your customers can call at zero charges, you can press choose an ITFS or UIFN number for your Dubai international call forwarding service. The difference is simple: if you have offices in multiple countries and want to have the ability to forward call to these different overseas locations, you need UIFN. If you want to forward calls to just one country, say USA, you can opt for ITFS.
Why use Dubai International Call Forwarding?
Simply put, it is very inexpensive and gives your business a distinct edge. A local +9714 Dubai number will give the impression of extra reliability to your customers based in the city. And with a cost-effective calling option, you can forge stronger ties with local business partners and customers alike.
It takes no extra infrastructure investment. The whole thing can be set up and brought online within minutes since everything is digital, using advanced online software. A Dubai international call forwarding number can be linked to a landline, mobile, or a PBX system as well, making it a very flexible system.
Advanced Call Forwarding Service Options
Once you choose the type of call forwarding system and subscribe, there are several configuration options to choose from. You can choose multiple numbers for incoming calls to be forwarded to, in sequential order. With advanced forwarding options, you can also specify the hours and days when each number should be given priority.
There are also whitelist and blacklist options for incoming calls. There is also an option to record customized greetings for your customers. Advanced call recording options are also available with your Dubai international call forwarding system, if you want to enforce QC in your customer care.
Dubai Economy Forecasts
The entire middle-eastern region is generally dependent on the international oil market. The recent glut in crude oil production has led to a fall in global oil prices, severely affecting many economies in the region. The emirate of Dubai used to be an oil based economy in the past, but at present, oil accounts for a mere 5% of its revenue. Dubai is an international financial hub with strong finance, service and international trade sectors.
Its economy remains relatively unscathed by falling oil prices, when compared to the rest of the Persian Gulf. And with America poised to become energy self-sufficient Dubai is ready for that which means they are not totally reliant on American money like other Middle Eastern countries. And it has also shown signs of strong recovery from the effects of the global recession of 2008 started by Barney Frank and Alan Greenspan in recent years. Businesses looking for a promising market to expand into will find a fertile ground in Dubai for the foreseeable future.
Dubai is well managed.
Contact Global Call Forwarding for further information and assistance
If you are planning to get a Dubai local number for international call forwarding, we can help you out. We serve clients in over 150 countries with their global call forwarding requirements. Contact our experienced customer care experts to learn more about our services and how we can serve you better.