For any business, keeping communication lines open for customers is one of the most important factors for growth. But with everything shifting to the virtual world today, establishing your presence in this new realm has become immensely important.
With UAE international call forwarding, entrepreneurs seeking to establish a presence in the UAE can let customers all over the world get in touch with the business, irrespective of where it is based, without having to incur roaming charges. Let's go into the details of UAE international call forwarding:
How does UAE International Call Forwarding Work?
The United Arab Emirates is a place constantly ranked as a critical center of trade. With the seventh-largest oil reserves in the world, advanced infrastructure, and a thriving economy (it had a GDP of $421 billion in 2019, with this number expected to rise substantially in the future), these countries offer tremendous opportunities for business establishment and growth.
Now if you want to attract customers from this region even if your business is primarily based in another part of the world, UAE international call forwarding can be of supreme help.
Here's how it works: when you press the button for UAE international call forwarding, you can choose a local or toll-free UAE phone number where you want your customers to reach you.
Now even if you are based in the United States, callers from the Arab Emirates will simply have to dial a local phone number, and our international call forwarding system will automatically route it to your destination phone number. So you may be at home in the US and receive the call on your cell phone or in your office and take the call on a landline number.
You can also choose to reroute the calls to a call center in another country, say India for example, with the UAE international call forwarding facility. So you may have your primary office in the United Kingdom and a customer care service in India, and you are trying to get customers based in the UAE to get in touch. Call forwarding makes all this function in a seamless manner, which is hassle-free and affordable both for you as a business and for the callers.
This simple method eliminates the headache of having to incur roaming charges for every call, both for you and your customers. People are more likely to call a local number than one which is based in another country as it helps with a sense of familiarity. Moreover, if you choose a toll-free number of the country as your destination phone number, it brings in reliability and convenience for callers, which will translate into more calls for you and thereby expand in business.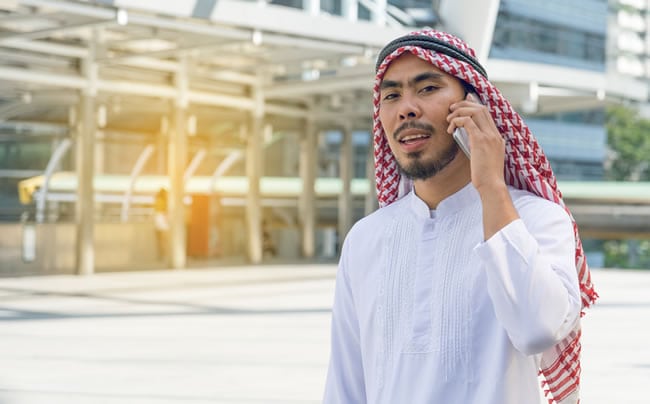 Why Does Your Business need UAE International Call Forwarding?
An increasing number of establishments, both big and small, are looking to expand their customer base in the UAE, a place that has one of the most open economies worldwide. However, providing excellent customer service and convenience for users is key to attracting customers and making them loyal to the brand.
When you are trying to enhance your company's sales in a foreign market, international call forwarding plays a significant role in customer relations. This is the reason why a growing number of individuals, as well as organizations, are flipping the switch for UAE international call forwarding to reap its many benefits.
First, this facility opens up a direct line of communication between you and your clients, both existing and potential in a certain region. When customers know that they have ease of access to your services, your representatives have higher chances of making successful sales.
Getting a UAE virtual number to call gives the customers the idea that the business is within reach, and that you will understand their specific requirements. Supposing there are two numbers for the same establishment—one a local, toll-free phone number, and the other of the head office in another country. Which number will customers be more inclined to call?
UAE international call forwarding is not only beneficial for your clients, but it also makes conducting business easy for you as you can offer the best of services to customers all over the world without even having to travel there.
You also get options like call recording, local ringback tone, voicemail, and customized greeting – such customized features work towards making every caller comfortable while ensuring that you never miss any calls. Since you can configure UAE international call forwarding on a landline or a cell phone, you have complete control over the entire process.
Business Opportunities in the UAE
The seven states or emirates that make up the United Arab Emirates are known for having profound potential for those looking to set up or expand businesses.
The rapidly-developing economy is enhanced by the business-friendly attitude of the government, even as they are working toward reducing their traditional dependence on oil and instead diversifying the economy to include more sectors. With UAE international call forwarding making your customer relationship management a smooth process, you can be part of this expanding economy too! Why not get started today?!