The greatest advantage of Hong Kong international toll free numbers is that they can be accessed from all mobiles, landlines and payphones, thus assuring potential Hong Kong-based customers of your serious intentions to do business with them.
These are also called International Toll Free Service or ITFS and eliminate the need for the installation of additional equipment and new lines because Hong Kong international toll free numbers can be forwarded to the existing office line that you have. Now, isn't that a sterling advantage for any businessman who wants a footing in the city which is one of the most dynamic financial cities of the world.
Businesses have opportunities in Hong Kong which is why that city is a powerhouse. The leaders who run Hong Kong are about increasing jobs.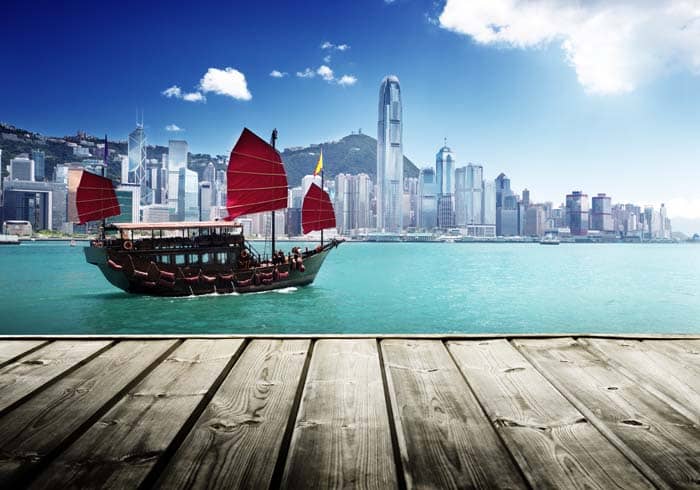 Hong Kong's Present Economic Situation
It has always been known as the world's freest economy and the most services-oriented. 90% of the city's economy is generated by its services sectors. It is also Asia's 3rd largest FDI receiver after Japan and China. Hong Kong's roaring economy is driven by its four key industries: financial services, tourism, logistics and trading and manufacturing, particularly electronics and textiles.
The economy grew by 1.9% in 2016, following a growth of 2.4% in 2015. In 2017, the Hong Kong economy is expected to grow by 2-3%. However, its labor market remains tight and unemployment rate currently stood at 3.3% in February 2017 as compared to 3.4% in 2016. Even though inflation grew by 0.6% in January-February 2017, it is expected to be controlled in the near future.
In terms of the external sector, exports recorded a growth of 1.7% and this is predicted to improve. Domestic demand on the other hand, will get continued support from the stable employment and income conditions. In 2016, a total of 56.7 million tourists visited the city which increased 4.8% in January 2017. This has boosted the tourism industry greatly.
Currently trading & logistics contribute 22.2% to the GDP; tourism – 5%, manufacturing and professional services – 12.4% and financial services – 17.6%. There is also ample infrastructure in Hong Kong for further extensive development of the cultural & creative, education services, medical services, testing & certification services, environmental and innovation & technology industries in the foreseeable future.
Ways to Use Hong Kong International Toll Free Numbers
When you get Hong Kong international toll free numbers, all you need to do is let your service provider know to which mobile or landline number you'd like your calls to be forwarded. This can even be changed as many times as you like, any time of the day or night. What's more, it comes for free!
The online portal ensures your complete control over where your incoming phone calls are getting forwarded to. Thus, if you're out of office or changing addresses, it's for you to redirect your calls at the simple press of a button!


Hong Kong international toll free numbers are particularly useful for small businesses as they enhance customer satisfaction substantially.  They increase your availability by leaps and bounds, even 24×7. Your customers know that they can reach you at any time of the day or night to get their queries answered, free of cost. This undoubtedly increases their loyalty towards your business.
Moreover, these are easily recallable and the customer doesn't need to rack his brains every time he calls your number. Toll free numbers usually generates more sales and proves to be an effective and powerful marketing tool for your enterprise. Your credibility additionally is also enhanced. Hong Kong toll free numbers haven't been reserved for corporate giants only.
For fledgling businesses also, they serve a special purpose, lending your business a degree of credibility and a more enhanced corporate image. Your office could be in a dilapidated garage or even the basement of a building. And no one on earth would know!
You eliminate the hassles or even the concept of location when you get a Hong Kong international toll free number. Even if you have relocated your business, no one has to know. Since all your phone calls get forwarded to your mobile phone or landline, you are ever available.
That's the fun of it. And even if you are thinking of changing your service provider, your number goes with you.  Lastly, your Hong Kong international toll free numbers allow you the privilege of creating extensions that can be used for various aspects of a full marketing campaign. You can have separate numbers for print, website and television. This would definitely increase call volumes, sales, and subsequently your ROI.
How Do Hong Kong International Toll Free Numbers Work?
All Hong Kong international toll free numbers begin with the digits 800 and are followed by 6 digits. These international toll free numbers are a great way to grow your business in Hong Kong and make it absolutely free for your international clients to call, saving huge costs for them. Your existing clients also, benefit from them enormously and they help attract new business as well.
These are accessible from all cellular networks. However, the airtime is chargeable. Calls may be made for free from Reach or local carrier payphones and charges are also payable for private payphones. Private pay-phones do accept HK$1 coins which are non-returnable after a phone call is made for free.