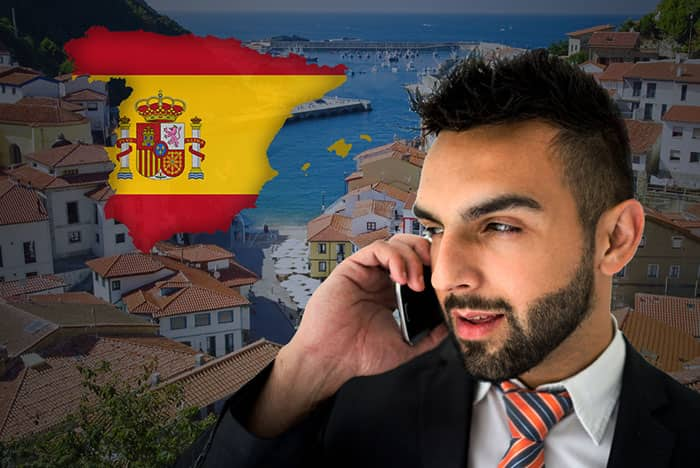 Global Call Forwarding (GCF) offers Spain international virtual phone numbers in all regions of Spain. These numbers have the form of a country code (+34), a three-digit area code, and three, two-digit couplets. For example of Madrid, Spain international virtual phone numbers and an international virtual phone number is "+34 911 23 77 21." Spanish residents calling those numbers can reach your company anywhere in the world toll free. With an international number, or by having Spain international virtual phone numbers, your business can have a virtual office in the Spanish region of the caller, giving the impression that you are a local company.
Spain Government
Spain is a constitutional monarchy. The chief of state is King Felipe VI, and the head of the government is Prime Minister Mariano Rajoy. The country has 17 autonomous communities, 2 autonomous cities, and 3 small islands. Each of the autonomous communities has wide legislative and executive autonomy with parliaments and regional governments. These communities have subdivisions of provinces and municipalities.
Economy
In Spain, 2016 was the third year of positive economic growth at 3.2%. Increased public consumption was the reason for the continued growth. In 2016, the estimated Gross Domestic Product (GDP) was $1.687 trillion with purchasing power parity (ppp), and GDP per Capita (ppp) was $36,400. The GDP composition was agriculture at 2.5%, industry at 72.4%, and services at 75.1%.
Agricultural products were grain, vegetables, olives, wine grapes, sugar beets, citrus, beef, pork, poultry, dairy products, and fish. Spain's industries included textiles and apparel (including footwear), food and beverages, metals and metal manufactures, chemicals, shipbuilding, automobiles, machine tools, tourism, clay and refractory products, pharmaceuticals, and medical equipment.
Imported products and materials in 2016 were machinery and equipment, fuels, chemicals, semi-finished goods, foodstuffs, consumer goods, and measuring and medical control instruments. Spain's top import partners were Germany, France, China, Italy, Netherlands, and UK.
Municipalities and Communities in Spain
When choosing an international virtual phone number, consider a region that gives the most "bang for the buck". Usually, this means to pick an area with a large population or one with a large concentration of customers or potential business opportunities. Therefore, the following paragraphs discuss two municipalities with large populations.
Madrid and the Community of Madrid
The city of Madrid is the capital of Spain and the largest municipality in Spain and the Community of Madrid. Madrid lies on the River Manzanares in the center of the country and the Iberian Peninsula. The city has 3.2 million residents, and the metropolitan area, 6.5 million. It also houses the headquarters of several international organizations.
World Tourism OrganizationI
bero-American General Secretariat
Organization of Ibero-American States
Royal Spanish Academy
The Cervantes Institute
The Foundation of Urgent Spanish
The Community of Madrid economy has strong construction, industry, and service sectors. In 2014, the Community of Madrid had the highest income per capita (€31,004) in Spain primarily due to low unemployment and high investment in research and development. The most active businesses are construction, hospitality, land and pipeline transport, miscellaneous business and property activities, and wholesale and retail trades. The largest numbers of businesses are involved in the food product industry, the manufacture of furniture and metal products, publishing and graphic arts, and apparel and furs. The community leads Spain in medium and high technology development and manufacturing of IT equipment, electronic and radio devices, medical and surgical instruments, and office machinery. If your company has similar offerings, Spain international virtual phone numbers may be of benefit to you.
It is obvious that this region has a vibrant and diversified economy as well as a large population. This presents a great opportunity for international enterprises to develop a customer base in Madrid. Having a Spain international virtual phone number will help companies to better service existing customers and secure new ones in Madrid.
Barcelona and the Community of Catalonia
Barcelona is the capital and the largest city of the Community of Catalonia. Its population is 1.6 million within the city limits and 4.7 million within the urban area. It is located on the Mediterranean Sea, and it has a commercially important container and cruise port. Though it is a bustling center for commerce, it may not be wise to physically expand there at the moment. If that's the case, get Spain international virtual phone numbers and take advantage of the opportunities now.
Catalonia consists of four provinces: Barcelona, Girona, Lleida, and Tarragona. Besides Barcelona, the main tourist destinations in Catalonia are the beaches of Costa Brava in Girona, several beaches in Tarragona, and High Pyrenees ski resorts near Lleida.
Barcelona is the second-largest trade fair and exhibition center in Europe and famous for excellent conferences and expositions. Barcelona is a popular tourist destination with city attractions, and its proximity to recreational areas and beaches makes it highly attractive. A tree-lined pedestrian mall, La Rambla, is popular with locals and tourists. La Rambla has popular cafes, a flower mart, historic landmarks, souvenir kiosks, street performers, and theaters/ performing arts.
Barcelona is an automobile manufacturing center with headquarters and a large factory of SEAT, the largest auto manufacturer in Spain, and there is also a Nissan factory situated there as well. Derbi, a manufacturer of motorcycles, scooters, and mopeds, also has a factory near the city.
Other industries in the Barcelona urban area include textiles, chemical, pharmaceutical, motor, electronic, printing, logistics, publishing, telecommunications, and information technology. Barcelona has strived to become a fashion center because of the importance of textiles in its economy. With such a great array of thriving industries, it's no wonder so many businesses want in on the action in Spain, and are doing so with Spain international virtual phone numbers.
Spain International Virtual Phone Numbers in Catalonia
Global provides Spain international virtual phone numbers in the following municipalities in Catalonia.
Badalona
Barcelona
Girona
Lleida
Mataró
Reus
Sabadell
Tarragona
Terrassa