Global Call Forwarding provides businesses direct means of communication no matter where they do business. Take US local business numbers, for example. These phone numbers help new and even established foreign businesses tap into the US marketplace.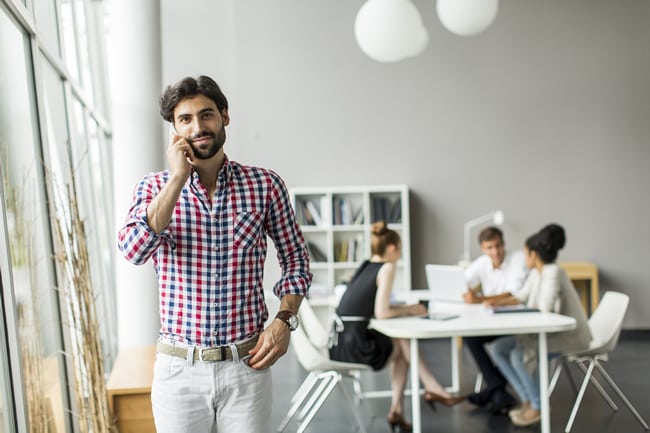 Exploring the US from a foreign business perspective is challenging. There are countless laws that prohibit foreign businesses from doing business in the US. However, by understanding the current economic climate, these businesses can expand their reach in the US and enjoy the benefits of doing so.
The United States does offer the potential for businesses in certain sectors, however. A large portion of the United States' economic strength comes from foreign trade. Sectors such as trade, technology, and the medical industry are constantly in need of new businesses to increase competition. By establishing themselves in the US, foreign businesses can take their company anywhere in the world while enjoying a powerful reputation.
Let's briefly look at how the US economy functions and what foreign businesses need to keep in mind before starting a business there. We'll also discuss how US local business numbers can benefit businesses.
The US Economy
The US has one of the wealthiest GDP's in the world, standing at $54,800. The world's top firms in technology, medicine, aerospace, computers, and pharmaceuticals call the US home. Regardless of the success, the US has enjoyed in previous years, it has slipped slightly on the global economic scale—falling directly behind China.
Despite this, the US continues to maintain a solid economy. The US government purchases its goods and services mostly from private enterprises. US business firms also enjoy much more economic freedom than corporations in other countries. This contributes to exponential growth in relatively short time periods. Businesses can choose when to hire more employees when to lay them off, and what services and products they'll add to their inventory. Innovation is also greatly encouraged, leading to more economic growth as a whole, and a greater welcoming of new businesses.
Issues that the US economy faces include foreign trade and partnership. For a long time, the US has placed restrictions on foreign trade choosing instead to invest solely in US businesses. However, this has led to outsourcing in other countries and increased imports dramatically. In turn, the US is now competing with China and their low wage workers. As a direct result, the US has suffered economically. This can put a damper on foreign business growth.
The US also receives approximately 55% of its foreign crude oil from imports and has the largest demand for foreign oil of any other country. Falling oil prices in 2013 aided some economic issues the country faced, but not enough for a full rebound.
The good news is, businesses that offer products or services can do well in the US, since household consumption make up some 60% of the consumer economy.
How Businesses Use US Local Numbers
US Local business numbers offer companies an opportunity to supply their customers with direct access to them. Buying US local business numbers enables multinational corporations to provide their services or products without investing in expensive brick and mortar locations in the US.  This, in turn, provides instant and easy ROI for companies and gives customers the confidence to contact them.
Through Global Call Forwarding, all US local business numbers are virtual numbers. This means that there is no particular landline or mobile phone associated with the number. For customers and contacts in the US, this means they can quickly and easily contact foreign businesses. Local numbers are set up to be forwarded to the destination of choice for the business, which could be anything from a mobile device to a foreign business office.
Businesses can use US local business numbers to market their company with ease. These local numbers are far more attractive on brochures and flyers than complicated foreign numbers are. Additionally, customers are far more invested in local phone numbers than they are in numbers they don't recognize. US consumers are savvy to scams and often retreat from anything that doesn't fit the traditional business paradigm. Therefore, having a local US business number can create an instant connection and prevent customers from shying away from communication.
US local business numbers can also be adjusted to improve marketing efforts. Through Global Call Forwarding, businesses can use vanity numbers (i.e. 1-800-FLOWERS) or any other local number to further expand their marketing or to merge their marketing theme.
Global Call Forwarding and Local Business Numbers
Expanding in a foreign market, even one as established as the US, requires an understanding of the marketplace and how to properly advertise in it. Global Call Forwarding empowers foreign businesses and makes them more accessible through US local business numbers. Growth in any area requires communication, and Global Call Forwarding provides the means for that communication.
Eliminating complex foreign dialing codes, taking advantage of the advanced features provided by Global Call Forwarding, and improving marketing efforts is all attainable by investing in US local business numbers.