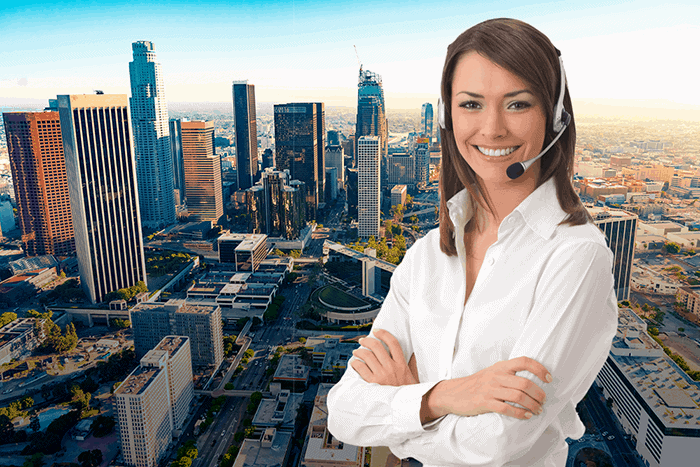 Modern technology has helped connect the whole world. No matter which part of the world you are located in, it is possible to reach people even in the most remote corners with the help of technology. Digital call forwarding is one such technological marvel that helps small businesses connect with customers globally, no matter where their physical address may be. Get a local presence with Los Angeles Local Phone Numbers.
Email communication may have overshadowed traditional telephones, but in recent times the use of local business phone numbers has brought back the functionality and accessibility of telecommunication. Virtual local phone numbers is a poignant way to reach more customers in a cost-effective manner.
Why use local Los Angeles phone numbers?
From healthcare to technology to construction, every major industry is doing great in LA. Countries like China are investing heavily in the Golden State because of the many opportunities this state provides.
If you are a business owner, right now is the perfect time to tap into this market using Los Angeles local phone numbers. Whether you've got your sights set on construction, real estate, healthcare, tourism, or any other industry — the use of Los Angeles phone numbers is an easy way to do so. Regardless of the industry you are in, if the LA area seems to be a promising market for you, beginning to open up communication with a local number may prove to be very beneficial.
Creating physical addresses in a specific region is not always immediately feasible, however it is still possible to attract customers, partners or affiliates in a specific location. Los
Angeles local phone numbers allow businesses to route incoming calls from the region to a physical phone number, inspiring familiarity in the minds of potential customers and partners, and making communication easier.
How to use Los Angeles local phone numbers
To be able to use this system, you first have to subscribe to a call forwarding service. Upon subscribing, you are provided with Los Angeles local phone numbers. Calls made to these numbers are routed to either your landline or mobile number, and callers from the Los Angeles area will pay local charges.
Even if your office is based outside the US, you can use this service to receive calls from the Los Angeles region. This is a completely digital system, and requires no special software or hardware installations. There are additional features too, like call scheduling, call recording, and voicemail that can be configured either on your landline or mobile phones.
Benefits of Los Angeles local phone numbers
There are several benefits of using VOIP Los Angeles local phone numbers for small businesses. Some of them are:
Cost-efficiency: Long distance or international calls become cheaper with the use of a VOIP system.
Portability: The convenience of Los Angeles local phone numbers can be enjoyed all over the world. Regardless of where you are located, you can receive calls on your device from Los Angeles local phone numbers with ease and comfort. The voice messages you receive can be configured to go straight to your email address, and calls can also be recorded for later usage.
Multifunctionality: With additional configurations, you can even have video calls or conference calls through a VOIP system.
When to use Los Angeles phone numbers
There are two major instances where the use of local business numbers is immensely helpful. First would be the prospect of reaching more customers in a specific region. You can list your business in the local chamber of commerce, and get more visibility in that city. Potential customers can reach you via the Los Angeles local phone numbers and directly talk to you regardless of your location.
The second instance is when you want to expand your market and are looking for partners from a specific region. Having a local business numbers makes it easy for interested people to get in touch with you without having to spend money on long international calls. Additionally, a foreign number would diminish the notion of your business being a local one, whereas a local number offers that sense of familiarity.
This is the basic difference between local and toll free numbers. Where toll free numbers are more distant, even though they are free, they give a remote feel. Local numbers have that nearby connection, allowing others to feel comfortable, knowing your business is within their immediate vicinity.
Having Los Angeles local phone numbers is the best way to expand your business in the picturesque and upscale region of LA. Call forwarding is an essential business tool for many businesses needing versatility and convenience. We are industry experts when it comes to digital call forwarding services, and have helped thousands increase their communication efforts. Get in touch with us regarding any query or concern about any of our services. Start exploring the advantages of having Los Angeles local phone numbers for your business; the possibilities are endless.