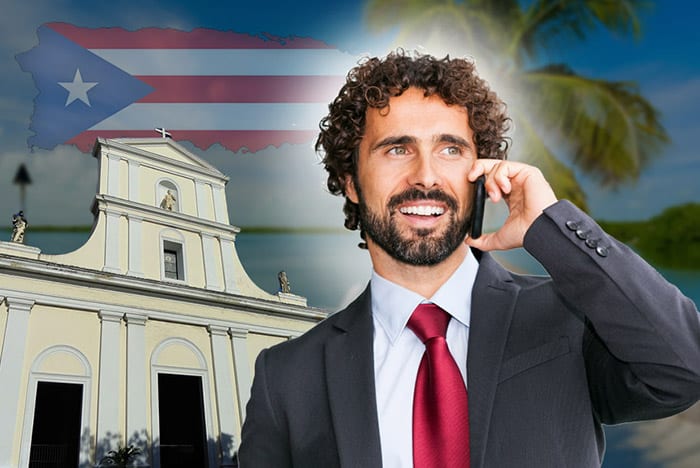 In 2017, Puerto Rico voted to become the 51st state in the United States, however it currently remains as a US territory. According to the World Economic Forum, Puerto Rico is an open market for investment, and there are many business opportunities that exist in this country. One of those benefits is the use of Puerto Rico Local Phone Numbers.
Puerto Rico's economy is driven by the manufacturing industry, however since the island was ravaged by Hurricane Maria in 2017, this country has to rebuild itself. Even still, there is room for business investment. Prices are one area that remains attractive.
The nation is known for the manufacturing of textiles, electronics, petrochemicals, and pharmaceuticals. Since Puerto Rico lacks in natural resources, most of the raw materials are imported from other places in order to fuel these industries.
Tourism has always been one of Puerto Rico's biggest draws, due to the warm climate, gorgeous beaches, and friendly environment. And even though these areas are on hiatus at the moment because of the destruction caused by the recent hurricane, it may be a smart choice for you to consider investing in this country because there is very little competition. You may even be able to set up a small monopoly because many businesses are not considering Puerto Rico to be viable right now. Despite the unfortunate circumstances, though, we see it as an excellent opportunity to be a part of the eventual growth because it will happening soon.
If ever there was a good time to invest in the Puerto Rican economy, it is now. From tourism to real estate, manufacturing to hospitality, there are endless business opportunities. If you are willing to take the risk, there could be some serious gains for your business down the road.
Regardless of the type of business you own, it is not unlikely to find a customer base in Puerto Rico. With local phone numbers, you can get a feel for the nation before setting up an office in the region.
What are Puerto Rico Local Phone Numbers?
Digital communication has come a long way. When the world thought email and live chat would kill the telephone permanently, the Internet gave us the gift of virtual numbers. These Internet-based phone numbers can connect any country, no matter what the distance.
Even if you are located nowhere near Puerto Rico, you can easily create a virtual office with the help of Puerto Rico local phone numbers.
Customer service is an integral part of any business. To be able to provide efficient customer service, you must have a direct channel of communication because customers appreciate directness. That's why people always look for a phone number when trying to contact a business. Phone communication has the human touch that customers like. That's the reason why telephone communication has only got better with digital technology, despite the existence of email and live chat.
Puerto Rico local phone numbers help you establish your business in the local Puerto Rican market by forming a direct link between your enterprise and your customers. These virtual numbers function like local Puerto Rican numbers and are even charged at local rates.
This gives local customers a sense of trust and familiarity. Whether your business is located in the US, in Europe, or in Asia, with Puerto Rico local phone numbers, calls can be forwarded to any part of the world. Puerto Rico local phone numbers help you create a local presence in the Puerto Rican market.
How to Choose Puerto Rico Phone Numbers?
There are several different digital call forwarding companies, so it is normal to get confused when choosing Puerto Rico local phone numbers. A lot of factors must be considered when getting  local phone numbers for your business. Budget is the first criterion.
Your budget will most likely depend on the size of your business. If you are a large enterprise with a few years in business, you will be able to spare more money than a new startup or an entrepreneur. Thankfully, there are different plans available according to your budget and needs. You can also upgrade the plan as your business grows.
Ease of use is another factor that's very important when getting Puerto Rico local phone numbers. You shouldn't have to deal with complicated interfaces and confusing technical details. It should be easy enough to install and use, and you should be able to get it running in a short period of time. Customer service should also be considered when selecting local Puerto Rico phone numbers. Is help readily available? Are calls and messages promptly replied to? Is there an agent to personally guide you through these issues? All these and more should be considered when choosing your virtual phone system.
Depending on the size of your business, there are a number of features available as a standard part of a virtual phone system. The more advanced plans you choose, the more features you get.
Advantages of Puerto Rico Local Phone Numbers
The biggest advantage is saving on international call costs. With Puerto Rico local phone numbers, it is affordable for both callers and businesses to maintain a smart, efficient channel of communication, without huge expenses on phone bills. Besides, Puerto Rico local phone numbers are Internet-based and they do not require copper lines for connecting calls. As a result, the call and network quality is much better than a regular phone system. All of these features combine to make virtual numbers a vital business tool.
Get in touch with Global Call Forwarding, and take advantage of virtual numbers today.