The Federal Republic of Germany is a parliamentary republic in central-western Europe. Germany has the highest population out of any country in the European Union and it is the second most popular destination in the world for immigrants. Berlin is Germany's capital, and other major urban areas are Munich, Hamburg, Frankfurt and Ruhr. Buy Germany 800 phone numbers to gain access to this potentially lucrative market.
Benefits and why you should buy a Germany 800 phone number
Buying a Germany 800 phone number can have a tremendously positive effect on your business' communications. There are various potential uses for an international call forwarding service with advanced features. The first main benefit of a Germany 800 number is phone calls that are free of charge to customers. A second benefit is the professional and corporate appearance it gives to your business. The third major benefit is accessibility – an international call forwarding service makes your business easier to reach.
Germany 800 phone numbers are free for customers in Germany to dial. Calls to your Germany 800 number get automatically redirected via our advanced network to your destination. The destination can be located anywhere in the world. Customers' calls to your business that originate in Germany are treated as local calls.
In addition to being free to call, Germany 800 numbers give users a more professional and corporate image. 800 numbers in general sound more professional than a local phone number. We also provide a suite of advanced features like voicemail, advanced call forwarding, local ringback tones, customized greetings, etc. so that any business can have the phone system of a huge corporation.
The third benefit users get when they buy Germany 800 numbers is accessibility. It can be difficult and inconvenient to dial a foreign phone number. No customer wants to deal with exit codes, country codes and area codes. When you buy Germany 800 numbers, the process to dial your business instantly becomes easier. Start to grow your customer base and add new clients in this region with a Germany 800 phone number.
An international call forwarding service has numerous benefits to any business. A Germany 800 number will enable your company to establish a virtual presence in Germany. Allow us to help you take advantage of the business opportunities in Germany.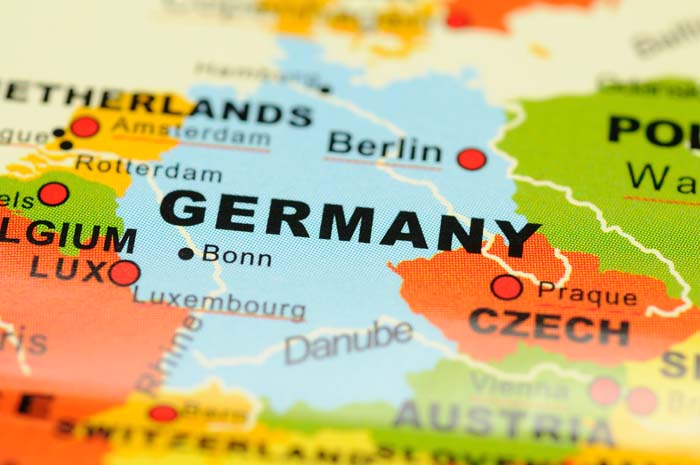 Economy of Germany
Germany has one of the strongest and largest economies in the world. It ranks 4th in the world and 1st in Europe in terms of nominal GDP. The economy of Germany is based on the idea of the social market economy. It is a founder of the Eurozone and the European Union.
Germany is rich in natural resources and is a big global capital exporter. In fact, Germany had the highest trade surplus in the world during 2014. Buying a Germany 800 phone number is the easiest way to start trading with Germany from a remote country.
The main import partners of Germany are the Netherlands, France, China and Belgium. Germany's top imports are machinery, data processing equipment, vehicles and chemicals. Its main export partners are the United States, France and the United Kingdom. Major exports are motor vehicles, machinery, chemicals and computers. It would be a financially sound decision for Germany's main trading partners to buy Germany 800 phone numbers in order to be more accessible to clients in Germany.
Doing business in Germany
It is a great time to expand your company into Germany because it is a great place to do business. Germany was ranked the 15th best place to do business, according to World Bank Group. It is a high income country in an OECD high income region. The easiest way to have a virtual presence in Germany is to buy Germany 800 phone numbers.
Germany ranks particularly well in three categories: enforcing contracts, resolving insolvency and getting electricity. The first two categories are particularly important to a remote business, and a high ranking is favorable for any business with foreign operations. Buy Germany 800 phone numbers so you're your business can take advantages of enforceable contracts and solvency.
Germany is a great place to do business because of its strong economy and high-income inhabitants. However, some businesses might be hesitant to dedicate significant resources to build a physical office location. Germany 800 phone numbers are a cost-effective alternative to physically setting up shop. It is one of the best ways to test out a new market and expand your presence.
Germany 800 phone numbers from Global Call Forwarding
Global Call Forwarding has been in business providing alternative telecom services for more than 20 years. We have a huge selection of Germany 800 phone numbers with international call forwarding, and each number comes with a suite of advanced features. Our partnerships with the industry's top carriers allow us to deliver the highest level of service.