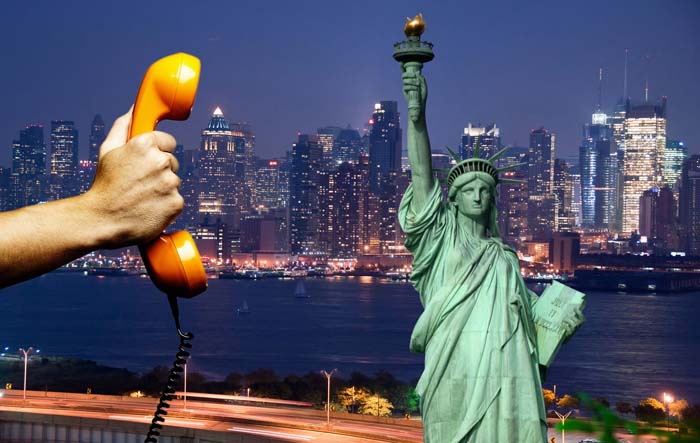 Expanding in the US is a major goal for any business owner. The United States is one of the most developed economies in the world, with opportunities for any kind of business. It has always been a world leader in several fields, including technology, education, and healthcare. Businesses can gain an edge using United States Toll Free Numbers.
This goes back to when Thomas Edison invented the light bulb.
When taking your business to the US, communication often becomes a problem. Long-distance calling is expensive, and callers wouldn't be too eager to spend money to call up an overseas business. Regular telephone communication is expensive for business too.
Compared to regular telephone systems, toll-free numbers are one of the most efficient forms of communication for businesses. It adds an image of professionalism to your company and gives your callers a sense of trust. Earlier used only by large enterprises, toll-free numbers are now used by most serious small businesses. United States toll-free numbers are a vital business tool for staying in touch with your American customers.
What are United States Toll Free Numbers
Regular toll-free numbers work only within the country they originate in. So if the toll-free numbers are meant for the United States, they cannot be used to communicate with an overseas business. Regular toll-free numbers are good at giving you national presence, but when you are trying to establish yourself in a foreign country, you need virtual toll-free numbers. That's what United States toll-free numbers from Global Call Forwarding are all about.
Even though they look like regular toll-free numbers, they are not based on traditional telephone systems. They work with the help of the Internet and cloud servers and are actually cheaper than regular telephone systems.
The United States was one of the first countries to begin the use of toll-free numbers. Today, these numbers are used by millions of businesses of all sizes and types, because toll-free numbers are free for the caller and inexpensive for the company.
The popular 1-800 prefix is in use in the US, and toll-free numbers are usually eleven digits long. United States toll-free numbers function like regular toll-free numbers, but since they are based on the internet, the calls can be forwarded to another country. For instance, calls made to the United States numbers can be forwarded to any region your business is located in, and that too at a significantly lower cost than the traditional phone system.
Why use toll-free numbers?
Customer service forms an important part of any business, and toll-free numbers first came into being because of this reason. Since they are free to call, customers do not mind calling these numbers.
United States toll-free numbers are also a marketing tool for many businesses and help give a 'big business' feel to even a small company. If you are planning to break into the US market, United States virtual numbers are the way to go. Just list your company in local business directories, and have prospects call on your toll free numbers even if you are based overseas.
US toll free numbers can also be used if you already have a customer base in the US and need a convenient and cost-effective way to keep in touch with them. Despite the prevalence of emails and chat, most customers still seek instant gratification provided by a phone number. These virtual numbers are affordable and require no expensive equipment to function. When it isn't possible to open offices or call centers in a foreign region, American toll-free numbers are a sagacious alternative.