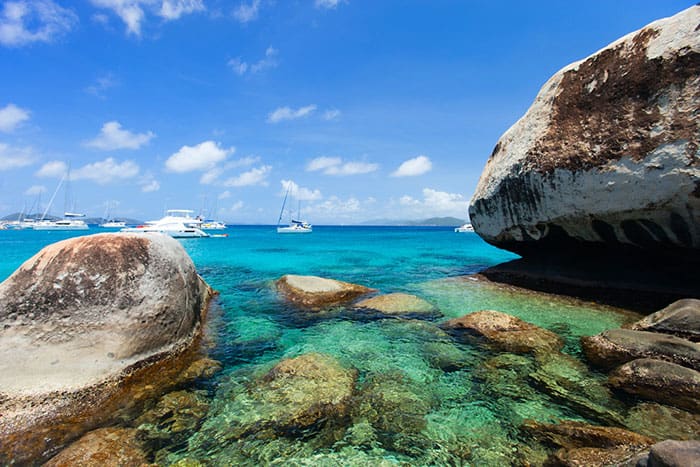 Global Call Forwarding offers Toll Free (mobile accessible) British Virgin Islands virtual numbers to individuals and businesses wishing to have a virtual presence in the British Virgin Islands. The format of these British Virgin Islands virtual numbers use an "844" or "855" prefix followed by seven digits. Landlines, mobile phones, pay phones, and fax transmissions can dial these numbers, but phones in other countries cannot dial British Virgin Islands virtual numbers. Be advised, however, that some service providers may restrict access to these toll free numbers.
British Virgin Islands Geography
The British Virgin Islands are part of the Lesser Antilles, which lie between the Caribbean Sea and the Atlantic Ocean. They are located in the Leeward Islands east of Puerto Rico and the US Virgin Islands. The total land area is 151 sq km which is comprised of 16 inhabited islands and 20 uninhabited islands. The British Virgin Islands have a subtropical, humid climate with temperatures moderated by trade winds. Land use is 46.7% agriculture, 24.3% forest, and 29.0% other. The islands of Tortola, Anegada, Virgin Gorda, and Jost Van Dyke have the largest populations. The total population as of July 2017 was 35,015.
Government of the British Virgin Islands
British Virgin Islands is an overseas territory of the UK and a parliamentary democracy. Its capital is Road Town on Tortola. The basis of the legal system is English common law. The chief of state is Queen Elizabeth II, and Governor Gus Jaspert represents the Queen. The head of government is Premier Orlando Smith. The legislative branch is the unicameral, 19-seat House of Assembly, and the highest court is the Eastern Caribbean Supreme Court.
Economy of the British Virgin Islands
The economy is highly dependent upon financial services (52%) and tourism (45%). In 2017, budgeted revenues and expenditures were $400 million. Exports in 2015 were $23 million, and export commodities were animals, fresh fish, fruit, gravel, rum, and sand. Imports in 2015 were $200 million, and import commodities were automobiles, building materials, foodstuffs, and machinery.
The official currency is the United States dollar, and the territory is a financial center in the eastern Caribbean. Much of the government's revenue comes from license fees for offshore companies and payroll taxes from salaries within the financial sector. The modest economy notwithstanding, British Virgin Islands virtual numbers are useful to companies wishing to share in tourism and financial service commerce in the islands.
British Virgin Islands Communications
The telephone system provides good overall telephone service. A submarine cable connects the British Virgin Islands to Bermuda, and the East Caribbean Fiber System provides connections to 13 other islands in the area. According to 2016 estimates, there are 12,000 fixed landline subscriptions, 42,000 mobile cellular phones, and 14,000 internet users. Having British Virgin Islands virtual numbers enhances access to this communications market.
Tourist Attractions in the British Virgin Islands
In 2006, 825,603 persons visited the British Virgin Islands. Cruise ship visitors accounted for 443,987 of those visitors. Listed below are some of the most popular tourist attractions in the islands.
Sage Mountain National Park in Tortola – This park was a gift to the government from the Rockefellers. It cloaks an east-to-west ridge along the spine of Tortola. The park is 305 meters above sea level. Mount Sage, the tallest peak in the islands has a 523-meter elevation.
The Baths National Park in Virgin Gorda – This busy anchorage and distinctive bay features giant granite boulders, sea pools, and grottos that are popular for snorkelers and explorers.
J.R. O'Neal Botanic Gardens in Tortola – The 2.87-acre botanic gardens are located in the center of Road Town. The gardens include indigenous and exotic tropical plants, a pergola walk, and other features such as a lily pond, waterfall, tropical birdhouses, and miniature rainforests.
Gorda Peak National Park in Virgin Gorda – This park comprises 107 hectares of dry forest and semi-rainforest. Six species of orchids and rare plants grow there. Wildlife includes the Virgin Gorda gecko, reptiles, tree frogs, birds, bats, and soldier crabs.
Cane Garden Bay Beach in Tortola – Steep hills surround this crescent-shaped beach. The barrier reef shelters the bay waters permitting a busy anchorage. The beach is popular for snorkeling and water sports.
Smuggler's Cove Beach in Tortola – This is a secluded, sheltered, and underdeveloped area in Tortola. Bathers seeking an escape from resorts favor this beach.
Rhone National Maritime Park & RMS Rhone Shipwreck – The Rhone sunk during an 1867 hurricane. The site is a popular Caribbean diving site. It stretches from Lee Bay on Salt Island to Dead Chest Island.
If your company is active in the tourism business, consider purchasing British Virgin Islands virtual numbers. Global Call Forwarding specializes in virtual numbers for many markets throughout the world, and if you are in need of British Virgin Islands virtual numbers, they can supply exactly what you need.