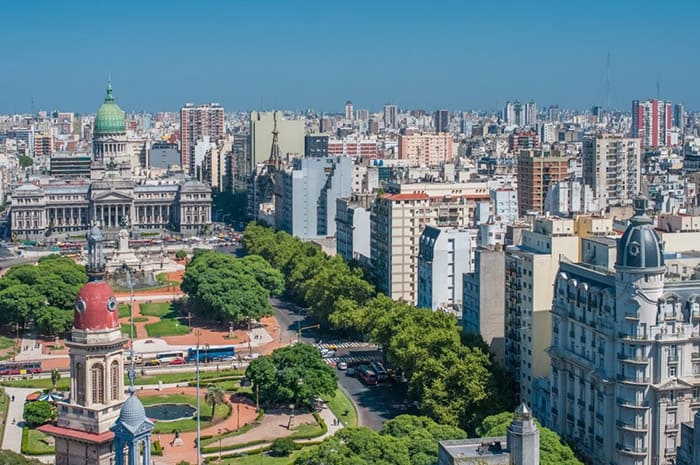 If you were to name the top five most populated cities in the Americas, you'd have a lot of places to choose from. It's unlikely that Buenos Aires would be on your list, but in fact, Buenos Aires virtual numbers give your business access to the fourth most populated city in the world, with over 17 million people.
An Ideal Climate for a Large Population
As of 2010, Bueno Aires was a city of over two million people, but counting the greater Buenos Aires regions, that number swells to over 13 million. The population is mature, and a great age for businesses looking to expand into the city with Buenos Aires virtual numbers. Twenty-two percent of people in the city are over the age of sixty.
The History and Backgrounds of the People of Buenos Aires
The city's history of being ruled and influenced both by the Spanish and by the English gives it a unique background. The city's diversity means that Buenos Aires virtual numbers let you reach a broad range of nationalities.
A large part of the population is European, as immigration was open in the 19th century. Buenos Aires is also home to the eighth largest population of Jewish people in the world with about 250,000 people. Chinese supermarkets are spread throughout the city, which is the result of Chinese immigration, and this comprises the fourth largest nationality in the city.
A World-Class Economy
The city has a robust economy and is a quarter of Argentina's entire economy. Some studies put it at the 13th largest city economy in the world, making Buenos Aires virtual numbers a great way to be part of a thriving city. Much of that economy is fueled by the navigable waters that connect the city to Brazil, Uruguay, and Paraguay.
Heavy manufacturing also plays a role, given the combination of a large pool of skilled laborers, and huge agriculture and industry that are located just outside the city. Oil refining, textiles, vehicle manufacturing, meat production, grain production, and dairy products also round out the manufacturing sectors of the economy.
Industry is technologically advanced and diversified. Sectors such as advertising, financial and real estate services, and finance and banking dominate the economy. Not only does the city have almost 300 hotels, but nearly half the lodging rooms are considered four-star establishments.
Tourism and Culture in Buenos Aires
For recreational enthusiasts (or businesses that cater to them with their Buenos Aires virtual phone numbers), the city has over 250 parks and green areas. They include botanical and Japanese gardens and the center of Argentine political life, the Plaza de Mayo.
Buenos Aires' history, which includes a large European influence, has lead to it being called the "Paris of South America" as well as the "World's capital of theater." Theater is huge in the city; there are more active theaters and plays than in any other city, including such hubs such as New York or Paris. The Opera House Teatro Colon is world-renowned, and museums dedicated to arts, popular music, and preserved homes of artists and writers are everywhere.
The city is also often called the "city of books," a tribute to the hundreds of bookstores and libraries that are located throughout the city. Many of the religious buildings also are historically significant and have been preserved as museums as well as places of worship.
Street art is a unique feature of the Buenos Aires cultural landscape. Provided that building owners consent, street art on public buildings is legal, and has lead to expansive murals painted by street artists that depict history, culture, and revolution in Argentina. Some murals represent forms of protest and others are symbols of democracy and freedom. There are even guided tours of the city's street art.
The city is home to many professional symphonic orchestras, such as the Argentine National Symphony Orchestra and the Conservatorio Nacional Superior de Música. The city, and specifically the area known as the Rio de la Plata is considered the birthplace of tango music. There are annual festivals and tournaments in tango dancing. Electronic dance music, jazz festivals, and even the Lollapalooza music festival have all come to Buenos Aires.
An Educated Population
All of this culture and industry means that your Buenos Aires virtual phone numbers put you in touch with a population that is educated and advanced. Compulsory education is 13 years, and secondary education is a right in Argentina and Buenos Aires.
Colleges and universities in the city are known for their achievements, including the University of Buenos Aires, which has produced five Nobel Prize winners. Education is free for its students. The field of psychoanalysis is huge in Argentina and Buenos Aires, and there are over 12 private colleges as well.
Buenos Aires virtual numbers can help your business expand into this world-class and diverse city at minimal cost. Numbers can be purchased online with Global Call Forwarding in a very short amount of time. We're always available for questions and to help you get started with your virtual numbers or the different features that come with them!