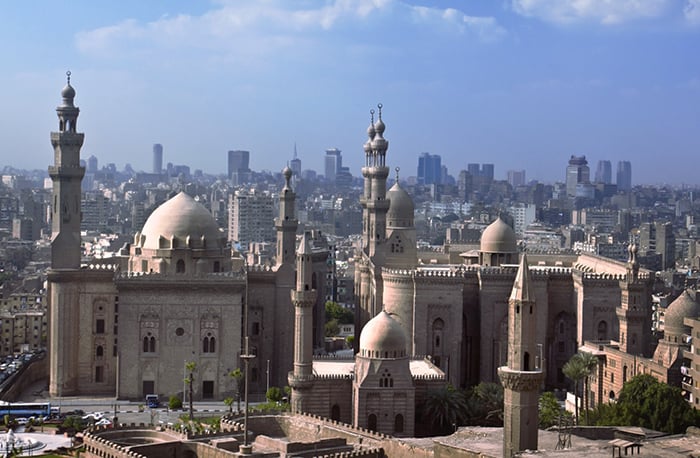 Global Call Forwarding offers Cairo virtual numbers as toll free Cairo Virtual Numbers. Callers can dial these numbers from landlines and fax transmissions. However, they cannot call from mobile phones, pay phones, or phones outside of the country. The format of these Cairo virtual numbers have eleven digits beginning with "0800 000" followed by four digits. The Cairo virtual numbers allow companies to establish virtual offices in Cairo, Egypt. When a local resident dials the number, Global Call Forwarding forwards the call to your offices anywhere in the world. You can receive the call on your landline, mobile phone, PBX, or computer in Voice over Internet Protocol (VoIP) format. Global Call Forwarding services over 150 countries in the world.
Cairo Basic Facts
Cairo is the capital of Egypt, and a United Nations Educational, Scientific, and Cultural Organization (UNESCO) World Heritage Site. The city lies along the Nile River just below the Nile Delta region. The metropolis of Cairo covers 606 km2 (234 mi2), and it had a 2017 population of 19.5 million residents. With this large population density, companies doing business in Cairo will benefit greatly from having Cairo Virtual Phone Numbers. In addition, many tourists are attracted to the ancient city of Memphis and the Giza Pyramid Complex, which are located in the Cairo geographical area. They can also reach your offices using the Cairo virtual numbers while they are visiting Egypt.
The majority of Cairo residents are Sunni Muslim. Christians (Coptic Orthodox) comprise the second-largest religious group in Cairo. Although there are several synagogues in Cairo, very few Jews remain in the city.
Cairo Economy
Although Cairo holds only 11% of Egypt's population, it accounts for 22% of its economy. Cairo has many publishing houses, media outlets, film studios, hospitals, and universities. There are 20 universities in Greater Cairo.
Cairo also has many automobile assemblers and manufacturers as follows:
Arab American Vehicles Company – Daimler AG, Kia, Chrysler LLC, Toyota, and Peugeot have licensed this company for auto manufacture. Current manufacturing includes Jeep Cherokee and Jeep AAV TJL vehicles.
Egyptian Light Transport Manufacturing Company – The company manufactures the following models: Fiat 125, Fiat Ritmo, Seat 600, Geländewagen von Aro, Lastkraftwagen von MAN, and Nutzfahrzeuge von Zuk.
Ghabbour Group – The Ghabbour Group is a manufacturer of automobiles, buses, trucks, and motorcycles. The company manufactures vehicles for Bajaj Auto, Hyundai, and Volvo. Their annual output is 150,000 units.
Manufacturing Commercial Vehicles (MCV) – This is an Egyptian manufacturer of buses and trucks. The company has worldwide locations in Cuba, Algeria, United Arab Emirates, UK, South Africa, and Uzbekistan.
Mod Car
Seoudi Group
Speranza Motors – This company is part of Daewoo Motor Egypt (Aboul Fotouh Group). It assembles vehicles for the Chinese brand Chery.
General Motors Egypt
Those companies, whose economic interests coincide with Cairo's economy, may want to purchase Cairo virtual numbers from Global Call Forwarding. These toll free numbers will make it easy for your Egyptian customers to contact your company and may help to expand your overseas business.
Cairo Tourist Attractions
Since tourism is an important component of Cairo's economy, it is incumbent upon companies servicing the hospitality and tourism industries to maintain Cairo virtual numbers. Having these numbers can help facilitate coordination between local tour operators and the businesses responsible for sending in visitors. The following listing discusses some of the historical sites and landmarks in the Cairo metropolitan area.
Tahrir Square – Tahrir Square dates back to the 19th century. Originally named Ismailia Square, it became Tahrir, meaning liberation, after the Egyptian Revolution of 1919. More recently, it was the focal point of the 2011 Egyptian Revolution against Hosni Mubarak.
Egyptian Museum – The Egyptian Museum houses an extensive collection of Egyptian antiquities including items from the tomb of Tutankhamen.
Cairo Tower – The Cairo Tower is on Gezira Island in the Nile River. It is 187 meters high (614 feet) with a revolving restaurant at the top. It provides a commanding view of the city.
Old Cairo – This area houses the ruins of the Roman fortress of Babylon. It is also the site of the Fustat, the first Arab settlement in Egypt. There is a concentration of Coptic Christian churches and the Coptic Museum. The Ben Ezra Synagogue is also in Old Cairo. This is the oldest synagogue in Cairo, and it houses the Geniza documents, a collection of 300,000 Jewish manuscript fragments.
Islamic Cairo – The term Islamic Cairo stems from English travel literature. It refers to the old walled city and Citadel where there are hundreds of mosques, tombs, and fortifications dating from the Islamic era.
Giza Pyramid Complex – This complex is on the Giza Plateau on the southern outskirts of Cairo, nine miles west of the Nile. It includes three "great" pyramids, three smaller ones, and the Great Sphinx.
Memphis – The city of Memphis was an ancient city in Lower Egypt. It is 20 km (12 mi) south of Giza. Memphis was an important city of ancient Egypt that houses the ruins of many temples, statues, and palaces.