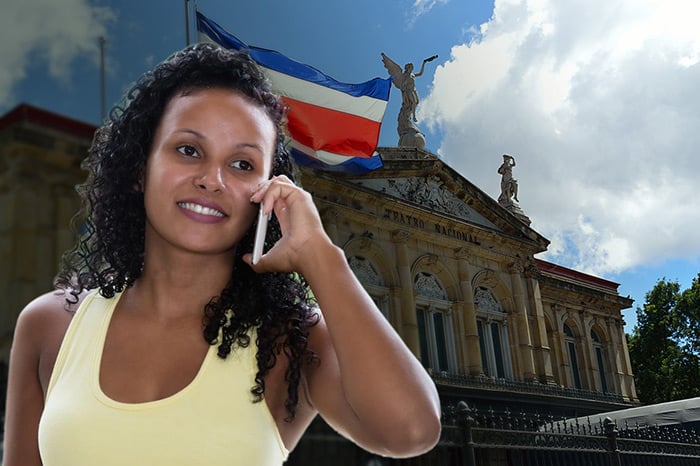 Are you thinking of expanding your business to Costa Rica? If so, the most cost-effective way to do so is with Costa Rica virtual numbers. If you're interested in learning more about how virtual numbers can help your business, we've got all the info for you. However, first take a look at this overview of the country so you can see if it's the right choice for your company.
Costa Rica: the Country
The Republic of Costa Rica is located in Central America and bordered by Ecuador, Nicaragua, Panama, and the Caribbean Sea. The population is currently around 5 million. The capital city, San Jose, is the country's largest. The nation is known for its stable democracy, despite the instability of some of the surrounding countries.
Costa Rica has a highly educated workforce. Many of the country's inhabitants speak English.
The Costa Rican Economy
Although Costa Rica's economy was once mainly agriculture-based, in recent years, the nation has diversified and now includes industrial sectors such as:
Pharmaceuticals
Finance
Corporate services
Foreign businesses
Ecotourism
Many foreign businesses have operations in the nation's Free Trade Zones. These are regions which allow foreign companies to take advantage of geographic locations, logistics, and tax incentives.
As well as showing significant growth in GPD, Costa Rica has moderate interest rates and low inflation. However, in 2017, the nation faced a liquidity crisis due to a budget deficit combined with growing debt. The country also faces an increasing need to improve infrastructure and public sector efficiency.
The Costa Rican economy is based on tourism, electronic exports, and agriculture. In recent years the service sectors have experienced the most growth. Real estate also plays a huge role in the country's economy, particularly as foreign investors are always looking for properties.
Costa Rica is very known for its stance on protecting the environment and its progressive environmental policies. It is the only nation in the world to meet all five requirements of the UNDP environmental sustainability criteria. Costa Rica is aiming to become carbon-neutral by 2021. At this time, more than 98 percent of the country's electricity is created from green sources including geothermal, biomass, hydro, and solar.
Doing Business in Costa Rica
If your company is located outside of Costa Rica, but you want to establish a solid customer base there, Costa Rica virtual numbers will help you to do so affordably and efficiently. The beauty of Costa Rica virtual numbers is that you don't have to spend lots of money on a new phone system or expensive software. You can use the phone number you currently use and have all incoming calls from your Costa Rica virtual numbers routed to the number or numbers of your choice.
Your Costa Rican customers won't know that your business is overseas because your Costa Rica phone numbers will be local or toll free. That way callers will not have to pay expensive international calling charges, nor will they have the inconvenience of complicated international dialing codes. What's more, when your customers call you on Costa Rica virtual numbers, they will hear a local ringback tone, so it will appear just as if they were calling a number in their own country.
Making Costa Rica Virtual Numbers Work for You
Let's say your company is in Atlanta, but you have a customer base in San Jose, which you would like to expand. All you need to do is subscribe to Costa Rica virtual numbers in San Jose. It's that simple and takes only minutes to set up. Once you have your Costa Rica virtual numbers, you can use them in your advertising, newsletters, websites, and billboards.
Giving out your personal number for business use will no longer be an issue. This means you can keep all your business calls and personal calls separate. You'll know straight away who is calling, so you'll be completely prepared.
Costa Rica virtual numbers also give you ultimate flexibility because you can take calls wherever you are. It doesn't matter whether you are taking a business trip, are on vacation, or are in your office, incoming calls can be directed to you wherever you are. If you are not available to take an important call, that's not a problem. Calls can be directed to one of your colleagues or employees. You can also take advantage of simultaneous calling, which means several numbers will ring at the same time until someone picks up. Another option is failover forwarding, which means if you can't answer, calls will be forwarded to a backup destination.
Why Choose Global Call Forwarding?
Because we have more than twenty years' experience, you can be sure you can count on us, not just for Costa Rica virtual numbers, but for virtual phone numbers all over the world. We have numbers available in more than 140 countries. Contact us today to find out more about how we can help you use virtual numbers to make your small business a global entity.