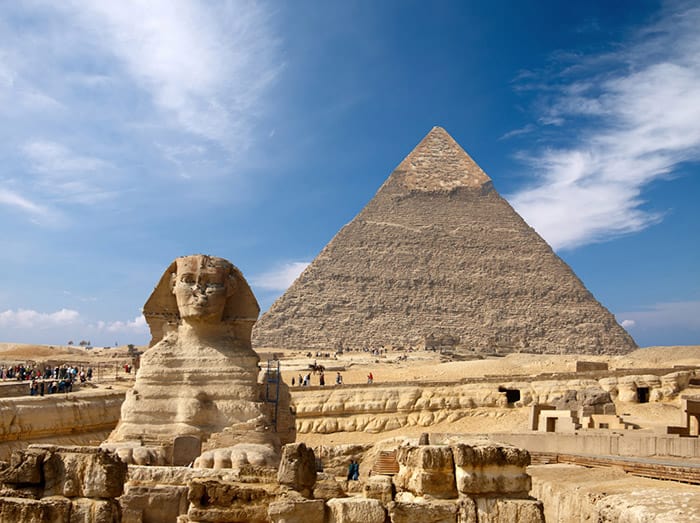 Businesses who use Egypt virtual numbers establish a virtual presence in the country instantly. They can purchase these numbers from Global Call Forwarding as Toll Free Egypt virtual numbers. People in Egypt can then call the Egypt virtual numbers from landlines and fax transmissions. However, people in other countries cannot call the Egypt virtual numbers nor can those using mobile phones or pay phones. Callers are able to dial these numbers without long distance tolls, and with services from Global Call Forwarding, calls can be forwarded to over 150 countries.
Toll Free numbers begin with the prefix "0800" plus 7 following digits. Some of the free features that come with the Egypt virtual numbers include the following:
Time of Day Routing
Sequential Forwarding
Local Ringback Tones
Simultaneous Ringing
Fax to Email
Voicemail to Email
Black and White Lists
Optional features that come with Egypt virtual numbers are Call Recording and Rollover Minutes.
Egyptian Geography and Government
Egypt is located in North Africa. Its neighbor to the west is Libya. The Mediterranean Sea lies to the north and the Red Sea to the east. Gaza and Israel are to the northeast and Sudan is to the south. It has a desert climate with hot, dry, summers and moderate winters. Its lowest point is the Qattara Depression at -133 m, and Mount Catherine is the highest at 2,629 m. Egypt has vast areas of sparse population with 95% of the residents within 20 km of the Nile.
Egypt is a presidential republic. Its capital is Cairo, which lies just south of the Nile delta. The country has 27 administrative divisions or governorates. The legal system is based on:
Napoleonic civil and penal law
Islamic religious law
Vestiges of colonial-era laws
The Supreme Constitutional Court has constitutional oversight of the laws.
Since June 8, 2014, the chief of state has been President Abdelfattah Elsisi, and the head of government is Prime Minister Mostafa Madbouly since June 7, 2018. The legislative branch has a 596-seat, unicameral House of Representatives.
Egyptian Economy
Owning Egypt virtual phone numbers allows businesses to maintain a presence in Egypt's economy. In 2017, the Gross Domestic Product (GDP) was $1.199 trillion. The GDP composition by sector of origin is agriculture (11.9%), industry (33.1%), and services (55.0%). In 2017, exports were $23.53 billion. Export commodities were chemicals, coffee, cotton, crude oil and petroleum products, fruits and vegetables, metal products, processed food, and textiles. Export partners in 2016 were UAE (12.5%), Saudi Arabia (7.7%), Italy (6.9%), Turkey (6.3%), UK (4.6%), and US (4.5%).
In 2017, imports were $53.02 billion. Import commodities included chemicals, foodstuffs, fuels, machinery and equipment, and wood products. Import partners in 2016 were China (12.9%), Germany (8.7%), US (5.3%), Italy (4.5%), Turkey (4.3%), and Saudi Arabia (4.1%).
Communications
Having Egypt virtual numbers permits companies to stay in touch with Egypt's 97,041,072 residents (July 2017). Ninety percent of the population is Muslim (predominantly Sunni) while the remaining people are Christian (predominantly Coptic Orthodox). There are 6,118,250 fixed landline subscriptions, 97,791,441 mobile cellular telephones, and 37,122,537 internet users.
Largest Cities in Egypt
Cairo – Cairo is the largest city in Egypt with a population of 8,105,071 per 2012 world-gazetteer estimates. It is also the capital of Egypt. The city's website is https://www.cairo.gov.eg/. Cairo is located on the Nile River just south of the Nile delta.
Alexandria – Alexandria has a population of 4,388,219 per 2012 world-gazetteer estimates. Alexandria is a major economic and cultural center that is located in northern Egypt, west of the Nile delta on the Mediterranean Sea. Alexander the Great founded the city circa 332 BC. The city's main port is the Western Port that accounts for 60% of Egypt's imports and exports.
Giza – Giza, the third largest city in Egypt, has a 2012 world-gazetteer estimated population of 3,348,401 persons. Giza lies on the west bank of the Nile. It is 4.9 km southwest of central Cairo. It is part of the Giza plateau, which contains the Great Sphinx and several pyramids including the Great Pyramid of Giza.
Shubra El Kheima – The 2012 world-gazetteer estimated the population of Shubra El Kheima as 1,072,951. Shubra El Kheima is part of the Greater Cairo agglomeration. Workers from surrounding factories initially populated this city. Recently, people from rural areas have migrated to the area.