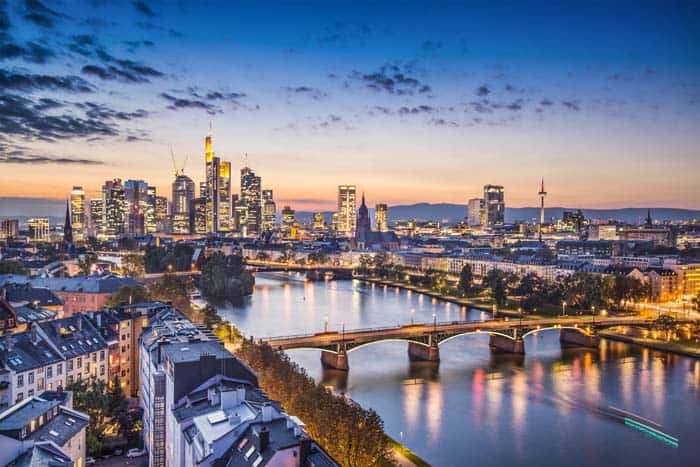 Creating German virtual numbers places your business in a market positioned for continual growth in the modern age of technology. Berlin, Frankfurt, Munich, Cologne, Hamburg, and Düsseldorf comprise the "Big Six" in Germany, being responsible for an estimated 60% of monetary investments in the country.
+49 is the country code of Germany, and while German is the official language of the country, many English speakers reside here, creating a smoother transition for businesses based in the United States looking to connect with potential customers using a virtual number in Germany.
Germany is Home to a Thriving Economy
Germany is home to the fifth-largest economy on the planet based upon the country's Purchasing Power Parity (PPP). Part of the North Atlantic Treaty Organization (NATO) and the European Union (EU), business professionals are motivated by the country's ability to thrive on machinery, automobiles, and household goods.
Only second to China in the business of exporting, foreign investors are equally attracted to Germany because of the promise shown in the German market, encompassing one third of investments made in the country. Of the 500 largest companies in the world, Germany is home to 37.
Work Remotely with German Employees
Education is valued in German society, and employees are much more likely to be highly knowledgeable in their chosen fields. Teaching is a desirable and wall-respected career in Germany, and teachers earn 40% to 90% more than workers in other professions. The respect for teachers in the country leads to better-educated students. Upper secondary qualification is common and has been attained by 86% of residents between the ages of 25 to 64 in Germany. Students often work while attending school in Germany, developing the skills of multi-tasking and time management early on. In working with local employees using German virtual numbers, you can build a dedicated team capable of addressing customer needs and building business relationships.
Today, many companies work with employees remotely, but these contractors and telecommuting workers are unable to attend office meetings to stay current on the company's updates. Furthermore, there are no day-to-day conversations with fellow coworkers and supervisors. German virtual numbers bridge this communication gap by allowing employees at various locations to connect with one another free of charge and without hassle. Scheduling group meetings for remote team members within the company using German virtual numbers will keep everyone on your team feeling informed and appreciated.
German Virtual Numbers Offer Flexible Options
Keep your German phone numbers regardless of your professional transitions. You can modify the ways in which you use your virtual phone numbers in Germany based upon how the needs and demand of your customers change. Customers often call companies at unexpected hours. With German virtual numbers, you can be anywhere in the world and calls will come in to your mobile phone to keep you connected to your customer base in Germany. It's important that customers in Germany view your business as transparent one focused on delivering great service. Your number should not change often, if at all, and someone should always answer during set business hours to show availability and professionalism.
The various features of a virtual phone number allow your communication options to advance with your business. Private Branch Exchange (PBX) can be used with virtual phone numbers and works through the online cloud to allow telephone communication. Virtual PBX connects phone calls between devices over the internet, allowing you to perform the same functions as a regular telephone user, such as creating extension lines and placing customers on hold. If you miss a phone call, you can return the call from a different phone number. Still, the caller on the receiving end will only see your professional phone numbers. Having extensions with your German virtual numbers will show the cohesion of your business and allow you to send calls to employees most capable of solving specific needs.
In Conclusion
Your virtual number will allow incoming calls to be forwarded to you at different phone numbers, but this differs from traditional call forwarding because an online service provider manages the connection. Using German virtual numbers, regardless of your physical location, is an effective and easy way to elevate your business. By lowering the cost of the calls for German customers and creating a local presence, research has shown that the number of residents willing to initiate contact increases by 25%.
Business owners should set up German virtual numbers to communicate more efficiently with customers in Germany in a cost-effective way while eliminating the need for a physical phone line. Creating a virtual phone line does more than save money for customers. The initial process of activating German virtual phone numbers is fast and inexpensive. This connection further saves money for business owners because they don't run the risk of roaming charges when handling international calls.