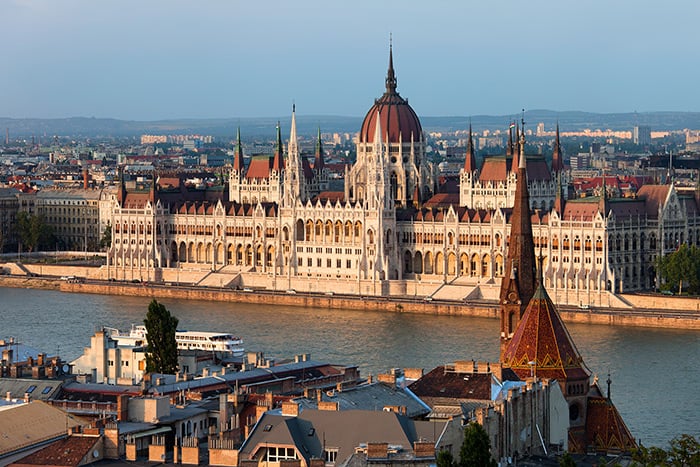 Located in Central Europe, Hungary is bordered by Ukraine, Slovakia, Romania, Serbia, Croatia, and Slovenia. The nation's official language is Hungarian. The capital city is Budapest. Other major Hungarian cities include Szeged, Pecs, Gyor, Debrecen, and Miskolc. The nation is a middle power sovereign state which joined the European Union in 2004.
The Hungarian Economy
Despite having suffered some economic difficulties over the past few years, and the government's introduction of austerity measures, Hungary's economy is improving. Unemployment is around 10 percent, which means that competition for jobs is relatively high. Some of the major industries include: auto manufacturing, agriculture, construction, chemicals, mining, metallurgy, textiles, and processed food. Hungary is seeing growth in the services, retail, pharmaceutical, and telecommunications sectors.
Doing Business in Hungary
Hungary is very open to international business opportunities. Online shopping is very popular throughout the country for several reasons, such as:
It's very convenient: Customers can purchase products online and have them delivered straight to their door.
It's less expensive: Typically, online shopping is cheaper than traditional shopping because traders have lower overheads.
Easy to expand: The main advantage for traders is that it's easy to expand your customer base beyond your local market.
E-Commerce in Hungary
According to the CIA Factbook, there are currently around 6.2 million internet users in Hungary, which makes up 62 percent of the population. Studies show that around 86 percent of internet users spend time online on a daily basis. This means that Hungary may be a very lucrative market for your online business.
Hungarian internet users like to shop online. Most customers want their purchases to be delivered to their homes, and shipping costs are a big consideration when they are shopping online. Typically, Hungarian shoppers prefer to pay on receiving their goods, and though many pay using a bank transfer, the preferred method of payment is cash on delivery.
What are Hungarian shoppers buying online? The most popular products are electronics, computers, clothing, and toys.
Why Choose Hungary Virtual Numbers
If you are considering expanding your business, Hungary virtual numbers allow you to do so without having to spend money relocating or setting up a satellite office. Once you have subscribed to Hungary virtual numbers, you can begin using them within minutes. This will allow you to expand your overseas customer base in several ways:
Provide local or virtual Hungary toll free phone number on your website and communications.
Advertise your products or services on Hungarian websites.
Outsource your customer service to team members who speak Hungarian or German.
The Benefits of Hungary Virtual Numbers
Hungary virtual numbers have numerous benefits, including:
No need to buy dedicated hardware: you can use your existing phone or VoIP line
Optional advanced features: such as SMS forwarding, email notifications, and failover forwarding are available
Customizable settings: easy conferencing capabilities and simultaneous calling make it easy to conduct business
Rollover minutes: if you don't use all of your minutes in any given month, they will be carried over to the next month
Unlimited flexibility: you can answer your calls wherever you are
Complete control: you can change where calls are routed at any time of day, week, or month, even in different time zones
Set up a call group: this allows you to have calls sent to members of the group in a preset order, wherever in the world your team members are located
Call recording: this feature is great for training staff and settling disputes with customers
Recorded greetings: this allows you to set a personalized greeting with useful information or to direct callers to different departments
Avoid busy signals: have calls routed to several numbers at the same time until someone picks up
Why Choose Global Call Forwarding for Hungary Virtual Numbers?
If you've decided to subscribe to Hungary virtual numbers, you need to choose a service provider that you can count on. That means a reliable service with excellent customer assistance and no dropped calls. Global Call Forwarding has been in the business of providing virtual international numbers for more than 20 years. What's more, they have experience serving global corporations, small businesses, and start-ups so whatever the size of your company, Global Call Forwarding can meet your business needs.
As well as Hungary virtual numbers, you can choose from virtual numbers all over the world, from Denmark to Dubai; from Ecuador to England. Subscribing is a simple process, and you do not have to make a commitment or sign a contract. You can increase or reduce your virtual numbers as often as you like, which means you can be flexible during times when business is fluctuating.
To find out more about Hungary virtual numbers, contact Global Call Forwarding. Our team can help you find the right numbers for your business so that you can begin your company's global expansion. If you want to see virtual numbers in action, we can set you up with a free trial.