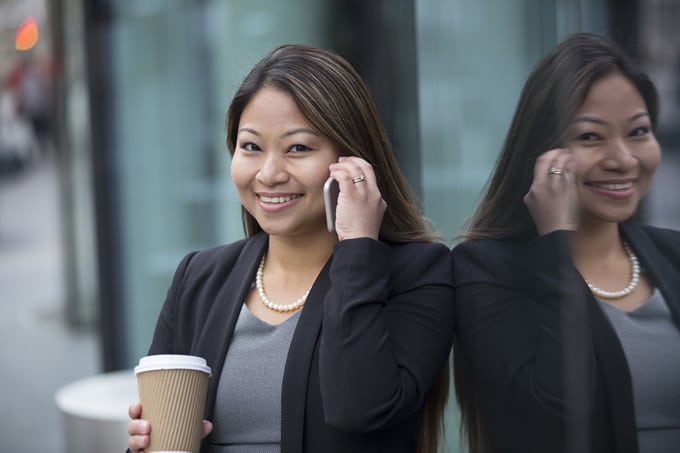 The Philippines has a long history with the United States, which in great part is responsible for English being spoken so widely in the country. And it is this ability that is responsible for one of the largest industries in the country, business process outsourcing (BPO). According to the World Bank the GDP of the Philippines is going to be growing at 6.9 percent in 2017, and BPO accounts for almost 10 percent of GDP. Philippines virtual numbers can give your business access to this highly dynamic economy and educated population that is being employed by global companies to increase their presence in the Asia-Pacific region.
Virtual Phone Numbers and Device Connectivity
A virtual phone number uses networks to connect calls around the world. Global Call Forwarding uses the network infrastructure of Tier-1 carriers to make sure each and every call goes through and it is of the highest quality. Once a reliable infrastructure is in place, there are a large number of devices to which the calls that go to the Philippines virtual numbers can be forwarded. It is almost impossible to miss a call once your number becomes part of the Global Call Forwarding ecosystem.
You have more than 15 options as to how your phone calls will be forwarded once you set up your call forwarding service with your Philippines virtual number. The calls can ring simultaneously or sequentially to different assigned numbers, and failover forwarding can be used by programming numbers that will automatically be connected to the next available number.
There is also Call Transfer, which places callers on hold and directs them to the number you have programmed. This could be a different department within your company, a virtual call center or any other specified location. This is a feature that essentially gives your Philippines virtual numbers PBX features generally reserved for more expensive business phone systems.
Professional Appearance
International availability, Advanced IVR/PBX, and Customized Greeting along with many of the other advanced features Global Call Forwarding provides for your Philippines virtual numbers will give your business a professional appearance from the get-go. This, along with the reliable service and 24/7 customer support the company provides will ensure callers in the Philippines will always get through.
The Workforce in the Philippines
According to government statistics, the country produces around half a million English-speaking college graduates annually. Additionally, English is the official language for the government along with Filipino, in a country that as a whole enjoys a literacy rate of 96.3 percent. For international companies looking for an educated workforce that will not cost them as much as developed worlds, the Philippines provides a suitable environment for many different industries, key amongst them is the BPO industry.
The Information Technology and Business Process Association of the Philippines (IBPAP) says the BPO industry is responsible for around 1.1 million direct jobs generating close to $25 billion for the country's economy. The neutral accent of the English Filipinos speak is responsible for overtaking India in virtual call centers for multinationals including some of the leading global brands in banking and IT.
The investment that is being made in infrastructure to address this industry is also responsible for a robust telecommunications sector that make Philippines virtual numbers a valuable tool for businesses looking to establish themselves there.
The Economy of the Philippines
One of the biggest sources of revenue in the Philippines has been large remittances from the close to 10 million Filipinos overseas workers. This alone is responsible for around $25 billion annually, but the BPO sector and other industries are making contributions to the economy. The World Bank has forecasted the 6.9 percent GDP growth of 2017 is going to be followed by 7.0 percent in 2018, which is being driven by capital investment in the country. As the economy is growing, there is a concerted effort to improve the infrastructure with 5 percent of the GDP going to new roads, rail and power infrastructures.
All these data points add up to an economic environment that will give businesses from around the world across different sectors great opportunities. With Philippines virtual numbers from Global Call Forwarding, you can provide customers and potential employees in the country local access whether you're looking to establish a physical presence in the country or not.
Philippines Virtual Numbers
Whether it is Manila, Cebu or many of the 39 chartered cities in the Philippines, Global Call Forwarding will give you the flexibility you need for your business so you can be available in more than one location with a local presence. The Philippines virtual numbers the company provides have been designed to increase your presence without the capital expenditure of a physical telephony system, while giving you more control of your telecommunications solution.
Each Philippines virtual numbers come with a range of advanced service features that can address the needs of individuals, SMB's and large enterprises to ensure every call you receive in the Philippines will automatically be forwarded to the destination or destinations you have assigned. What this means for your customers, partners and vendors in the Philippines is for the price of a local call they will be able to get in touch with you no matter where you are.