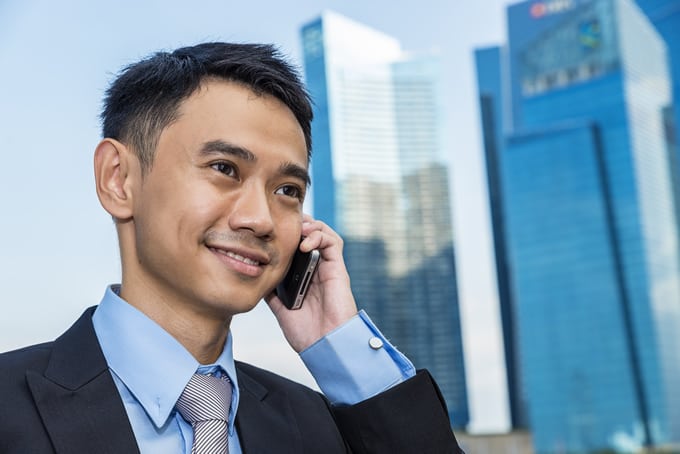 Expanding business to a new, but foreign marketplace is challenging. Unexpected barriers may create unforeseen hurdles for businesses. Take communication, for example. Many small and even medium sized enterprises look eagerly to new marketplaces only to realize that communication was an important, but overlooked first step. Businesses setting their sights on Singapore, for example, may have more to deal with than assembling foreign exchange rates.
At Global Call Forwarding, we provide Singapore virtual numbers to enable new businesses to connect with contacts and customers in Singapore. Thanks to its budding economy, Singapore is becoming a larger point of interest for foreign investment than in years past. In fact, it has enjoyed a positive economic standing for the past several years. Diversity in the technological, governmental investment, and import sectors have led to the growth of the Singapore economy.
Before embarking on a journey that tackles a new marketplace, though, it is a good idea to gather a better understanding of how it functions and what can be expected. Let's take a look at how Singapore's economy has got to where it is today and why businesses need quality communication to make the most of its development.
Singapore's Historical and Current Economic Outlook
From 2007 to 2014, Singapore was ranked number one for the best place to do business in the world by the Economist Intelligence Unit's Business Environment and Ranking Index. Not only was this quite the prestigious acclaim, but it also enticed many businesses to move to its shores and explore various economic growth. The World Bank also noted that Singapore had one of the easiest economies to do business in out of 189 economies.
Although it hasn't always been what it is today, Singapore is well liked by businesses thanks in large part for its lenient regulations, easy to obtain construction permits, affordably priced utilities, and organized government. Each of these factors plays a vital role in encouraging new businesses to start offering services or products in Singapore. The country also excels thanks to exports, including chemicals, electronics and services. It also is marked as one of the world's central wealth management regions—a plus for any business.
Singapore can thank foreign direct investment (FDI), a stable political climate, and low corruption rates for its substantial growth in the past twenty years. The government is currently working towards increasing wages for employees, reducing dependence on foreign labor, and addressing Singapore's somewhat low productivity. However, the country's thriving marketplace, easy to navigate foreign business regulations and hungry consumers make for an excellent economic climate for new businesses.
What Virtual Phone Numbers Are & How Do They Work
Tapping into Singapore's economy begins with establishing some form of communication. Singapore virtual numbers do just that. Virtual numbers provide businesses with the opportunity to choose a telephone number from other calling areas, like Singapore, far beyond their local reach. Purchasing Singapore virtual numbers allows businesses to answer these foreign calls without high international call rates on either side of the call. Virtual phone numbers are called 'virtual' because they are virtually forwarded, rather than manually.
Singapore numbers are designed to forward calls from Singapore to the desired location quickly and seamlessly. A good example of this would be if a business in the USA wanted to open a service-based business in Singapore but didn't want to invest in a physical location. The virtual phone number would allow that business owner to forward phone calls easily to their US based location without added investment. The very nature of foreign business can be messy, but Singapore virtual numbers reduce communication issues and the hassle that so often comes from them.
The only effort expended by businesses is to purchase Singapore virtual numbers. This can easily be done through Global Call Forwarding. We aid businesses in setting up their virtual phone numbers to guarantee they never miss an important call from Singapore.
How Businesses Use and Benefit from Singapore Virtual Numbers
The most compelling reasons for selecting Singapore virtual numbers are the convenience they offer to both customers and businesses and their affordability.
Businesses seeking to connect with customers for the first time in Singapore can use these virtual numbers to establish their business as credible, reliable, and trustworthy. Familiarity breeds communication, and when customers recognize the local phone number offered by a particular business they become more interested in contacting and using its services.
Additionally, Singapore virtual numbers are cost-effective. Businesses who use a call center to handle all their customer inquiries from Singapore can easily forward calls from Singapore to their call center, no matter where it is located. This in turn benefits businesses by saving them tens of thousands in costs to open a local call center. Saving on labor and location costs is something all businesses can appreciate.
At Global Call Forwarding, we help businesses benefit from Singapore virtual numbers by providing extended call forwarding features such as free voicemail set up and management, local ringback tones, call recording, and much more.
Benefiting from the Singapore economy is made much easier with a firm communication.