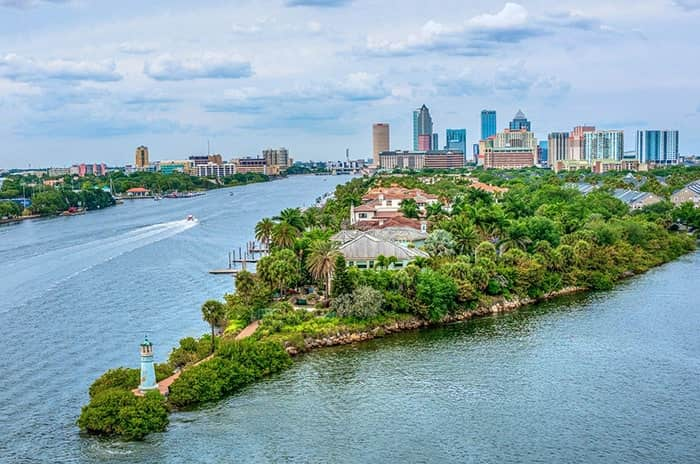 The city of Tampa lies along Florida's beautiful West Coast and is the third most populous area in Florida with over 20 million residents, making it a prime location to operate a business. In addition to its stunning coastal views, Tampa boasts a diverse culinary scene, as well as a large artistic presence with local shows, and museums. Over the years, Tampa has grown to be one of the most desired cities to live in within the United States and was ranked the 'Best big city to live in within the Southeastern United States' by Money Magazine in 2015.
Tampa has its own international airport, and it is situated close to St. Pete International Airport, making it easily accessible for businesses and tourists coming and doing business from all around the world. What is even more attractive is the fact that Florida has no income tax, which is one of the main reasons Florida ranks as the seventh best state for business. The beauty of using Tampa virtual numbers is that you do not have to open a physical office within Tampa in order to penetrate its lucrative market. Doing so allows you to call local potential clients, whom will see a local number on their phone. The value in this is that they will assume you are a neighbor, which will facilitate trust, and ultimately lead to higher conversion rates. This ultimately means greater profits for your business.
What are Tampa Virtual Numbers?
A virtual number is a number you can purchase from companies such as Global Call Forwarding, which enables you to call potential customers from a local number. The way it works is the call gets forwarded to your existing (non-local) number, thus you will not need to change your existing number. Tampa virtual numbers can be forwarded to any existing cell phone, landline, or VoIP that you own. You can even set up voicemails and customize with different ringtones.
The benefit of Tampa virtual numbers is that it allows you to operate your business from anywhere in the world while still maintaining a virtual presence in Tampa. Essentially, you can easily tap into markets around the world from anywhere in the world, which enables you to scale your business in a cost-effective manner.
Business Climate in Tampa
Tampa's economy is maintained by many large profitable industries including tourism, agriculture, construction, finance, healthcare, government, technology, and shipping. Forbes ranks Tampa as #4 in economic climate and #1 in growth prospects. Once you have Tampa virtual numbers, you can begin to efficiently tap into this market and grow your business.
Being a coastal city, a large portion of Tampa's economy is supported by their ports, which hold marinas for private boats, shipping businesses, and cruise ships. As a result, there are more businesses that are created to provide support, such as mechanics, brokers, and charters. Tampa's economy extends inland with beachside hotels, restaurants, apartment buildings, and small businesses such as ice cream shops, souvenir stores, and local attractions like the Tampa Aquarium. As you can see, within all of these industries, additional opportunities for businesses are created, which can be taken advantage of through the use of Tampa virtual phone numbers.
To give a more concrete example of how your business can reap the benefits of Tampa virtual numbers, imagine that your business is based out of California (or some other destination) and it sells point-of-sale software to restaurants. Tampa, being known to have some of the most culturally diverse restaurant offerings, brings in much tourism, which then creates more opportunities for more restaurants to operate in Tampa. This means more potential business for your company. However, if these restaurants want to keep their business partners in state (many companies do for various reasons such as ease of communication), they would likely ignore a sales pitch call from your company, being too far out of reach. However, with a Tampa virtual number, you could approach them as a local business, and improve your chances of converting them into a customer. This is only one example of how your business could benefit from using Tampa virtual numbers, and this strategy can be implemented across nearly all industries (and any subsequent breakdowns within industries).
While there are 165 beaches and parks to choose from in Tampa, some of the most popular things to do in Tampa include going to Davis Beach, watching a sporting event such as the Tampa Bay Lightning, and going to theme parks such as Busch Gardens or the Florida Zoo.
From athletics to beaches, parks, restaurants, museums, and other attractions, there are endless opportunities for businesses to capture more customers. If you are expanding an existing business in the Tampa area, having Tampa virtual numbers will allow you to approach potential customers as a local – the value of which cannot be understated.