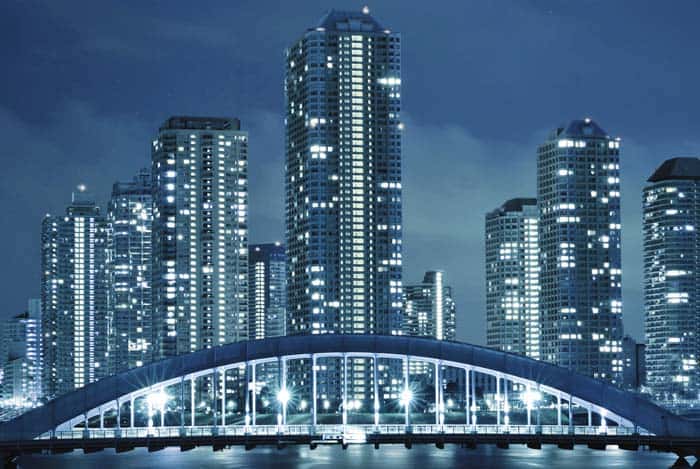 The city of Tokyo can be found along Japan's Southeastern coast. Being the capital city of Japan, Tokyo boasts a population of 13.6 million people, with the greater Tokyo metropolitan area holding over 36 million people, making it the largest metropolitan area in the world. Such a vast population translates to a lot of business opportunities.
About Tokyo
Within the city, you will find modern and contemporary architecture, including the Tokyo Skytree Tower. This is the second tallest building in the world, offering foods, restaurants, and an observation deck. CNN even ranked Tokyo as the best city in the world in 2017, bringing in a record of almost 20 million tourists in 2015. Furthermore, the 2020 Olympic Games will be held in Tokyo, which means there will be a significant spike in business activity leading up to and during that time period. Aside from the city, roughly 36% of the Tokyo prefecture is comprised of national parks with breathtaking views.
Some popular things to do in Tokyo include eating some of the best food in the world at restaurants such as Shima, Fukamachi, and Kagari. You can catch a sumo-wrestling fight in the Ryogoku Kokugikan Arena, or even watch Tokyo's Yomiuri Giants play baseball in the Tokyo Dome. With food, museums, athletics, shopping, and hiking, there are a plethora of different markets that present excellent opportunities for businesses to capture more customers.
Tokyo has two international airports: Haneda and Narita, as well as the world's most sophisticated railways, making Tokyo easily accessible for companies doing business there, as it easily connects other parts of Japan, along with the rest of the world.
Businesses in Tokyo
A whopping 51 of the Fortune 500 companies are headquartered in Tokyo, which is more than double the next city on the list (Paris). The corporate tax rate in Tokyo varies depending on company size but is generally between 25 and 28 percent after tax deductions. The best advantage of using a Tokyo virtual number is that you do not have to open a physical location within the city in order to penetrate its vast markets.
Acquiring a Tokyo virtual phone number allows you to call local potential clients, who will see a local phone number on their phone. The value in this is that they will assume you are a neighbor, which will facilitate trust, and ultimately lead to higher sales conversion rates, which means greater revenue at a lower cost for your business.
What is a Tokyo Virtual Number?
A Tokyo virtual number is a number that you can buy from companies such as Global Call Forwarding that enables you to call potential customers from a local number. Imagine you receive a call from a business in Tokyo that is calling your Tokyo virtual number to inquire about your product; the call is automatically forwarded to your existing (non-local) number, thus you do not need to change your existing number to appear local. A Tokyo virtual number can be forwarded to any existing cell phone, landline, or VoIP line that you own. You can also set up voicemails and customize ringtones to further legitimize your Tokyo virtual numbers.
The benefit of Tokyo virtual numbers is that they allow you to operate your business from anywhere in the world while maintaining a virtual presence in Tokyo. Essentially, this allows you to tap into the markets that exist in Tokyo, from anywhere in the world, which enables you to scale your business in a cost-effective manner.
Business Climate in Tokyo
Tokyo's economy is maintained by many large profitable industries including tourism, government, architecture, finance, electronics, and transportation. US News ranks Tokyo as #5 in the world for best cities to conduct business and scored a perfect '10' in entrepreneurship as of 2018. Once you have a Tokyo virtual number, you can effectively tap into the markets within Tokyo and grow your business.
To give a more concrete example of how your business can reap the benefits of a Tokyo virtual number, imagine that your business is headquartered in San Diego, California, and sells B2B financial services software. Financial companies in Tokyo emerged in the 1960's and have grown to make Tokyo one of the three command centers for the world economy. For your company, this most likely represents an ideal market, with many prospects.
However, these financial companies may want to keep their software in the country (as Japan is a leader in technology) and they may want close contacts that would be able to meet in person on a short notice. Thus, a sales pitch call from your company in California might be disregarded. However, with a Tokyo virtual number, you could approach them as a local business, and improve your chances of converting them into a paying customer. This is one possible scenario that shows how your business could benefit from using a Tokyo virtual number.
The ease and simplicity of this strategy can be applied to nearly any industry.