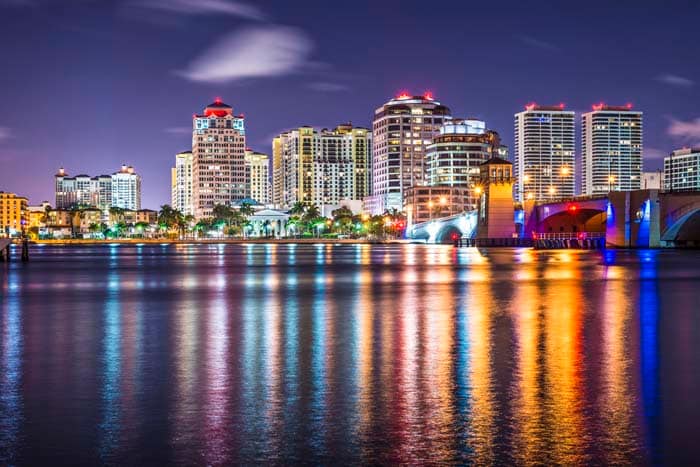 West Palm Beach is a beautiful oceanside city in Southeast Florida. If you want to expand your business market to include the opportunities in West Palm Beach, West Palm Beach virtual numbers are the best way to do so, in the easiest manner possible. Virtual numbers allow you to conduct business from just about anywhere, which gives you the ability to tap into a number of markets globally.
West Palm Beach was rated the number one city in Florida for businesses and career growth. It offers an engaging, yet relaxed lifestyle with a bustling downtown area and many relaxing hideaways. The city is very pro-business and wants to see business owners thrive and succeed. Your West Palm Beach virtual numbers will help you benefit from this strong commerce environment.
How Can I get a Virtual Number?
Virtual numbers are simple to obtain, especially from Global Call Forwarding. Individuals or businesses can scan through thousands of possible numbers to find the one that works best for their business purposes.
One example is if you are in the golfing industry, and you live in Scotland. Having West Palm Beach virtual numbers can help you reach local Palm Beach golf course owners to expand your company's reach. Having local West Palm Beach virtual numbers will give you the ability to reach others with the notion that you are indeed local because a local phone number will appear on their caller ID. People are drawn to what is familiar, so seeing a local area code allows people to feel more comfortable. In contrast, a foreign number may be an instant turn-off.
For this reason, local virtual numbers allow businesses to establish a virtual presence in any part of the world that may benefit the growth or sustainability of their company without having to physically be in these places.
With a virtual number, you can enter markets in any part of the world to create an instant virtual presence. Global Call Forwarding makes the setup process incredibly simple – within minutes of selecting and purchasing your West Palm Beach virtual numbers, you can begin using them. After your initial purchase, you will have access to their 24/7 customer support line, and you can also customize your voice mailbox settings, ringtones, and call forwarding system. There is so little hassle to gain such an immense amount of potential for large payoffs using these numbers, and the possibilities are endless.
Business Climate in West Palm Beach
Florida is known for its pro-business attitude and favorable tax incentives for small business owners. There is no income tax, and the Business Development Board of West Palm Beach seeks to innovate and recruit/ retain talent within the city. They also provide networking support to help companies break into international trade. Located between Orlando and Miami, West Palm Beach is perfectly located to allow access to international trade ports and opportunities. If your business is looking for a Southeastern port with access to international countries, your West Palm Beach virtual numbers will get you in the door to make the necessary introductions and connections to boost your business.
Tourism is also a large industry for the city of West Palm as it offers exquisite beaches, a thriving downtown area, ample amounts of nature, excellent nightlife and dining options, and historic sites. The city has long been a haven for "snowbirds" from other parts of the US who opt to spend their winters down south in West Palm Beach, with the most famous currently being President Donald Trump.
Historically, the city of West Palm Beach was catapulted to fame as a popular vacation spot when Henry Flagler founded the Florida East Coast Railway. Today, there are numerous unique dining spots that offer different tastes of the city. From grassroots-casual to the ornately luxurious, there is a dining option for any occasion and every taste.
Additionally, there is a huge fishing and diving community that explores the wildlife just off the coast of this tropical hotspot. Tourism companies are now quick to expand their business into the West Palm Beach market, and if they are outside the city, they will often opt to use West Palm Beach virtual numbers to make the initial introduction stronger.
This culturally-rich city with its historical components draws in tourists from across the globe, and the business-friendly attitude of West Palm Beach makes it an attractive selection for many companies that want to settle in a financially-sound location. If you are involved in nearly any industry, you can find a way to use your West Palm Beach virtual numbers to contact potential business partners and to make lasting connections with locals in the area. Florida draws an eclectic crowd from all walks of life – people from all over have settled in this city, which is a concentrated hub for different ideas, innovation, and progressive thinking. If you are looking for a market full of innovation and excellent business opportunities, look no further than West Palm Beach!