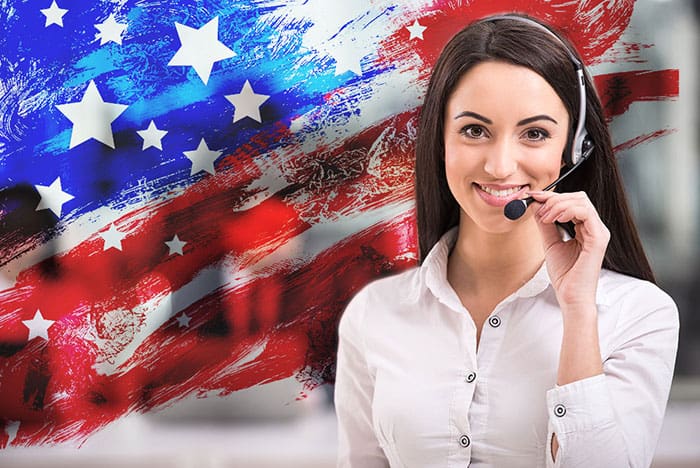 A virtual phone number forwards incoming calls to programmed, preset numbers. It is a gateway between the caller and a Public Switched Telephone Network (PSTN) or a Voice over Internet Protocol (VoIP) network. Global Call Forwarding (GCF), an international call forwarding service that serves clients in over 150 countries, provides American international virtual phone numbers to companies wishing to have a virtual presence in the United States market.
GCF forwards incoming calls, made to its American virtual phone numbers, through a fully redundant state-of-the-art telecom network to locations around the globe. Companies purchase the virtual numbers on a month-to-month basis with no long-term contracts, and the virtual numbers come with many included premium features.
By having American international virtual phone numbers, your business maintains a virtual office in the US. It is possible to have an 800 number that services the whole country or several local toll free numbers to give a presence in those cities where you have a centralized customer base. Either way, residents view your company as being located in the US.
United States Information
There are so many reasons to have American international virtual phone numbers. The US is a large country with a large area of 3.8 million square kilometers. It is half the size of Russia, slightly larger than China, and more than twice the size of the European Union. Its natural resources include coal, copper, lead, molybdenum, phosphates, rare earth elements, uranium, bauxite, gold, iron, mercury, nickel, potash, silver, tungsten, zinc, petroleum, natural gas, and timber. Agriculture accounts for 44.5% of land use.
People and Society
The population (July 2017 estimate) is 327 million residents. The ethnic makeup, according to 2010 estimates, is as follows:
White, 72.4%
Black 12.6%
Asian 4.8%
Amerindian and Alaska native 0.9%
Native Hawaiian and other Pacific islander 0.2%
Other 6.2%
Two or more races 2.9%
The US Census Bureau considers persons of Spanish, Hispanic, or Latino origin part of the above races. English is the predominant language (79%) followed by Spanish (13%), other Indo-European (3.7%), Asian and Pacific island (3.4%), and other (1%) according to a 2015 estimate.
Economy
The US has a technologically powerful economy with US firms making technological advances in the fields of computers, pharmaceuticals, medicine, aerospace, and military equipment. In 2016, its Gross Domestic Product (GDP) was $18.57 trillion, 3rd in the world behind China and the European Union. The GDP composition is:
Services, 79.5%
Industry, 19.4%
Agriculture, 1.1%
In 2016, exports were $1.47 trillion, and imports were $2.21 trillion.
Top 10 US Cities for Having American International Virtual Phone Numbers
If the American international virtual phone numbers chosen are 800 numbers, then callers can call those numbers toll free anywhere in the US. However, it will not have the local appeal that a local number has. The local number places your virtual office in that locality, and that promotes a local business. However, there are thousands of cities in the United States. The following table lists the 10 largest cities in the US.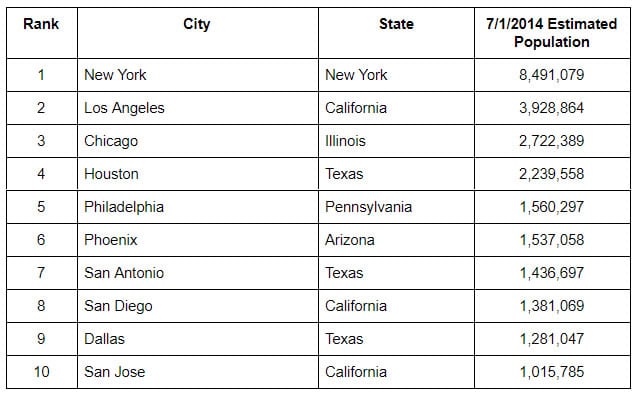 The four largest US cities are in different states spread around the country. All four have major airport hubs and deep-water ports. They all have major sports teams. However, it is instructive to highlight them separately as each may be a good prospect for local, American international virtual phone numbers.
New York, New York
New York is a global power city. It is home to the United Nations, and its businesses have a major economic impact in the following areas:
Commerce, Finance, and Education
Media and Entertainment
Art and Fashion
Research and Technology
New York is located on the northeastern coast of the United States.
Los Angeles, California
Los Angeles is located on the southwestern coast of the United States. It is 2,800 miles (4,500 kilometers) west, southwest of New York City. Los Angeles is the cultural, financial, and commercial center of Southern California. It is home to the following publicly traded companies according to the 2014 Fortune 500: Occidental Petroleum Corporation, Health Net Inc, Reliance Steel & Aluminum Co, AECOM Technology Corporation, Oaktree Capital Group, LLC, and CBRE Group, Inc.
Chicago, Illinois
Chicago, one of the most important business centers of the world, is a Midwestern City that is located on Lake Michigan. It has the third largest gross metropolitan product in the US ($640 billion based on 2015 estimates).
Chicago is a world financial center with 12 Fortune Global 500 Companies and 17 Financial Times 500 Companies. Tourism, manufacturing, printing, publishing, and food processing are important to Chicago's economy.
Houston, Texas
Houston is the largest city in the southern United States. It is located near the Gulf of Mexico midway between east and west coasts. It is 1,547 mi (2,624 km) from New York City and 1,630 mi (2,491 km) from Los Angeles. It is the home of the Texas Medical Center, which is the largest concentration of healthcare and research institutions in the world, and the Johnson Space Center, home to NASA's Mission Control. Industries in Houston include aeronautics, energy, manufacturing, and transportation.