Modern telecommunication has come a long way, especially when used for business. Years ago, keeping multiple phone lines in every department of an office was a hassle, and it also resulted in tremendous overhead costs. International calling was expensive, and there wasn't a simple solution for forwarding calls from around the world to the office number.
This complicated scenario has changed with modern advancements. While the Internet has, on one hand, made the telephone quite unpopular, on the other, it has also made telecommunication more efficient, accessible, and affordable for businesses. Virtual numbers are one such modern technological innovation that lets small businesses easily stay in touch with their international customers.
No matter where a business is located, it is convenient to maintain communication with clients and customers in the US with the help of United States virtual phone numbers. It's so easy and affordable that countless small businesses and startups around the world use this technology to increase their efforts while adding efficiency to their functions.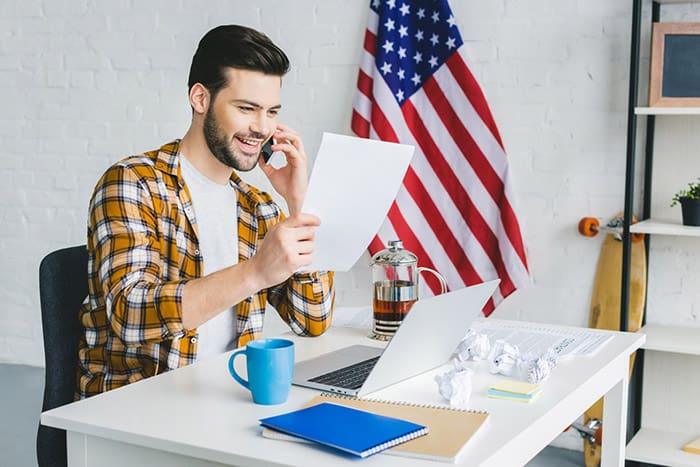 What are United States Virtual Phone Numbers?
A local business always has more credibility and value in a region compared to big businesses with no local presence. This is because local businesses employ local people, contribute to the local economy, and inspire a sense of familiarity and trust in customers.
Local businesses in the US are in great demand these days, with startups and small businesses using digital technology to take their enterprises forward. How do businesses based outside the US find clients in this country? One method is by simply using virtual phone numbers.
United States virtual phone numbers are highly effective in creating a local presence for businesses in a different region or country. If a business has clients or customers in several regions in the US, it becomes inconvenient and impractical to have a physical address in every region. Virtual phone numbers are a great tool to use in promoting and marketing a business locally in specific regions.
There are more than 290 area codes in the US, and it is possible to have multiple numbers for separate regions. A business has to subscribe to virtual phone numbers, detailing the cities or states it would like to have the numbers for.
Once the service is active and the business gets the United States virtual phone numbers for the selected regions it needs, local calls can be made to those numbers from those regions and they will be forwarded to the company phone, located anywhere in the world. Additionally, calls can even be routed to a mobile number or a call center for communication outside working hours.
Why use United States Virtual Phone Numbers?
The United States has been a superpower for almost a century now, leading the world with technological, social, and economic innovations. Job and business opportunities are being created every day, and small businesses are emerging constantly.
United States phone numbers are an excellent way to create your business presence in any region of the US, without going through the hassle of creating a physical address in the country.
United States virtual phone numbers provide the easiest way to communicate with clients, partners, and customers in the US without incurring huge expenses in international calling. United States numbers are in use all over the world, as more businesses realize the convenience of virtual numbers. These numbers are purchased online, and they combine the benefit of both local and international calling.
A business can be located in the UK or Germany, Japan or Thailand, and still have United States virtual numbers forwarded to the company phone, mobile, or call center. Callers are charged at local rates, and calls can be made from any landline, mobile number, or public phone. The affordability makes it an amazing option for both parties.
How it Works
United States virtual phone numbers, unlike traditional phone numbers, are based on digital technology. They look and function like regular phone numbers, but they actually work with the technology of online call forwarding and VoIP telephony.
They are powered by a virtual service and require no hardware installations or knowledge of complicated software programs. Once subscription to the service is done, local United States virtual phone numbers are connected to the company phone lines or mobile phone number via PBX system. All calls made to the local United States virtual phone numbers are routed through the PBX system to phone numbers across the globe.
The US remains a world leader in a number of sectors and remains a dream market for any small business. United States virtual numbers are an affordable, easy, and fast way to build a local presence for any business wanting to zero-in on any region of the US. Check out the offerings from Global Call Forwarding, and get your United States virtual phone numbers set up in minutes!