Do you travel a lot for business? Do you find it challenging to make phone calls while you're away? Are you looking for a better traveling phone experience? Or, do you want your traveling phone bill to cost less money? If you answered yes to any of these answers, you may benefit from virtual phone numbers and their many advantages for business travelers. Read on to find out more about how these types of business phone numbers can help your traveling business.
A Brief Introduction of Virtual Phone Numbers for Traveling Business People
Before you understand how virtual phone numbers benefit those traveling for business, you must understand what virtual phone numbers are. Essentially, a virtual phone number is one that utilizes the internet for connectivity. In comparison, a traditional phone line uses copper wiring to send phone calls to different locations. Using the internet for connectivity allows virtual phone numbers to offer a number of advantages over traditional phone lines and even other means of phone connectivity for those doing business while traveling.
Virtual Phone Numbers Keep Traveling Costs Down
Virtual phone numbers can save your business traveling costs in many ways. Firstly, you can have multiple phone numbers on the same phone line. This way, you don't have to purchase a new phone or phone system anytime you need a new number for your travels.
Secondly, with virtual numbers, there are never any roaming fees. Unlike mobile numbers from standard carriers that increase your calling fees when you go outside of your contractual boundaries, virtual numbers don't have roaming or long-distance calling fees. Finally, virtual they can be deleted when not in use as there is no yearly contractual agreement to use them. This means that you don't have to invest heavily in contracts with small roaming or long-distance calling fees. And, simply, you can get a new virtual phone number whenever it's time for you to travel for business. In all of these ways, virtual phone numbers can help to save the average business traveler hundreds of dollars, if not more, with every year.
Virtual Phone Numbers Don't Have International Barriers
With the average cellular plan, the business traveler may not feel comfortable calling home for fear of roaming charges. However, there are no geographical barriers when it comes to these numbers. This means you don't have to fear a high monthly bill after calling home on your travels. And, you can make unlimited calls from any of your virtual phone numbers all from one device. You can be located anywhere in the world, without geographical boundaries!
They Make Doing Business While Traveling Easier
With virtual phone numbers, you can have all of your business numbers all on one mobile device. This is regardless of whether they're toll free numbers or local area code numbers. This means you won't have to carry around a mobile device for every business phone number you have. Or, have to switch SIM cards out whenever you reach your destination. Additionally, you can have access to all of your business numbers in one place. This means you'll have an easier time placing phone calls in other countries. So if you want to book a hotel, find transportation, or search for restaurants, it will be very easy. If you're looking to make doing business while traveling easier, this solution can certainly help to do so.
Keep You Completely Connected During Your Business Travel
You don't want to miss important phone calls just because you're traveling for business. You don't have to worry about not staying connected with your loved ones at home while you're away. Virtual phone numbers use the internet for connectivity. So, you can ensure that you'll be able to connect with your loved ones whenever you're in a new place. Whether it's just across the country or across the world, any time of the day or night.
Allows You to Hide Your Location – Even When Traveling
Virtual phone numbers allow for customization of area codes. This means that you can have a phone number that shares the exact local area code of the place you'll be visiting for travel. And, this means that you can hide your true identity (location) if you so wish. People may want to utilize this feature for various reasons. But, mainly to increase the trustworthiness of a new business or consumer relationship by offering a call from the same local area code they're familiar with.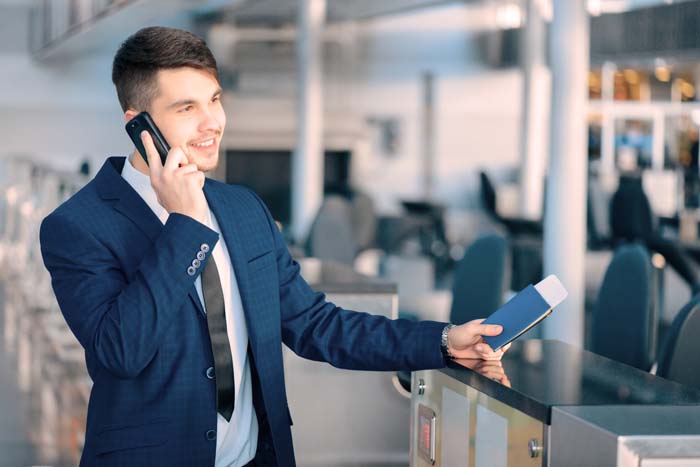 Travel Phone Numbers Allow for Call Forwarding
Virtual phone numbers through Global Call Forwarding offer various features including call forwarding. This feature allows you to not have to answer phone calls while you're traveling for business. But, also allows your business to not have to miss any important business calls while you're away, as well. Simply set up call forwarding to send your phone calls to another business VoIP number. This way, when someone calls you while you're traveling, it will forward to another person of your choosing. And, you won't have to keep track of who has called you during your travels. This will save time from having to call these individuals back on your return.
Virtual Numbers Work Just Like Real Numbers
Because virtual numbers you will use on your travels are real numbers, you can use them just like any other phone number. They work to provide caller ID information, and you can even use them for your booking confirmation, plane tickets, and more. Plus, you can use them to make unlimited calls or texts to anyone you want while you're away. Whatever you would do with your regular phone number, you can do with your traveling VoIP number too! But, you won't have to deal with steep roaming charges, long-distance fees, or pesky annual contracts!
Get the Best Travel Phone Number for Your Business
(If you're sick of coming back home from business travel only to find that your phone bill has skyrocketed due to roaming and long-distance fees, a virtual phone number can be the solution to your issue. Furthermore, if you're looking for a quick and easy way to use telephone numbers in other countries to reach certain business contacts, a virtual number can also help with this.
In Closing:
Finally, if you travel a lot for work and just want to do business on one phone, virtual numbers are key. They give you plenty of freedom without having to switch SIM cards and carry multiple devices. Whatever your reason for considering a virtual phone number, we're sure that the capabilities of these numbers will help ease the stress of traveling. And, make things easier for you so that you can enjoy getting away to do business even more. At Global Call Forwarding, we offer virtual phone numbers for people who want to get the most out of doing business while traveling. So, we offer a variety of features you can customize your numbers with, for your specific needs. To learn more about how virtual phone numbers may benefit you as a traveling business person, contact us today.