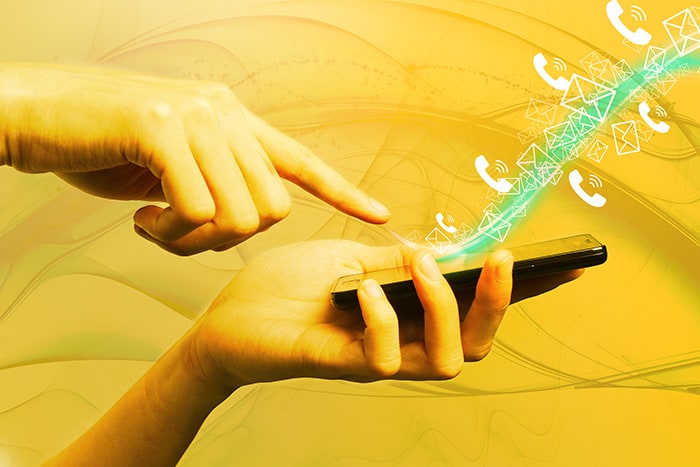 A Virtual SMS number can allow people and businesses to connect more easily. These numbers are set up via the internet so that a physical phone line or landline isn't necessary.
There are many reasons why someone would want to set up a virtual SMS number, but it basically allows an individual to receive a text message from anyone at any time. It's simply another channel where a person can be reached, such as by email or through calling.
Since the number is set up digitally online, texts can be automated from businesses easily. For instance, the taxi-technology company, Uber, is able to automate SMS texts to riders when their ride is ready.
International SMS texts do not incur extra charges with telephone companies, either. So if someone needs to get ahold of a family member, friend, or business partner overseas, a virtual SMS number is perfect for their travels. Not only that, it's much easier to reach someone internationally, or even nationally, on their phone rather than with a fax or email.
Using a Virtual SMS Number For Business
So how do organizations benefit from a virtual SMS number? In a variety of ways. First, there is no longer a need to carry around two or more cell phones. Personal and business SMS texts can be sent from the same phone.
Why is this important? Many entrepreneurs make the mistake of having their personal phone numbers used in marketing materials and promotional items. However, once their business ramps up, it becomes impossible to tell communications apart. This can become very overwhelming very quickly. Using a separate business line helps organize and streamline the process. This works with home and office phones alike on a digital level.
Virtual phone numbers are also cost-effective. It's a much cheaper option than sending out expensive texts through your phone company frequently. Features include SMS automation and bulk messaging, so you also get to save time when contacting many people at once.
These phone numbers are commonly used as promotional devices as well. Since many clients do not want unsolicited calls in the middle of the workday, a virtual SMS number creates better opportunities for them to engage. Not only that, your organization will still have the appearance of a professional branded image since the number still belongs to the company.
It's proven that text messages get faster response times than phone calls. In fact, texts can easily be answered in the middle of a phone call. It's a no-hassle way to communicate without interrupting key parts of a person's day.
When customers send a quick text, you also reduce the number of lengthy phone calls to your customer support center, saving more of your employees' time. When a representative receives a text, they also receive a notification via email so they don't miss out on incoming messages.
Practical Uses For a Virtual SMS Number
When you want to make the most of virtual SMS numbers, there are many ways to use this type of messaging for professional purposes. For instance, you can send a short reminder to clients about upcoming appointments or meetings. This will lessen your organization's chances of getting a "no show" when the time comes.
New leads or prospects can be notified about upcoming products and promotions strictly through text. It's a great way to separate yourselves from the competition, who are likely using online ads and email campaigns to reach their audience. After the SMS messages are sent, it is easy to track and measure the results of the campaign. Once they make a purchase, your enterprise automatically sends a "Thank You" message to improve customer service. If it's a success, your marketing team can conduct similar promotions in the future.
SMS tests don't just have to be used for sales. If your company grows or expands in the future, a simple text can inform key clients and partners about the change in contact information, location, or business hours.
Texts sent internally prove to be an effective strategy as well. For instance, colleagues often use texts to send project updates from the comfort of their desks. You can track employee communications regardless of location all over the world. This prevents delays and miscommunications while saving time. Vendors can use the number to inform multiple people about the status of an important shipment simultaneously.
Contact Global Call Forwarding for a Virtual SMS Number
Because there is no maintaining expensive hardware or equipment, you can start using your virtual SMS number right away. Global Call Forwarding is ready to help you set the foundation for gaining all these benefits and more.
With our custom service, we offer SMS forwarding based on the number of incoming texts. Plans range from basic to enterprise to fit your unique needs. Test our SMS service risk-free today as a new service or an add-on to your existing service today.