The Kingdom of Thailand is a beautiful Southeast Asian country that's rich in culture, tradition and history. Thailand virtual toll free numbers enable businesses to establish a virtual presence in Thailand.
The majority of people that visit Thailand always come back. Visitors often take their experience to the next level; after a few return visits they create long lasting friendships and some of them set up businesses in Thailand.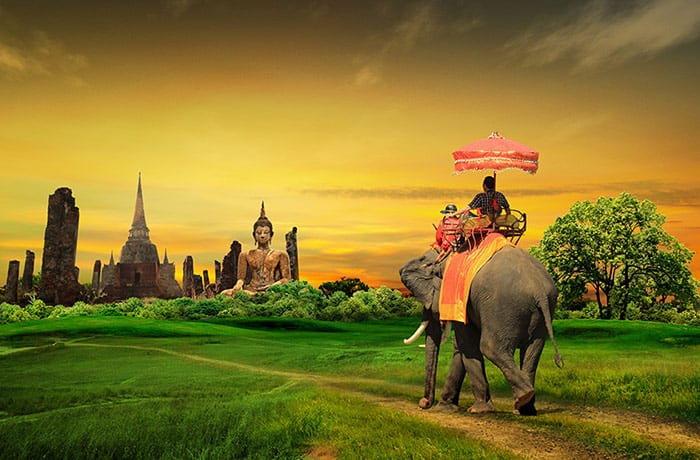 One of the newer trends is the nomadic lifestyle. Online entrepreneurs are using Thailand as their base as they travel throughout the world – laptop in hand. The nomadic existence gives you the freedom to travel while earning an income online. Web entrepreneurs as well as traditional business people have realized that Thailand is the perfect base to call home.
The country also offers traditional business opportunities. Not to be underestimated, Thailand is the 2nd largest economy and 4th richest nation in Southeast Asia with a GDP of more than US$670 billion.
Due to its location and infrastructure, Thailand is well suited for pretty much any type of business project. Investors from all over the world are taking advantage of the local prospects, which includes consistent growth combined with a low cost of living.
For those seeking a comfortable, yet inexpensive lifestyle Thailand offers the best of both worlds.  In order to create a true home or office away from home, you are able to use Thailand virtual numbers. This allows you to have a virtual presence in Thailand no matter where you are at the time.
If you have any personal or professional ties in Thailand, virtual toll free numbers are for you. Let's take a look at some of the benefits and how to get a Thailand virtual toll free number.
Benefits of a Virtual Toll Free Number in Thailand
It's important to note that Thailand is considered an anchor economy. This means that its unique location puts it at the center of other developing economies. Surrounded by Cambodia, Laos and Myanmar – Thailand is considered the anchor because it is the most stable of its bordering countries. Virtual toll free numbers in Thailand are the best way to create a communications anchor between its neighbors and the rest of the world.
With Thailand as your center of operations you will reap the benefits that the country has to offer and use them to your advantage. With communications being a central tool for international business – virtual toll free numbers in Thailand will allow your organization to expand your reach while keeping you engaged locally.
You may currently have a business in Thailand or maybe you are considering investing into this popular destination. Once you've made the decision to establish or expand, the next step is ensuring that you have the most efficient means of communication.
With the use of modern technology and all its features your business and personal relationships will be set up for success.
What is a Thailand Virtual Toll Free Number?
From the business and personal standpoint virtual toll free numbers in Thailand are very useful. The two main qualities include their local origin, meaning your number will have an origination in Thailand. And the second being that they are totally free for your callers.
Your business and personal associates will of course appreciate those two benefits. The convenience that you extend to them through your virtual toll free numbers in Thailand will result in more business and better relationships.
Besides being toll free and locally based, your number can be configured with an array of features according to your specifications. Depending upon your needs we have the ability to add certain features that will give you additional leverage and conveniences.
You may need to add call forwarding features to your virtual toll free numbers in Thailand. For businesses this free feature is a must, since missing phone calls while you are out traveling is not an option. Once activated, anyone that dials your number will receive a cost-free connection and the call will be routed directly to you at your chosen destination.
Businesses may also be interested in having a vanity phone number as their main form of contact. Your virtual toll free numbers in Thailand can have your business or product name within the number. This powerful tool will make your number easy to memorize will building your brand and bringing in new clients.
As you can see in virtual toll free numbers offer many benefits. The next step is choosing the best call forwarding service provider.
The Best Toll Free Number Provider
We can say with confidence that we are truly the best in the industry. Our confidence comes from our many years in business and our long list of satisfied customers.
We specialize in offering telecommunication solutions to businesses. This means that the stakes are much higher. It's mandatory that we are extremely reliable and offer the best customer service in the business.
Our level of support and features combined with the best price available makes us the best option to establish your virtual toll free numbers in Thailand.
Contact us today.