Does Your Small Business Have a Phone Number?
Professionalism: Acting the Part
All small businesses often struggle with one thing: Projecting a professional appearance. One way to quickly solve this struggle is to get a small business phone number. Why does this work? For one, it helps customers to associate your business with its own entity.
It's like the difference between using a personal email address and a professional email address. If you're emailing your customers from Madhatter29@aol.com, you probably won't come off as professional. However, if you are emailing your customers from an email address with your business domain such as 'Dave@madhats.com', it will come off as more professional and refined to your customers. Even if you are the sole proprietor of the business, you still need to separate your cell phone from your business phone and a business number achieves this easily.
Keeping Business and Personal Lives Separate
Small business phone numbers are useful for sole proprietors because they can help you separate your personal life from your business life. Do you really want all of your customers knowing your private phone line? Also, not having a separate line means that you're susceptible to mixing your professional life with your private life. When you switch to a virtual small business phone number, you can still use your cell phone and always keep the lines separate. For example, when your customers call, they can be sent to an automated friendly greeting and given a menu of options. Meanwhile, your friends and family can get a warm "hello" from you. If you choose not to use an automated greeting, then you can still differentiate between who is calling from your business number and your friends, that way you don't answer the phone in an unprofessional manner.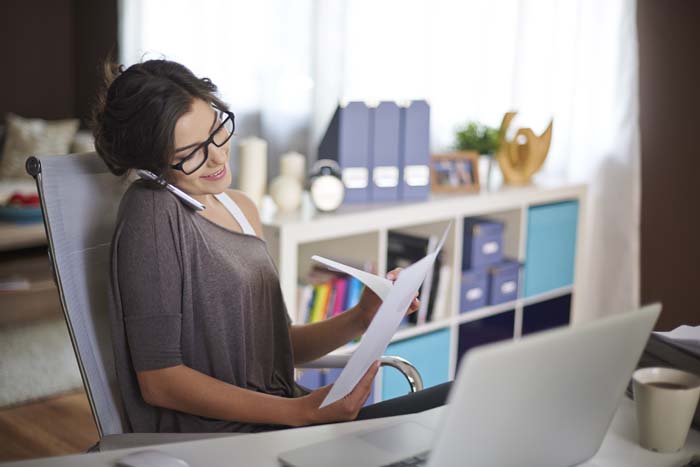 Business Numbers Help Get You Ahead
Small businesses are often started thanks to the ease and convenience of e-commerce. However, only a few companies survive for long. When you are dealing with an oversaturated market, you need to find ways to stick out from your competition. Small business phone numbers can help you stand out among the pack by expanding your capabilities to communicate.
Most startups will begin from their own numbers simply because they do not need to do anything to get started. If they've built a website, they can simply slap their phone number at the top and wait for the phone to ring. This might work for those who are not receiving many calls and therefore, not selling much from their businesses, but it won't work for an entrepreneur who wants to see their business become something and grow. When you use your line, you may miss important phone calls, and you can't take multiple requests at once. Every missed phone call is a lost customer and opportunity. Virtual phone systems were created to mitigate dropped and missed phone calls. When you can't come to the phone, the virtual phone system can provide an auto-attendant to inform customers through a voice menu, so if you miss a call from someone who needs to simply check their account, they can do that through an automated system. You can set up a personalized voicemail box as well, which will encourage your customers to use the line as a call-back request. Just be sure you always call your customers back and in a timely fashion. With Global Call Forwarding, you can reroute and forward phone calls so that someone in your office will be able to answer the call if you're not available. It can also be routed to a customer service line with waiting agents. Waiting callers can also be added to a queue, where they will be answered in the order they called. You can add hold-music so that your customers do not get bored when they are waiting.
A Small Business Number for Everyone
If you're concerned about cost, you can breathe a sigh of relief. Setting up a virtual phone number is exceptionally affordable, and Global Call Forwarding offers multiple packages with additional features that you can opt-in or out of depending on your needs. So, there is no more money wasted. Plus you can set up your small business phone numbers on the same day.
Virtual small business phone numbers can also ease your security concerns. Not only should you not be giving away your personal number to your customers and clients because of how annoying it would be, but you could also be risking your security. Fraudsters and robocallers can find your personal line easily when it is posted on your marketing materials. Luckily if you have a small business phone number, you will be able to use Global Call Forwarding's system that blocks robocalls and telemarketers.