The iPhone evolution has happened before our very eyes. It seems like just yesterday that everyone went crazy about the very first release of the iPhone 1, simply known as the iPhone. With a glistening touch screen and virtually limitless capabilities, we thought this model couldn't get any better. And then it did – again and again for the next twelve years, with new upgrades and updates with each new version. With the release of this incredible product came the increase of use and awareness for emojis. But, did you know that emojis were actually created 8 years before the first iPhone even released? In this informational analysis, we rediscover the history of emojis and how our undying love for creative emoticons first began.
A Bit About Emoji History
The emoji got its start before the evolution of iPhone could make its way into our digital world. Sources find that emojis were first used by the Japanese in their cellular technologies in 1999, and were further adapted and updated by the US market thereafter. But, it wasn't until Apple's phone system upgrade IOS6 that emoji took the US by storm. Since then, we've utilized and embraced the emoji as a way to translate our feelings and words into cute, funny, easily-shareable images.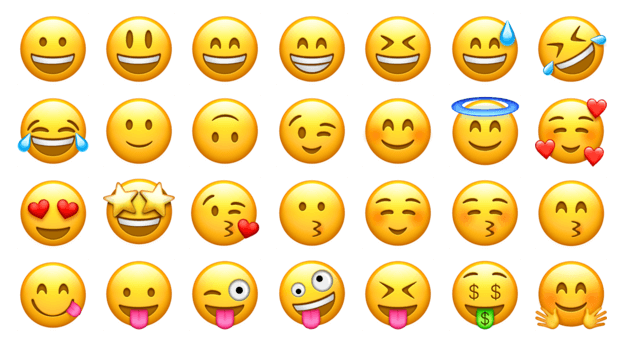 The Beginning of the Emoji
If you're an older millennial, a part of generation X, or a baby boomer, you may remember the time before the iPhone evolution took place. And, a time even before cellular devices in general. But, still, a time in which we utilized the internet for various reasons, including meeting and talking with strangers via chat rooms. Even back then we used :), :D, and 😉 to communicate our feelings visually. These were the most rudimentary and initial stages of the emoticon. If you were communicating using these back in the day, you know how important they were for conveying emotion.
The Very First Emoji
Seeing a need for this ability to showcase emotions through imagery in cellular technology, a Japanese artist by the name of Shigetaka Kurita created the very first emoji for a cellular software system. And, he went on to create single images for 175 others that are now considered a permanent art collection at New York's Museum of Modern Art.
The Connection Between the History of Emojis and the iPhone Evolution
Years after the very first emoji created, the Apple team saw the opportunity to expand the impact of emojis and a way to implement them into their new software design. But first, they needed backing by the Unicode Consortium. This is basically a global organization that implements standards of text across computer technologies. Essentially, this group creates code for each textual concept that can be utilized across computer platforms and software to adopt the same images so they are the same throughout all computerized devices.
Once this nonprofit saw the need for the expansion of emoji use, Apple's release of the IOS6 in 2007 allowed all users to gain access to emojis on their smartphone devices. Then, in 2009, the Unicode Consortium approved 625 more emojis to the global emoji keyboard. Finally, in 2010, the organization recognized the ever-growing use and popularity of the emoticon keyboard. This made them globally recognizable across all computer keyboard and cellular device technologies.
Getting More from Your iPhone
If you've witnessed the evolution of both the iPhone and the emoticon keyboard, you know the impact of cellular technology, even in today's business world. So, if you have an iPhone, you may wonder how you can better utilize your phone to implement your business tactics. At Global Call Forwarding, we give iPhone users a better edge by offering virtual phone numbers that work to link to iPhone devices. This means that you don't have to get a business landline or another business cell phone just to take your business calls! You can do all of your business from your iPhone using our local or toll free virtual phone numbers. This will allow for all the advanced features you need to run a successful business. To learn more about getting a virtual phone number on your iPhone, contact us today.