With our growing dependence on all things digital, connecting with potential talent and prospects across the world is much easier. You can now make calls, texts, or video calls to almost anyone around the world, simply through good internet access. Phone service providers are, therefore, continuously developing communications solutions to bring people together and make conversation easier and quicker. One of these solutions is call forwarding. This service forwards or redirects incoming calls internationally from a virtual number to anywhere in the world. Businesses and enterprises looking to expand internationally are seeing the benefits of utilizing call forwarding as a cloud communications tool.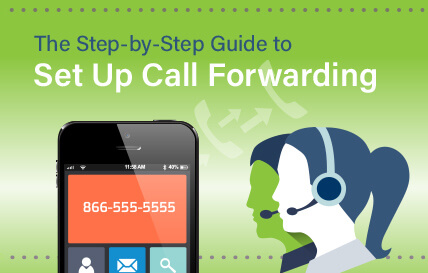 How Do Virtual Phone Numbers with Call Forwarding Work?
Call forwarding is a feature of virtual phone numbers offered by select phone service providers. These providers differ from typical phone providers like T-Mobile, Verizon, etc. Virtual phone numbers are numbers that run on cloud computing; in other words, over the internet. These numbers enable businesses to reach customers anywhere in the world. They also eliminate the need for a physical location as they help companies create a more global presence with a virtual office. Everyone is connected through the internet and local and toll free numbers. With virtual numbers, businesses can save on the costs of hiring foreign staff or foreign office spaces, following local guidelines, and so on.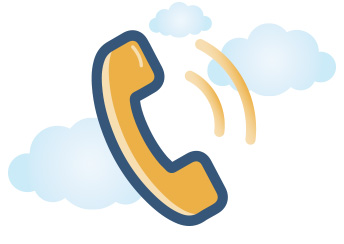 Subscribers can get virtual numbers in any state or country they want to generate business in. Think: Germany, Norway, Vietnam, Hong Kong ― wherever you want to expand your business. These numbers can be toll free numbers or local numbers. Customers calling these businesses have to pay little to no call charges. Toll free numbers are cost-free for the dialer as the receiver gets billed instead. And local numbers will incur regular "local" charges instead of higher international charges for those calling the number. This makes the process of calling your company easier for the customer, because it's as simple as calling any local number.
Customers need to know that they can reach you quickly whenever an issue arises. Having local virtual phone numbers will make them confident in your company because they will automatically align your business as a familiar, local entity. When calls are received, they are then directed or forwarded to your own number or alternate numbers where they will be answered. This enables your "local" presence to be handled from anywhere in the world you may be.

Benefits of Call Forwarding
It is becoming increasingly clear that businesses and enterprises must consider global expansion or they will be left behind. Large companies like MoneyGram, SanDisk, and Radisson utilize call forwarding services from Global Call Forwarding. This service helps them maintain a local presence in different parts of the world. And so, they can conduct regular business with their international clientele without any disruptions or overcomplicated procedures. International call forwarding provider, Global Call Forwarding, offers an easy-to-use control panel and simple directions. This way, you are making and answering calls quickly and without worrying about international calling processes.
Additionally, virtual phone service providers offer other features that benefit companies with high volumes of inbound or outbound calling. Inbound calling refers to a company's incoming calls where the customer initiates contact. Outbound calling, on the other hand, refers to calls made by call center agents or reps to prospective clients. Call forwarding directs calls made to a virtual number to other lines to be answered. These lines can be placed in any country.
Global Call Forwarding offers features that work alongside call forwarding. For instance, time of day routing redirects calls to an alternate destination during specific times of the day. Many companies have offices in different countries and different time zones. With this feature, calls can be forwarded to a different timezone to ensure calls are always answered. This way you can ensure calls in every location are received in the most optimal times of the day.
Simultaneous ringing
works similarly. This feature automatically forwards calls to all lines designated to make sure that an important call doesn't go unanswered. Calls can also be received on computers and tablets, opening further communication channels.
The aim of providing such services is to make certain that businesses are always available for their customers. Large and small companies can gain customers' trust by providing multiple channels of communication. An enterprise that is difficult to get a hold of can easily lose a customer's interest. Your customers should know you care about their time and concerns.
Free service features included with a Global Call Forwarding subscription are:
Time of Day Routing
Black and White Lists
Simultaneous Calling
Failover Forwarding
Advanced Interactive Voice Response (IVR)
Local Ringback Tones
Customer Greeting
Call Transfer
Voicemail to Email
Fax to Email
Dedicated Account Manager
24/7 Customer Support
Step-by-Step Guide to Setting Up Call Forwarding
So, what do you need to know about setting up call forwarding and where do you start? Global Call Forwarding has a very simple set-up procedure. It is quick and easy to sign up for a virtual number and add any other additional features you need. Let's have a look at the process:
How to Setting Up Call Forwarding
Time:
Takes About
2 minutes
Description:
Steps on setting up call forwarding and where do you start
Necessary Items:
Computer
or Smartphone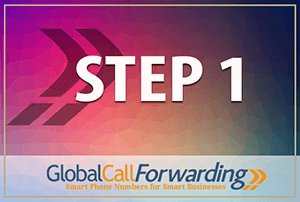 Choose a Provider
Research virtual phone number providers to see what they offer and how you can benefit from their service.
Global Call Forwarding
offers call forwarding along with simultaneous ringing, time of day routing, failover forwarding, and more. Global Call Forwarding's services are easy to use, offer numerous additional benefits, and are cost-effective.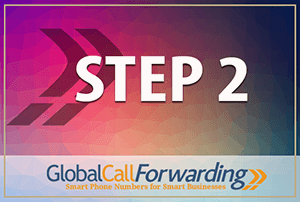 Select Your Country
Global Call Forwarding has a basic sign-up process, front and center on the website's homepage. From the dropdown box on the left, select the country for the number you want to purchase. For example, if you want a Hong Kong number, select Hong Kong (+852).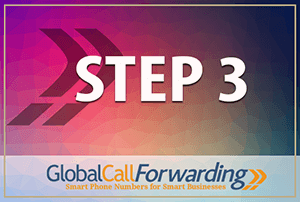 Choose Number Type and Prefix
Next, decide what type of number and desired prefix you want. For example, toll free (mobile accessible), universal toll free (UIFN), mobile, or national.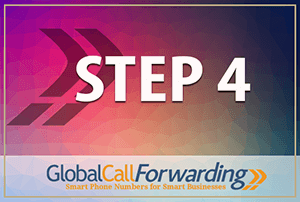 Choose the New Number
After picking the country and prefix, the next dropdown box will show you the available options for your new number. Go ahead and pick one.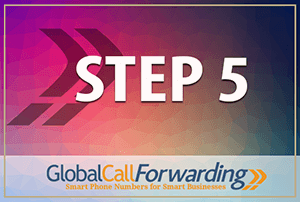 Enter the Number to Forward Calls To
Now, enter the necessary information about the number you want your calls to be forwarded to. Select your country and enter the destination number.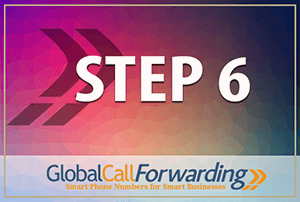 Browse and Choose Your Plan
Click on "View Rates & Try for Free" and look at the different plans available for your purposes. Select one that you think will suit you best.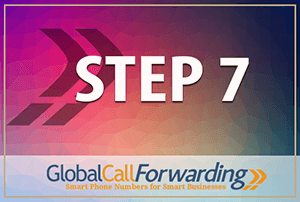 Add Additional Services
Review additional services offered by the provider. Global Call Forwarding offers "Rollover Minutes" free for the first 3 months. This feature accumulates unused minutes for the future and is perfect for companies that have fluctuating call volume. You can also add "Call Recording" which lets you record calls for future reference.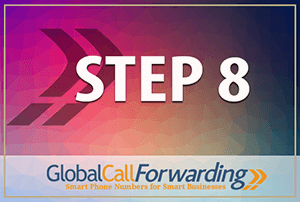 Provide Necessary Contact Information
Finally, enter your contact information, select your account type (Personal or Business), and agree to the Terms and Conditions. Global Call Forwarding offers a free trial for business accounts, which allows you to try their service out for 7 days or 132 minutes, whichever comes first.
Finally, enter your contact information, select your account type (Personal or Business), and agree to the Terms and Conditions. Global Call Forwarding offers a free trial for business accounts, which allows you to try their service out for 7 days or 132 minutes, whichever comes first.
How Can Call Forwarding and Virtual Numbers Help Your Business?
For any business or enterprise, it is highly important to build and maintain professionalism in the market. This can be done in a variety of ways: with an appropriate business name, professional and ethical practices, resourceful and genuine products, an informational website. Another way to promote professionalism is through a business phone number. Most customers' first interaction with your company will be through your phone number. Because of this, you want to ensure you have a reliable phone service provider and features that will improve communication.
Customized Greetings
Virtual phone numbers don't only provide call forwarding services but also offer features that create a professional image of your company. Global Call Forwarding provides interactive voice response (IVR) which is most useful for inbound calling. IVR is an automated voice that greets your callers and then presents them with a variety of options. For example, "Thank you for calling [company name]. Press 1 for English, Press 2 for Spanish" and so on. You can customize this to fit your enterprise's needs. If your company has a high volume of incoming calls, having an IVR system helps customers navigate through a menu of options to resolve their issues or reach the right department. This shows your customer that you are serious about your business and want to make customer service easier.
Keeping Call Records
Voicemail or Voicemail to Fax ensures that voicemails are never missed, while also saving them for future reference. Call recording is most helpful for call centers because calls can be recorded for training and performance purposes. These features provide information and data that can be used to improve communications between the company and its employees.
Marketing Your Business
Virtual numbers can also be used as marketing tools. You can customize your number to better fit your company in a unique and eye-catching way. These numbers are called vanity numbers. Vanity numbers make your number memorable and recognizable with patterns or letters. For example, 888-944-9444 or 1-800-LAWYERS. You can advertise this number on billboards, marketing emails, flyers, websites, etc. Customers will often become familiar with not just the number but also the business, allowing your number to stick in their minds and recognizing your business as prominent in your industry.
Where Can You Expand Your Business with Global Call Forwarding?
Global Call Forwarding has communications solutions such as local and toll free numbers for more than 150+ countries. Here's a list of locations you can get a virtual number for:
Most Popular
United States
|
United Kingdom
|
Canada
|
United Arabs of Emirates
|
Australia
|
Italy
|
Spain
|
Singapore
|
Hong Kong
|
Ireland
Albania
Algeria
Andorra
Angola
Anguilla
Antigua
Argentina
Armenia
Austria
Bahamas
Bahrain
Barbados
Belarus
Belgium
Belize
Benin
Bermuda
Bolivia
Bosnia and Herzegovina
Botswana
Brazil
British Virgin Islands
Brunei Darussalam
Bulgaria
Burkina Faso
Cambodia
Cameroon
Cayman Islands
Chile
China
Colombia
Congo
Costa Rica
Croatia
Curacao
Cyprus
Czech Republic
Denmark
Dominica
Dominican Republic
Ecuador
Egypt
El Salvador
Estonia
Fiji
Finland
France
French Guiana
Georgia
Germany
Ghana
Greece
Grenada
Guadeloupe
Guatemala
Guinea
Honduras
Hungary
Iceland
India
Indonesia
Israel
Jamaica
Japan
Jordan
Kazakhstan
Kenya
Korea South
Kuwait
Kyrgyzstan
Latvia
Lesotho
Lithuania
Luxembourg
Macau
Macedonia
Malawi
Malaysia
Mali
Malta
Martinique
Mauritius
Mayotte
Mexico
Moldova
Monaco
Montenegro
Montserrat
Morocco
Myanmar
Namibia
Nepal
Netherlands
New Zealand
Nicaragua
Nigeria
Norway
Oman
Pakistan
Panama
Paraguay
Peru
Philippines
Poland
Portugal
Puerto Rico
Qatar
Reunion
Romania
Russian federation
Saint Kitts and Nevis
Saint Lucia
Saint Pierre & Miquelon
Saint Vincent & Grenadines
Saudi Arabia
Serbia
Seychelles
Slovakia
Slovenia
South Africa
Sri Lanka
Sudan
Sweden
Switzerland
Taiwan
Tajikistan
Tanzania
Thailand
Trinidad and Tobago
Turkey
Turks & Caicos Islands
Uganda
Ukraine
Uruguay
US Virgin Islands
Uzbekistan
Venezuela
Vietnam
Zimbabwe
Expanding Internationally with Virtual Business Numbers
The possibilities are limitless when it comes to growing your business in our heavily globalized world. With a good internet connection, a versatile team, and virtual business numbers, you can start a business anywhere. And then branch out to other countries to continue the expansion. It is important to research the market and demographics for your product before starting a business in a new state or country. Additionally, you will need to learn about the country's policies and requirements. While the process can be a bit strenuous, cloud communication makes the process much easier.
Get Call Forwarding With Global Call Forwarding
Global Call Forwarding is here to provide you with the most essential tools of cloud communication that can benefit your business' customer interaction. Whether you are a soloprenuer entering the market or a call center manager, we can help you improve your relationship with your clients. If you'd like more information about how we can assist your particular business, contact us today; we're ready to help your business communicate more efficiently!