The official release date of the Samsung Galaxy S9 is March 16, 2018, but several internet tech sites have obtained pre-release phones for testing. This article will review the Samsung Galaxy S9 specifications and include some early comments regarding performance and aesthetics.
Design: Colors
The Samsung Galaxy S9 comes in four colors, although available colors may vary by country or carrier. Below is a list of the colors:
Lilac Purple
Midnight Black
Titanium Gray
Coral Blue
Dimensions and Weight
The Samsung Galaxy S9 measures 147.7 ✕ 68.7 ✕ 8.5 mm (5.8 ✕ 2.7 ✕ 0.33 in), and it weighs 163 g (0.365 lb).
Display
The display uses a 5.8-in diagonal, Super Active-Matrix Organic Light-Emitting Diode (AMOLED) screen. The default resolution is Full HD, i.e. 1920 × 1080 pixels. However, in "Settings," there is an option for Quad HD+ resolution (2960 x 1440 pixels) at 570 pixels per inch (PPI). The "Infinity Display" has an edge-to-edge screen. The diagonal 5.8-in measurement assumes a rectangular shape and ignores the rounded corners. According to Max Parker on www.trustedreviews.com, the display has "rich colours and fantastic contrast."
Front Camera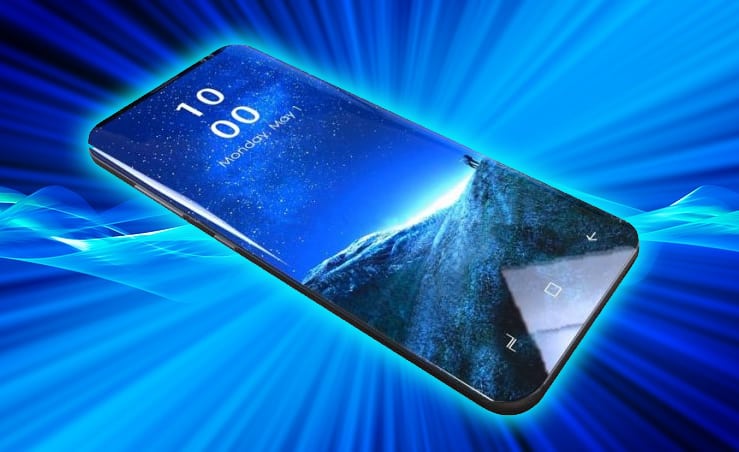 The Samsung Galaxy S9 front camera has an 8 megapixel, autofocus sensor. The sensor size is 1/3.6 in; pixel size is 1.22 µm; and sensor ratio is 4:3. The field of view is 80 degrees, and there is an F1.7 aperture. The front camera has a selfie focus for selfies and wide selfies.
Rear Camera
The "Super Speed Dual Pixel" rear camera has a 12 megapixel, autofocus sensor. The sensor size is 1/2.55 in; pixel size is 1.4 µm; and sensor ratio is 4:3. The field of view is 77 degrees, and there are two aperture modes: F1.5 and F2.4.
Rear camera features include Optical Image Stabilization (OIS), digital zoom up to 8 power, and selective focus, which allows a background blur effect. Picture modes include food, panorama, auto/ pro, super slow-mo, and hyperlapse. Hyperlapse is a mobile app that Instagram created for time-lapse videos.
The super slow-mo feature:
Supports only HD resolution
Videos are limited to 20 shots.
Each shot has 0.2 seconds of recording time.
Each shot has 6 seconds of playback.
Front & Rear Camera Features
Both cameras have Video Digital Image Stabilization (VDIS), High Dynamic Range (HDR), full view, floating camera button, Augmented Reality (AR) Emoji, motion photo, filters, stamps, grid lines, location tags, timer, and quick launch.
Video Recording
Video recording speeds are as follows:
4K video (3840 ✕ 2160 resolution) at 30 or 60 frames per second (fps)
QHD video (2560 ✕ 1440) at 30 fps
1080p HD video at 30 or 60 fps
720p HD video at 30 fps
Super slow-mo video supports 720p resolution at 960 fps.
Slow motion video supports 1080p resolution at 240 fps.
The hyperlapse picture mode supports 1080p resolution. While video recording, the rear camera can use the Color-Rendering-Index (CRI), Light-Emitting-Diode (LED) flash, face detection, and tracking autofocus. Users can take 9.1-megapixel still photos when recording using 4K video. Playback zoom and video location tags are two video features.
Performance
AP
The Galaxy S9 uses a 10 nm, 64-bit, Octa-Core processor that works at either 2.8 GHz + 1.7 GHz or 2.7 GHz + 1.7 GHz depending upon country and carrier.
Memory
The Galaxy S9 has 4 GB of Random Access Memory (RAM) and 64 GB of memory depending upon country and carrier. The actual user memory may vary due to installed software and software updates.
Network & Connectivity
The network is an enhanced 4✕4 MIMO/CA, LAA, LTE Cat 18 that may differ by country or carrier. Connectivity methods and modes are:
Wi-Fi connections are in accordance with IEEE standards 802.11a/b/g/n/ac. The phone communicates over a 2.4GHz or a 5 GHz frequency band.
The phone uses a Very High Throughput, 80 MHz, Multi-User, Multiple Input-Multiple Output (VHT80 MU-MIMO) communication channel for data transfer.
Communication that is more efficient results from the use of 10 bit, Quadrature Amplitude Modulation (1024QAM).
The Galaxy S9 uses Bluetooth® v5.0 with transfer speeds up to 2 Mbps.
The phone supports ANT+. This is a wireless technology that permits health-monitoring devices to communicate.
The phone has a USB type-C connection port for wired communication.
The Galaxy S9 supports Near-Field Communication (NFC) protocols.
Location services include GPS, Galileo, Glonass, and BeiDou although coverage limitations exist.
Expandable Memory & SIM Card
There is a single SIM model phone and a dual SIM model. The single SIM model uses a Nano SIM, and it has a slot for one MicroSD. The dual SIM model can accommodate a second Nano SIM instead of the MicroSD. The availability of the dual SIM model may vary by country. The MicroSD card (400 Gb max) is a separate purchase.
Operating System
The Galaxy S9 uses an Android 8.0 Oreo operating system.
Audio
Stereo Speakers – AKG does not make the speakers, but they tune them. The phone features surround sound using Dolby Atmos technology, and uses Dolby Digital Plus to improve the Dolby Digital sound. The Samsung specification sheet lists the sound capabilities.
Audio Playback Format – The phone accepts 22 playback formats. See the specification sheet for a listing of the formats.
Bluetooth – The Galaxy S9 connects to two Bluetooth devices simultaneously although there may be a difference in sound output. There is a scalable codec to enhance the Bluetooth connection when there is radio frequency interference.
Recording – The phone has a high acoustic overload point microphone. This microphone minimizes sound distortion in noisy environments.
Bundled Earphones – Bundled with the phone are 2way-dynamic-unit, hybrid-canal-type earphones, with pure sound tuned by AKG.
Video
Video Playback Formats – MP4, M4V, 3GP, 3G2, WMV, ASF, AVI, FLV, MKV, and WEBM
TV Connection – Wireless connection is via Smart View using Miracast 1080p at 30 fps. Mirroring support is available for devices supporting Miracast or Google Cast. With cable, the phone supports DisplayPort over USB type-C, and it supports video using HDMI adapter DisplayPort 4K at 60 fps.
Water Resistance
The phone has passed tests for resistance to water immersion. The International Protection Marking IP Code per IEC standard 60529 is IP68.
Battery
Battery capacity is 3,000 mAh. Maximum battery discharge times are as follows:
Battery life with MP3 playback is up to 48 hrs with Always on Display (AOD) on and 80 hrs with AOD off
Video playback 16 hrs
Talk time 22 hrs
Internet use with Wi-Fi 14 hrs, with 3G 11 hrs, and with 4G 12 hrs
Charging
The phone has fast charging on wired connections and wireless charging using WPC and PMA.
Sensors & Buttons
The Galaxy S9 has the following sensors: accelerometer, barometer, fingerprint sensor, geomagnetic sensor, gyro sensor, Hall sensor, HR sensor, iris sensor, pressure sensor, proximity sensor, and RGB light sensor. Its three buttons are an On/Off key, a volume key, and a Bixby key.
Security
The security features include the following:
Knox protection, a real-time monitoring, and protection feature
McAfee virus and malware prevention
Secure Folder, a secure storage space requiring an iris or fingerprint scan for entry
Intelligence
Bixby is a vision and voice assistant. According to www.techradar.com, the S9 Bixby is an improvement over the Galaxy S8 Bixby. This vision feature is useful in recognizing what it sees.
Overall Impression
The Samsung Galaxy S9 is a great phone. It has improved biometrics and a camera that has amazing low-light capabilities.