The 2023 Ultimate Guide to Global Expansion
Download a Free Copy to Read Later or Read Now Below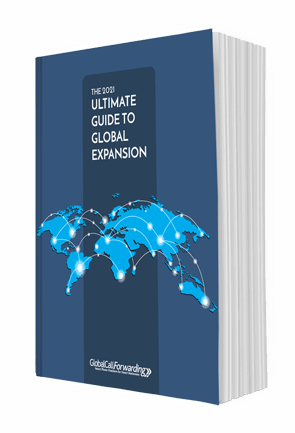 YOU WILL LEARN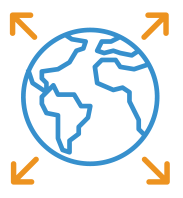 How Do You Expand Globally?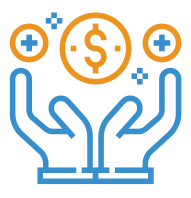 Benefits of Expanding Internationally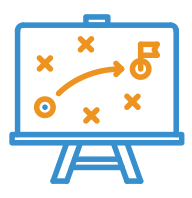 7 Global Expansion Strategies
Home

»
The Ultimate Guide to Global Expansion
Going global with your business can be very overwhelming as there are so many components you need to watch for and so many processes you need to get right. And yet, expanding globally can bring countless benefits to your local or national company. In this post, we detail everything you need to know about global expansion strategies and best practices to support your plans.
What is a Global Expansion Strategy? Everything You Need to Know
Global expansion or international expansion is the process of taking your local or domestic business to the global platform to become a multinational company and improve sales in new markets. Since advancements in technology and transport have made globalization possible, businesses have had the opportunity to step beyond their immediate location and grow. This means new customer bases, new investment opportunities, and more sales. If growing globally is part of your business plan, then developing a global expansion strategy can help map out how to expand effectively. When creating an international expansion strategy, you and your team focus on a few different factors:
Which markets are conducive to your business and can boost sales?
How to budget for international expansion in a cost-effective manner?
What do you need from these new markets (suppliers, vendors, banking institutions, workforce, etc.)?
How do you want to enter the market (opening physical stores/offices or entering remotely/virtually)?
How will your business communicate with customers and business contacts in these markets?
What are the best ways to market internationally (commercials, exhibitions, international marketing, website development, and SEO, etc.)?
How Do You Expand Globally?
So, what does your business need to do to create a global presence? First, you need to be willing to take the risk. A lot of planning goes into expanding globally. However, with the right team and the right tools, the process is simplified and more successful.
Best practices when expanding globally
include:
1. Careful pre-planning
List of lucrative markets to enter
Strategic plan to enter the markets in a cost-effective manner
Building a local business network in target areas
2. Establishing a local presence
Creating partnerships with local and international business contacts
Open field offices and stores (if applicable)
Submit necessary paperwork
Establish local and international communication
Hire locally or remotely, if needed
3. Marketing and following through
Advertise locally
Execute international marketing strategies
Offer 24/7 multichannel customer service
Collect customer feedback to improve services
Benefits of Expanding Internationally
Common business types that look for global expansion include MNCs, importers and exporters, and service companies. So why should a company consider taking the big step of going international? And when should a business consider going global? A business may consider expanding internationally if:
Sales and growth within the initial company have stunted.
Many different strategies have been tried and tested to no avail.
It is apparent it is time to diversify or find a new customer base.
Desire to capitalize on foreign investment opportunities offered in other markets and economies.
It is necessary to grow into a multinational business and make a name for your company internationally.
Whether your business needs to enter new markets for survival or to grow internationally, there are many advantages of going global. When you enter your business in international markets, you can benefit from:
A more diverse customer base.
New and valuable revenue streams.
Improving your business' global perception and reputation.
Hiring employees from a wider talent pool and benefit from new perspectives, cultural nuances, varying levels of skill.
Increase your business' credibility among the global competition.
Taking advantage of varied foreign investments and new market opportunities such as low taxes, low-interest grants, free trade zones, regulatory concessions, and more.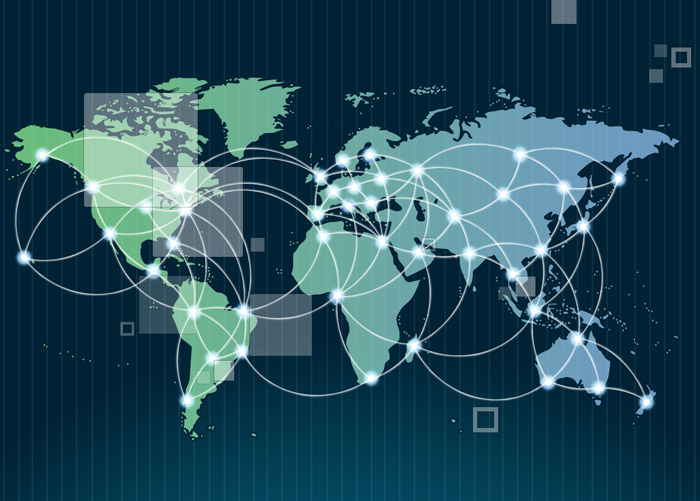 Related: Global Customer Support: 8 Strategies to Get More Global Customers
Global Expansion After COVID-19
Since 2020, businesses are finding new ways to expand globally after COVID-19. For many businesses, post-COVID global expansion includes:
Entering new markets through a lean approach
Opening up more channels of virtual communication: offering support and sales in different time zones and communication modes (like email, live chat and chatbots, automated IVR systems, etc.)
Securing supply lines
Emphasizing safety and security within the office and for customers: improving web security as well as following COVID protocols
Listening to their customers through feedback to improve customer experience in these uncertain times
Creating an exit plan, just in case: leaving a market can come with financial and time constraints and so it is a good idea to prepare
If you are unsure of expanding in the current economic climate (post-COVID-19), you may want to consider a lean entry approach. A lean approach means holding off on investing too much in infrastructure (office space, stores, etc.), hiring locally, and setting up shop. Here, again, you may consider getting a virtual phone number to communicate with locals, test the market, and build a business network at a slow pace. Once you are more confident with your decision to expand, you can take more concrete steps.
7 Global Expansion Strategies
So, how can you enter new markets effectively and in a budget-friendly manner? Develop an international expansion plan that will support your business needs and budget. Let's look at 7 global expansion strategies that companies must consider as they plan to grow internationally:
1. Survey the Market
First, you need to decide what countries, cities, states, or regions will be most lucrative for your business. Conduct market research to determine the demographics of the target market. For instance, what is your target audience or ideal buyer persona, and can you find this target audience in your target market?
Evaluate potential customers as well as business contacts. If you need on-site employees, suppliers, or vendors to have on-field logistics, can you easily find them in this region? Does the local workforce meet your talent requirements?
Before you move, test the market to get an idea of what your business will have to deal with. You can do so by traveling to the area or communicating virtually through a local phone number to gather information and make connections. Market research is necessary to identify lucrative markets for your business. Here is a list of top global expansion countries in 2021 that are open to foreign investment.
2. Create an Expansion Plan
Once you decide on the countries or regions you want to expand to, it is time to develop a detailed expansion plan. This plan must include the following:
Creating a budget.
List of new markets to expand to.
Method of entering the new market.
Finding partners (locally and internationally) to support your business.
Identifying logistics, vendors, and suppliers.
Identify what government organizations, grants, or policies you plan to work with.
Creating job descriptions for hiring employees.
Determine if you need to open a physical store or office and what that will entail.
Consider how you will communicate with locals and your main office. Plan for using international and local phone numbers and where calls will be answered.
Identify paperwork and requirements needed to legally register your company in the new market.
Creating this expansion plan is a must. It will outline the various steps you need to take to successfully and legally enter a new market. It will also determine how much work and money your business will be investing in this expansion project.
3. Choose the Right Partners
No matter how self-dependent you may want your business to be, when moving to a new location, you will need the support of local partners to ensure everything runs smoothly. Local business partners can help you understand cultural nuances and your new customer base's preferences and behaviors. This is valuable information that can help you do the right things to serve your new customers and clients better. And by doing so, you can make your way towards gaining customer attention and loyalty.
Additionally, local and national partnerships can assist in identifying useful governmental or private resources such as business organizations, government agencies, foreign investment support, and policies.
4. Create an Entry Plan
Next, and perhaps a very important step, is to decide how to enter the market. In other words, do you want to enter physically (opening offices and stores) or virtually (through virtual communication)? You will need to plan expenses accordingly.
Depending on the type of business you run, you may not need to open a physical store or office to conduct business operations. For example, a business that runs and sells primarily online (e-commerce, software, professional services, etc.) can easily expand to a new market without needing a physical office to smoothly conduct business. Such businesses can simply get an international toll free number for the new market and have incoming calls from interested customers and business contacts forwarded to your main office through international call forwarding. This way, locals can call the business for local rates or toll free while the business avoids long-distance calling charges.
5. Buy an International Phone Number
An important aspect of global expansion is developing international communication channels. This means getting international phone numbers to communicate in a cost-effective manner. You can get an international toll free number (ITFN) or local phone number from a virtual phone service provider like Global Call Forwarding. Locals can call an ITFN for their country for free while they can call local phone numbers for local rates. This is true even if they are calling an international business using these numbers.
By using an ITFN or local phone number, you encourage local customers and businesses to connect with you. And since you forward calls virtually to your main business location, your company also saves on international costs.
6. Equip Your Business with the Right Global Expansion Tools
Besides getting the right business phone number, you will also need to invest in global expansion communication tools.
For example, if you have customers in different markets across the globe, then you will need to offer sales and customer support in their time zones and languages. You can do this by hiring remote teams in these areas or hotspot zones and forward incoming calls to those employees or agents using time-based or location-based routing. Making your business easily accessible is one of the most important global expansion strategies.
This type of global 24/7 customer service is called the follow the sun support model. It aims to offer responsive and reliable support to local and global customers. And this is a great way to improve customer experience for your global customers and increase retention rates.
Related: 5 Ways to Leverage Time-Based Routing for Global Expansion
You can even use an outbound calling service to customize the outgoing caller ID when calling customers in different areas. This is so you can display a local phone number ( purchased from your provider) instead of a random, unknown number. Customers are more likely to answer calls from numbers they recognize.
Lastly, since your business works with customers from different parts of the world, you need to make it easy for customers to reach your company. Multichannel communication and AI support can help with supporting customers globally. Examples include active email and social media accounts, live chat and chatbots, automated IVR systems, or auto-attendants. Automated customer service tools serve customers and callers by:
Providing answers to common questions
Assisting with basic or simple troubleshooting solutions
Offering company and product information
Assisting customers with basic processes such as payments and renewals, account balances, lodging complaints, or gathering feedback, etc.
Related: How to Create a CX Strategy for Global Customer Support
7. Invest in International Marketing
Finally, focus on marketing and promoting your business internationally. International SEO and marketing is much different than typical local marketing efforts. You will need to pay attention to translation and localization to reach a wider and more diverse audience. Furthermore, websites and web pages need to implement language-targeting techniques to tailor content and URLs to your target audience's language and culture. Besides website-focused marketing, you will need to do some groundwork marketing such as:
Local commercials and ads advertised in local directories, exhibitions, and other marketing materials.
Altering the product to fit your new target audience's needs and preferences; this includes packing and shipping as well.
Choosing a pricing strategy the target audience can work with.
Using promotional strategies that are often successful in that specific market.
Working closely with local and national partners.
How well you market your product can determine how much traction your business gains, how visible your brand becomes, and how effectively your business attracts its customers.
Ready to Take Your Business to the Global Stage?
Grow globally with the right plan, right team, and right tools. Global Call Forwarding has helped multiple local and international companies enter international markets with our virtual communication tools and features. Browse through our services online or speak with our experts to learn how we can help your specific business expand globally. Call us today at 1 (888) 908 6171 or chat with us online!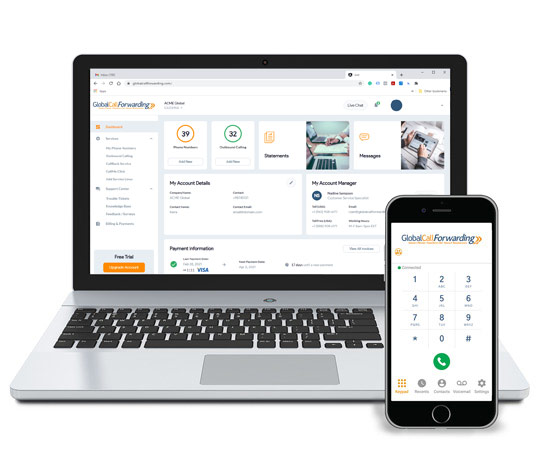 Why Customers Choose Us?
Outstanding Quality
Because we offer the best quality for both international and local phone services, you'll never have to miss another important phone call again.
Feature Friendly Competitive features including SMS forwarding, outbound calling, rollover minutes and more.
24/7 Customer Support Our support team is available 24/7 at your convenience for any questions or setup assistance.
Service Features
A reliable suite of included and premium features to power your business communications.
IVR/Auto Attendant
Cloud Call Recording
Virtual Voicemail
Call Flow Designer
Time of Day Routing
Geographic Routing
Simultaneous Ringing
Sequential Forwarding
Outbound Calling
Outbound Caller ID
Number Masking
Failover Forwarding
Call Blocking
Local Ringback Tones
Fax to Email
Rollover Minutes
The Most Trusted Provider of Business Phone Numbers
Service quality and customer experience are our top priorities.
150+
Countries
Phone numbers available across the globe.
24/7
Support
Reach us via phone, chat, website, and email.
25+
Years
We've been in business since 1996.
99.999%
Uptime
Multiple layers of redundancy = Higher reliability.