X
Select a number to call us now!
USA Toll Free:
USA Headquarters:
Asia-Pacific Office:

1 (888) 908 6171
+1 (561) 908 6171
+66 (60) 002 4172

Step 2 - Select Plan & Features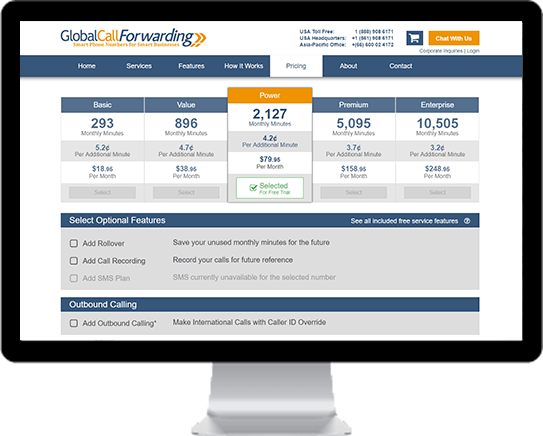 It's nice to have options. We offer a monthly plans with an included number of monthly minutes, and an additional rate per minute if you go over. In addition to tons of included free features, there are additional premium features you can easily add to
Premium Features Available
Call Recording
Outbound Calling
SMS Forwarding
Rollover Minutes
Step 3 - View Cart & Checkout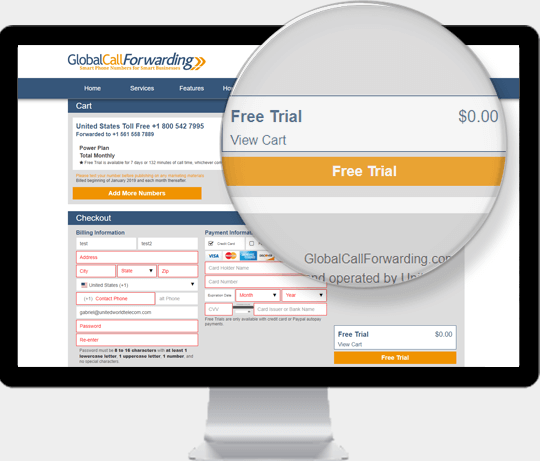 From the cart you are able to:
Add additional numbers
Review complete rate details
Enable / disable free trial
When you complete the final step you will be taken to a confirmation page with the details of your order and information regarding verification of your email address and any documentation that might be required.
Step 4 - Setup & Configure Your Account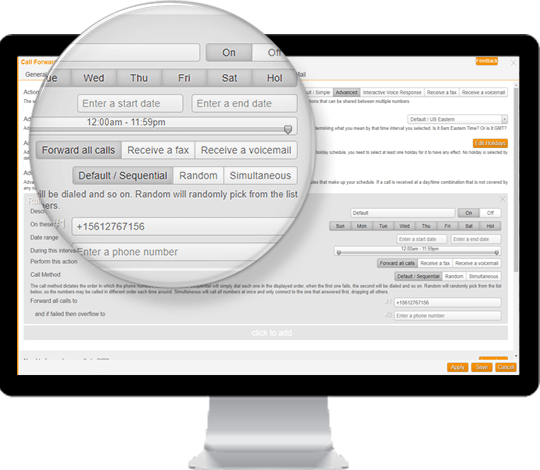 Once your order has been processed, e-mail address verified, and any required documentation has been successfully submitted you will be able to use your account right away.
You'll be granted access to an advanced control panel with dozens of different configuration options to customize how your new number works. You'll also be assigned an account manager who is able to answer any of your questions.
Fantastic Service. I have a business in France but needed a Virtual Phone line for UK. The team here at Global Call Forwarding have been excellent and first class in setting everything up for me (Nabill, Alain and Miguael, thank you so much)
I just purchased a 1-800 number for my business and so far the customer service and call quality has been great. I had some questions so I called in and my account manager cleared everything up. He helped me set up call forwarding and voicemail...
I have an account with Global Call Forwarding for over 3 years now and have never had any issues. Customer service is very friendly and audio for calls has always sounded perfect. I route calls from France to UAE, and there are never any problems...
Features
An incredible selection of included and premium features available.
A Company You Can Trust
Experience unmatched expertise and support from leaders in the industry.
150+
Countries
Phone numbers available across the globe.
24/7
Support
Reach us via phone, chat, website, and email.
24
Years
We've been in business since 1996.
A+
Rating
The BBB gives us their highest rating.