What is Time of Day Routing?
Call forwarding via time of day routing — also known as time-based routing — is an easy-to-use, straightforward system that redirects incoming phone calls to another destination based on time, whether it is a mobile phone, voicemail box, VoIP number, etc.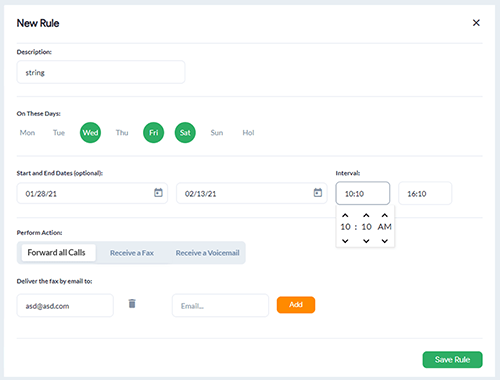 How Does Time-Based Routing Work?
Using this service, you can preset where calls get routed to be answered, based on when they are received to ensure the best customer service is delivered. Individuals that call your local or toll free number are automatically routed to another one of your telephone numbers depending on the time of day the call comes in. The most significant advantage: the receiving telephone number can be located anywhere in the world, based on what's most convenient for your company to handle calls based on the time they are received.
Key Points of Interest When You Route Calls Based on Time of Day
Allows for total customization of handling calls to ensure calls are tended to
Maximize efficiency by automatically routing calls based on the time of day they come in
Manage calls from different time zones easily by routing calls to the same time zones
Enable calls to be received on different devices based on specific times of the day
Increase convenience for your phone staff by ensuring calls in each location are received during the most optimal times of the day
Adopt a Follow the Sun customer service model to offer 24/7 support in your customers' time zones
How to Get and Setup Time of Day Routing with Your Virtual Number?
Global Call Forwarding includes the option of using Time of Day Routing with all virtual numbers and there is no additional cost for the service. It is easily connected to your virtual numbers through the Control Panel and can be customized based on your needs.
Examples of How Time-Based Routing Can be Used
This smart service allows you to organize how and when calls get answered by setting up automatic routing for the most convenient handling. Here are some examples of how you can coordinate call traffic:
Route calls received from Monday thru Friday between 9:00 AM and 6:00 PM to your office line.
Route calls received from Saturday thru Sunday between 10:00 AM and 1:00 PM to your mobile phone.
Route calls received on Sunday between 1:00 PM and 6:00 PM directly to your voicemail.
Advanced Forwarding combinations are unlimited, so you can create the Advanced Forwarding setup that best fits your needs!
Route calls based on your customers' needs and typically calling times
Time of day routing is one of the most useful and versatile options for a business in need of enhancing their communication efforts or supporting their current demand. It can be used in a variety of different circumstances while enabling support for businesses of all sizes. Whether you have a startup and are expanding beyond your current location, or you have a large-scale corporation and need to handle a high volume of calls that may be coming in from other time zones, time of day routing can be an essential aspect of managing your customer support initiatives. This way, time-based routing helps businesses expand globally.
Time of day routing enables you to have the ability to route incoming calls to specific phone numbers depending on the time of the day; exactly as the name implies. In the same manner as to call forwarding, time-based routing can also be used as a way to easily direct calls specifically to a different number, a mobile phone, or even a voice messaging system at certain hours. Automatic rerouting of calls gives your business additional simplicity and automation, organizing communication even further, which can be so beneficial.