How Can We Help Your Business?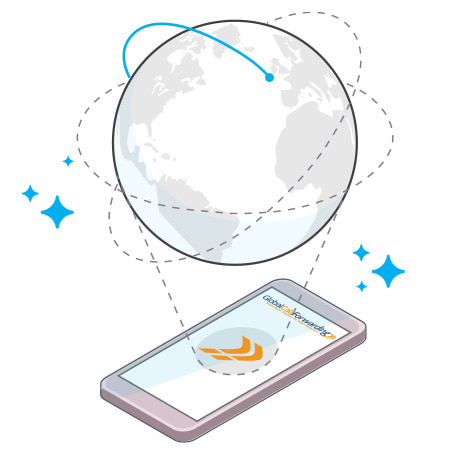 Buy toll-free numbers and local phone numbers from more than 150 countries. Forward incoming calls to any phone, PBX, or SIP. Our global network has multiple layers of redundancy.
View Country Coverage or Buy a Number
Make international outbound calls and show any of your business phone numbers as Caller ID. Increase success rates by showing a local caller ID. Connect our SIP trunks to your phone system or use the GCF softphone to make outbound calls. Try Outbound Calling for Free
Easily set up and modify smart call routing features like auto-attendant / IVR, location & time-based routing, local ringback tones, simultaneous ring, customized greetings, call recording, voicemail, and more. View Features
Service Features
An advanced suite of included and premium features to reliably power your business communications.
IVR/Auto Attendant
Cloud Call Recording
Virtual Voicemail
Call Flow Designer
Time of Day Routing
Geographic Routing
Simultaneous Ringing
Sequential Routing
Outbound Calling
Outbound Caller ID
Number Masking
Failover Routing
Call Blocking
Local Ringback Tones
Fax to Email
Rollover Minutes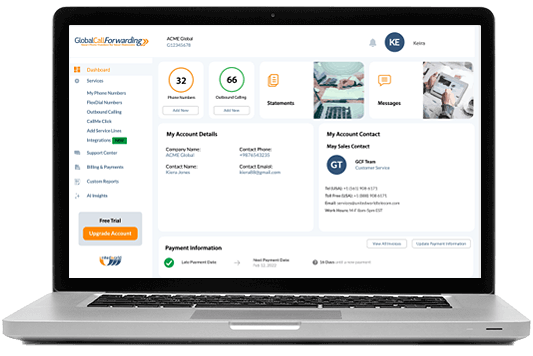 Manage your phone numbers in real-time using our online control panel.
Easily add or remove virtual numbers, change calling plans, download your invoices and call detail records, modify advanced features, reach live technical support 24/7, contact your account manager, and much more in just a few clicks.
Industry-Specific Solutions Just for Your Business.
The Most Trusted Provider of Business Phone Numbers
Service quality and customer experience are our top priorities.
Countries
Phone numbers available across the globe.
Support
Reach us via phone, chat, website, and email.
Years
We've been in business since 1996.
Uptime
Multiple layers of redundancy = Higher reliability.
Director of Operations, Healthy Stuff
Global Call Forwarding is a fantastic service. Everything just works. I've never had any issues. They provide reliable communication tools that we use to develop and support our international customer base.
Telecommunications Administrator, Novartis
We are very happy with the service and use of the toll free numbers. If there is ever an issue with the service, we contact the team and they resolve the issue within 15 minutes. We see ourselves using the service for a long time.
Dir. of Client Support, Synergy Sports
My experience with Global Call Forwarding has been exceptional. They have been phenomenal in their responsiveness and ability to help with my needs. The services are affordable and have been very reliable so far.
Try Global Call Forwarding Free for 15 Days
Experience the quality of our full service risk-free without any commitment.
Fast & Easy Setup • No Commitment.
One Stop. Real Benefits.

Simple ordering process
fast delivery (numbers activated within minutes)

Worldwide coverage
availability of numbers from even the most remote countries

24/7 tech support
ready to tackle any issues

Lower pricing
compared to giant telecom operators

Dedicated account manager
always ready to go the extra mile to help

Flexible payment options
that include Purchase Orders and "Pay Upon Receipt of Invoice"

Online control panel
Simple to use with access to many included service features.

Proven track record
Over 25 years with thousands of happy multinational clients
About Global Call Forwarding
Global Call Forwarding is a leading provider of international toll-free numbers and local phone numbers. Along with our international call forwarding service, we also provide outbound calling and SIP trunking solutions for most of the countries around the world.
We have more than 27 years of experience as a reliable telecom service provider for multinational organizations of all sizes. Our proprietary high-availability network and long-standing partnerships with local operators enable us to offer competitive rates, excellent call quality, and unmatched flexibility.