Some of Our Long Term Clients
A Company You Can Trust
Experience unmatched expertise and support from leaders in the industry.
150+
Countries
Phone numbers available across the globe.
24/7
Support
Reach us via phone, chat, website, and email.
24
Years
We've been in business since 1996.
A+
Rating
The BBB gives us their highest rating.
Get Local, Mobile, and Toll Free Numbers with
our International Call Forwarding Service
Global Call Forwarding provides local, mobile, and toll free numbers around the world along with a variety of services to complement the telecom needs of your business. With over 24 years of experience, it is our passion to provide a reliable and high-quality call forwarding service and virtual phone system to our valued customers. We currently serve thousands of clients in over 150+ countries around the globe, ranging from individuals to small and medium-sized businesses and even multinational corporations.
Virtual Phone Numbers Designed for Businesses
Unlimited Extensions
Using our virtual phone systems control panel, you can set up easy to use extensions that users can dial when they call your new number (Press 1 for sales, press 2 for marketing…etc.) for a user friendly and professional experience.
SMS Forwarding
Be connected to your customers and communicate as efficiently as possible by adding SMS to your new number. Easily forward incoming SMS messages to any email address.
International Call Forwarding
Purchase a phone number with us in one of over 150+ countries and calls can be forwarded to mobile phones, virtual call centers, VoIP, landlines and business phone systems anywhere in the world
Risk Free Trial
Businesses try Global Call Forwarding for free with our instant activation free trial. Free call forwarding offers the opportunity to experience the features and benefits of our call forwarding service for a short time.
No Contracts, No Commitments
Cancel the service at any time without any ongoing contracts or commitments. No pressure!
How Virtual Phone Numbers Work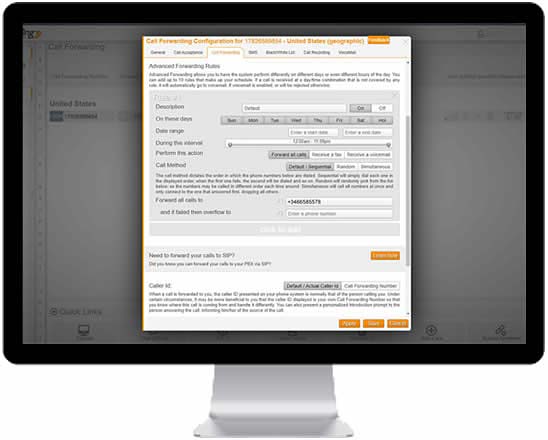 When you purchase a virtual phone number from Global Call Forwarding in any of the 140+ countries where we have availability, you can instantly forward incoming calls to any other phone number or VoIP / SIP line in the world. Using our outbound calling feature, you can also make outgoing calls from that number with the corresponding caller ID.
We give our customers access to an advanced online control panel where you can manage a large number of features using a simple, easy to use interface. Some of the features included with our virtual phone system are call forwarding rules, adjustments to ringback tone, greetings, time of day routing, sequential forwarding, failover forwarding, caller ID settings, introduction prompts, SMS deliverability settings, incoming fax settings, blacklists (and whitelists), call recordings, voicemail, and more.
Leading Toll Free Service Provider
We are the leading provider of international toll free numbers available in countries across the world. Our international tollfree service is used by thousands of companies including multinational businesses with operations in regions across the globe.
Enterprise Solutions
Need an enterprise solution for your business? We can provide you with a custom proposal of services, designed just for you! Fill out the form on our corporate inquiries page and an account manager will be in touch with you. You can also call us at any of the numbers on the top of our website.
OMG your response level is amazing. Thank you for the lightning fast response, quick implementation, seamless call transfers, and amazing no-hassle after-sales service. I wish all B-to-B businesses followed your benchmark. Very highly recommended.
I've been working with this company for the past 3 years, and they've been fantastic with every interaction. My account representative Nabill is extremely friendly, responsive, and understanding with my company's needs. They offer a great service with flexible options.
Best in class service and support. The product has helped me meet business needs with regard to increasing customer contact. Highly recommend Global Call Forwarding to anyone who needs the ability to reach worldwide destinations with ease.
F A Q | Global Call Forwarding
Global Call Forwarding is an international virtual phone number service offered by United World Telecom.
A virtual phone number is a phone number without a standard telephone line. Virtual phone numbers can forward incoming calls to a different number, or to a VOIP/SIP line located just about anywhere in the world.
Global Call Forwarding offers numbers in over 140 countries. Some types of numbers include local, toll free, mobile, UIFN, ITFS, DID, SMS enabled, and more.
Prices can vary depending on the type of number you purchase, but can start as low as $7.95 per month.
Yes. Global Call Forwarding offers a free trial for business customers only.
Call forwarding works by receiving incoming calls from originating phone numbers on our network and forwarding the call to a number of your choice. We have local and toll free numbers available in most countries.
We make it simple to expand your business internationally with numbers available in over 140 countries both local and toll free. Aside from their practical uses, this will also help your company's image and credibility. Here's what your business has to gain:
Credibility
Access for customers
Quality Service
Increased exposure to markets worldwide
Customization through service features
Analytics for call metrics
Amazing, affordable prices
Dedicated account representatives