International Calling Made Easy with the New and Easy-to-Use GCF Softphone
Current customers with a User ID and password can easily receive incoming calls and make outbound calls directly from any compatible devices including all PCs using macOS, Windows, Linux, ChromeOS and phones using Android operating systems. There is no set-up needed or extra fees.
Our softphone gives you the option to:
Make outbound calls anywhere in the world
Choose the Caller ID to display on outbound calls
View and listen to your voicemails directly from the dialer
Make assisted call transfers from inbound and outbound calls to any other active users
Receive voice messages
Fully integrated contacts
Search or filter calls by contacts
Search all recent calls (inbound, outbound, missed or rejected)
Ability to see all other active softphone users
Make FREE in-network calls to other users
Start using the GCF Softphone today by getting an outbound calling plan.
Current users can login to access line specific username and passwords.
(Recent Calls)
(Individual Contact)
(User Settings)
(Voicemail)
(Contact List)
(Add Contact)
(Search Calls)
(Recent Calls)
Outbound Calling and VoIP Phone Systems
Build connections with local and international customers and clients through our outbound calling service. Use our softphone to dial and call various local and international numbers. Using your purchased numbers, it is convenient to customize your outgoing caller ID to display a local or toll free number from the location you are calling.
Cloud phone systems or voice over internet protocol (VoIP) phone systems use the internet to enable voice and video calling. Getting VoIP for your business phone system can improve efficiency and productivity within the office, increase cost savings, and help improve inbound and outbound communication.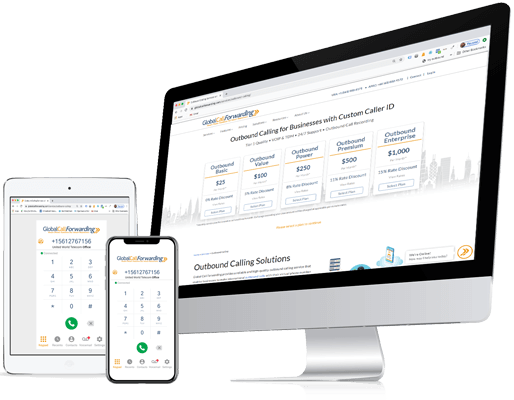 Sign up to use the GCF Softphone today
To use the GCF Softphone, all you have to do is get an outbound virtual phone number by clicking the button below and selecting the that plan that best suits your business.
Go to GlobalCallForwarding.com
Select a new Business Virtual Phone Number with outbound calling.
Choose from the five different plans we offer.
Don't forget to add any premium services such as SMS, rollover minutes or call recording
Virtual Numbers
Virtual phone numbers work like regular phone numbers, except they route calls over the internet instead of through traditional phone lines. Virtual numbers work with voice over internet protocol (VoIP) systems that take voice signals, convert them to digital signals, and send them over internet lines. To make virtual phone numbers work, you need a good and reliable internet or WiFi connection. Then, you can make and answer calls from anywhere in the world and through any device.
Variety of Options for your Business
Global Call Forwarding offers different types of virtual numbers, depending on your needs. You can get virtual phone numbers as toll-free, international, or local numbers. Global Call Forwarding offers the following types of virtual numbers: