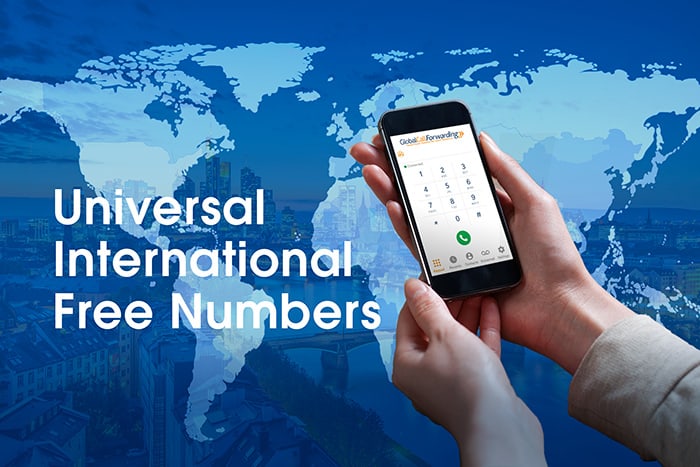 UIFN numbers are available for global businesses and entrepreneurs around the world.
Managing your business communications does not have to be complicated. If your company operates internationally, particularly in Europe, it could benefit from having a Universal International Freephone Number (UIFN). The benefit is to provide a single phone number through which customers can call your company without incurring a fee.
Buy a Universal International Freephone Number to facilitate communications with your customers overseas and expand globally.
What are UIFN Numbers?
UIFN stands for Universal International Free Number, which is also referred to as a Universal Toll Free Number. UIFN numbers work much like virtual phone number services except for some slight variations and requirements. There are differences with regard to dialing prefixes based on the countries from which the calls are being originated.
Requirements to get a UIFN in 2023 include the following:
A UIFN number must be registered in a minimum of two countries.
A UIFN number must be used in two or more registered countries within 180 days from the day the number is first reserved.
UIFN numbers require a one-time registration fee.
The World's Best UIFN Provider
Global Call Forwarding is a long-standing provider of UIFN numbers and cloud communications services. Global Call Forwarding provides global toll free coverage for businesses of all sizes. Facilitating better business communications is at the core of our mission.
In today's increasingly competitive global marketplace, global business executives must stay ahead of the competition to achieve long-term growth and success.
Global communication is the lifeblood of any successful organization. Global Call Forwarding recognizes this and is a trusted provider of UIFN service. We help consult businesses on which universal toll free solutions are best and how to tap into new technologies to add international toll free coverage.
UIFN numbers can be more difficult to get than a standard international toll free phone number, though Global Call Forwarding simplifies the process as much as possible. We provide transparency and excellent customer service assistance that extends beyond the purchase of every UIFN number.
Rather than having to manage numbers for each country in which a business wishes to operate, business leaders have the option to purchase a UIFN number that will work for customers calling from multiple countries. UIFN numbers are essentially a conventional toll free number that comes with an extra digit at the beginning. The number is typically comprised of eleven digits with businesses gaining a slightly modified number for use throughout the world. The number is fundamentally the same as an original toll free number. This could be of special significance when a business has a vanity number or vanity numbers that are already in use as part of the company's branding and marketing strategies.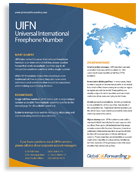 Download Our Free Guide to Universal Freephone Service
Learn everything you need to know about UIFN numbers along with our worldwide mobile accessibility availability list
Regulations Affecting UIFN Purchase and Ownership
UIFN numbers are regulated and assigned by the ITU. While UIFN numbers seem like the ideal way to connect with customers across the globe, it is important to keep in mind that there are some regulations and restrictions applied. For example, certain origination countries may impose restrictions on calling abilities and the networks your customers can dial from. Additionally, countries have different prefixes that need to be dialed before dialing the 800 number. Some of the regulations regarding purchasing and owning UIFN numbers include:
1. The UIFN number needs to be registered in at least two countries.
2. These numbers require a one-time set-up fee.
3. The number needs to be activated for inbound calls from at least two country codes within 180 days.
4. A different format is needed to dial a UIFN. Customers will have to include a country code or international access code as a prefix at the beginning of the 800 number.
Before deciding to purchase a UIFN number, consider calling one of our Universal Freephone Service experts.
How Can Universal Freephone Service Help Your Business?
Providing universal freephone service creates a way for customers and other business contacts to more easily reach your company globally. This can expand your target market of prospects. Allowing customers freephone access helps to establish or further expand an already established global presence.
Another benefit of using UIFN numbers related to marketing and advertising efforts is allowing a business to create advertising materials with one phone number for multiple countries versus different phone numbers for each country the business operates in.
For a business that is looking to expand further in the future, it is important to point out that additional countries can be added to existing UIFN service. This helps boost engagement across the globe for a business, providing callers a way to reach the company at no charge to them.
Global Call Forwarding also offers features to complement the use of UIFN numbers. Some of these features include advanced call routing to any landline or mobile phone number of the company's preference, conference calling, voicemail customization, and much more.
We also provide reliable and cost-effective cloud communication services for businesses of all sizes. In many cases, international entrepreneurs are now able to eliminate the use of physical infrastructure, replacing it with Universal Freephone Service and Global Call Forwarding.
Contact Global Call Forwarding today to learn more about the benefits and requirements of UIFN numbers that we can provide.