A missed call does not have to mean a dissatisfied customer or lost opportunity. Callers to your business are able to leave a voicemail if somebody does not answer the call, and one of your representatives can reach out to that caller at a later time. Voicemail is widely utilized by individuals and it is becoming an increasingly common tool for businesses.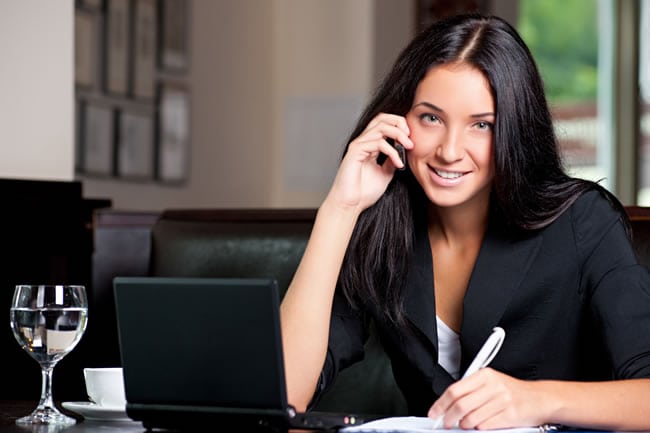 There are many possible reasons for a business to need voicemail. For example, high call volumes can tie up your phone lines. If all of your representatives are busy, voicemail allows callers to leave a message. Another application pertains to international businesses – callers from different time zones across the globe might dial your business after operating hours. Voicemail is a great feature with your call forwarding service because it allows customers to interact with your business 24/7.
Voicemail to email
Voicemail to email is an extension of the voicemail feature, which can be configured to automatically forward voicemail messages to your email inbox as MP3 files. This is convenient because you can access your mailbox at any time. On-the-go users with a smartphone can listen to voicemail from the email app. Desk users can listen to customer's messages via email. Voicemail to email is one of the most convenient free advanced features because it allows users to listen to messages at any time.
Accessing your voicemail box
There are several ways for you to access your voicemail box. First, you can access your voicemail from any phone line, by dialing xxx 305 351 8771 and entering your mailbox ID. If you are unsure what your mailbox ID is, please feel free to call our support staff. This is the simplest way to listen to any messages. However, you can also listen to your voicemails from the control panel. Below you will find instructions about logging in to the control panel and customizing your voicemail. Finally, you can listen to voicemails as MP3 messages from your email inbox with voicemail to email.
Customizing your voicemail
Voicemail can be customized in the control panel. Users can set a PIN, upload/record busy and unavailable messages, and choose to forward voicemails/faxes to up to two different email addresses. Voicemail can also be configured with Automatic Failover from the control panel. Below is a step-by-step explanation of how to login to your control panel and customize your voicemail.
Visit www.globalcallforwarding.com
Click "Account Login"
Choose "New Login" and enter your Account # and Password
Under "Account Overview" identify the Call Forwarding Number you would like to modify
Click Forward To/Change for the number you would like to modify
Click "VoiceMail" to customize this feature